Hardware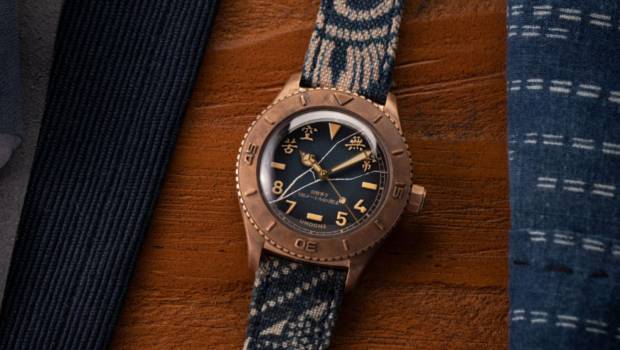 Published on February 20th, 2020 | by Andrew Bistak
UNDONE x Simple Union: 無2(MŪ2): A HOROLOGICAL INTROSPECTION ON LIFE & DEATH, IMPERMANENCE & IMPERFECTION.
This leap year, UNDONE revisits the Japanese ideology on impermanence and imperfection (Wabi-Sabi) with renowned antique Katazome fabric crafthouse Simple Union (of the Indigo Nike Air Jordan 1 Retro Hi OG notoriety).
Using the characteristic aging/patina process found in Bronze, the latest UNDONE x Simple Union Collaboration: 無2(MŪ2) is a unique horological experiment that features Bronze not only as a case material, but as an instrument of intrigue and introspection on the subject of life, death and rebirth.
Paired with straps sourced from 150+ year old Meiji-era Japanese Katazome fabric and UNDONE's brand new Kyoto Dial- an oriental reinterpretation of the Classic California Dial that marries Western wartime necessitated design with Oriental Buddhist sensibilities, 無 2(MŪ2) (limited to 300 pieces worldwide) offers a truly artful and pensive celebration to the 366th day of this year:
NO TWO FATES ARE THE SAME. A WATCH THAT WILL AGE WITH YOU.
The Bronze Case: life, death and rebirth
A first for UNDONE, the 無2 (Romanisation: MŪ2) will be launched in bronze; chosen for its unique patina/aging process that mirrors the natural progression of human life (& afterlife). No two bronze pieces patina the same, the end result being contingent on the material's interaction with its environment in which it is immersed, the natural or anthropic processes it goes through over the passage of time. The patina varies widely giving unique characteristics that enhance the beauty of the product much like the effects of different adversities in life has on different individuals.
CUT FROM A DIFFERENT CLOTH. A PIECE OF HISTORY ON YOUR WRIST.
The Indigo Watch Strap: made from 150+ year old katazome fabric

"Kata" (型) means "stencil" or "pattern", and "zome" (染め) means "to dye". Katazome is a traditional dyeing method that originated in the Edo Period, which began in 1603. The indigo plant grew wild and was plentiful throughout most areas of the Japanese Islands and was widely used for the dying process. Intricate designs of cranes, peonies and chrysanthemum etc. are handcut from Japanese stenciling paper called Shibugami, a dye resistant rice paste is applied onto the fabric through the Shibugami and left to dry, which ultimately serves to "stencil out" the designs when the fabric is finally dipped into the indigo dye.
Indigo does not fade, remaining vivid for centuries; aging with such glory and grace that it takes on a lustre impossible for synthetic colours to mimic. The rich blue colouring has inherently antibacterial and odor resistance properties. Interestingly, farmers believed indigo colored fabrics naturally repelled insects and snakes.
The pieces of katazome textiles featured on UNDONE's signature quick-release straps are rare examples of authentic antique katazome work that has, remarkably, survived to this day. Originating from the Meiji era of Japan, no two pieces are the same and compliments the unique characteristics of the bronze case.
THE KYOTO DIAL. PERFECT IMPERFECTIONS.
The precious scars of "Kintsugi" revisited

An oriental reinterpretation of the Classic California Dial that mimics the textural nuances of woven indigo fabric, the iconic top-half Roman numeral layout of the California Dial's wartime necessitated design (Eligibility for sailors/divers) is replaced with four delicate grains of Kanji (「無」,「常」,「苦」,「空」) seemingly embroidered onto the dial. The material juxtaposition of the signature "porcelain Kintsugi crack" lumed against a supposedly textile canvas make the Kyoto Dial an esoteric palimpsest of Ancient Buddhist sensibilities.
This extraordinary UNDONE watch collection is limited to 300 "kintsugi"-inspired Kyoto Dials complemented by UNDONE's first ever Bronze case and handmade Katazome straps by Simple Union, each piece at least a century old, and utterly unique.
TECHNICAL SPECS

無2(MŪ2) will be housed in a bronze case; with a 316L stainless steel case back, necessary to maintain functionality. The case measures in at 40mm diameter, 48mm lug-to-lug and 20mm strap width. Height comes in at 15mm from case back to the top of the double-domed Lexan Polycarbonate crystal; which gives it that curvaceous side profile. The smooth-rotating bezel and insert are also bronze. Powering the Basecamp Cali is the tried and trusted SII NH35a; a self-wind, hackable, workhorse movement displaying time in a three-hand format.
Price: $395.00 USD
Availability: Pre-orders from 29th February and delivery expected end of March..