Films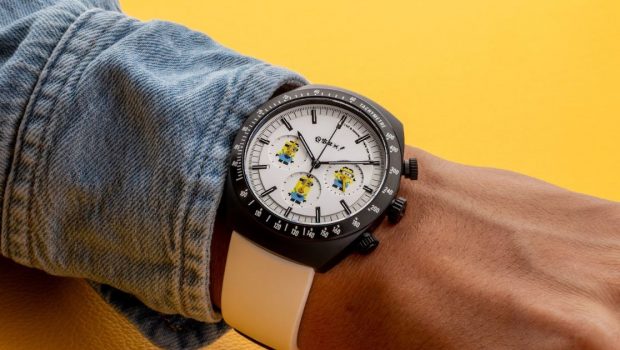 Published on November 1st, 2022 | by Andrew Bistak
UNDONE X MINION – Introducing the Gentleminions Bellograph Despicable
Ladies & Gentleminions… this November 1st, UNDONE returns with its second instalment of our Minion collection, while it may not promise you a roundtrip to the moon and back; it is sure to make any fan go bananas in less than 14 seconds…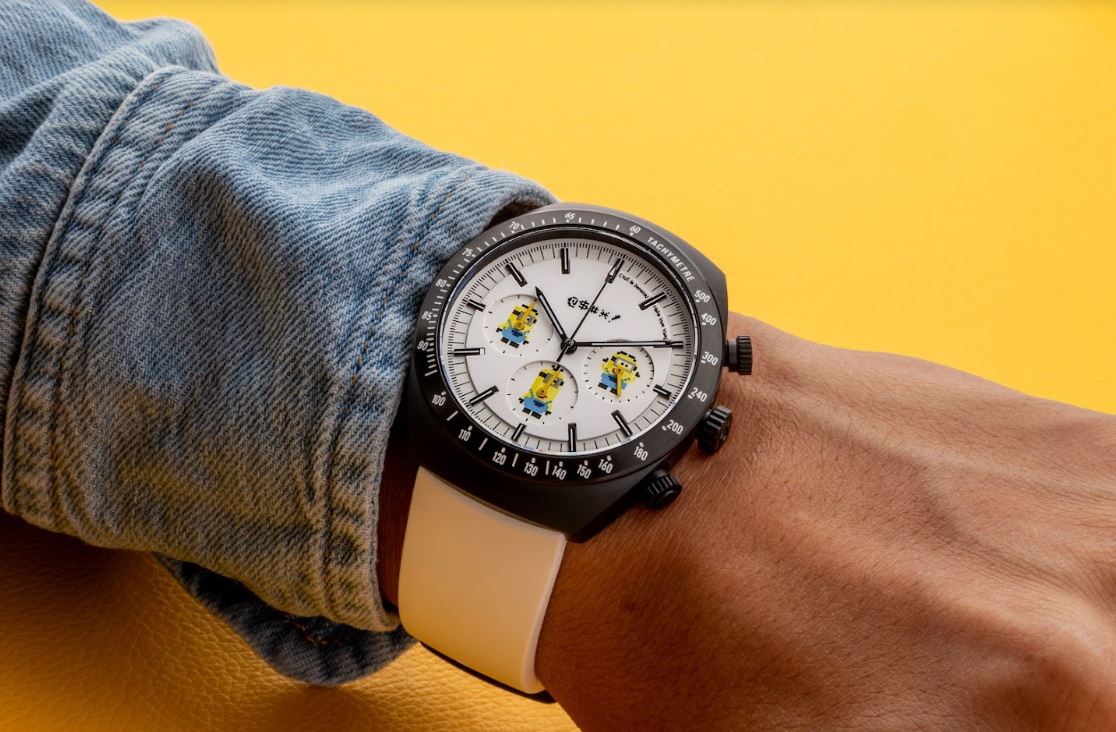 KEEP IT YELLOW & MELLOW
For your next black tie event
The Gentleminions Bellograph Disposable unleashes the yellow fellows' endearing antics over an elegant crisp white dial design that is the very antithesis of "unseriousness", featuring an unlikely canvas of timeless heritage watch features such as a tri-compax subdial layout, a slick black tonneau case featuring a vintage tachymeter design.
THE THREE USUAL SUSPECTS
Now in glorious 8 bit resolution
In keeping with UNDONE (and every Minion's) rowdy penchant for mixing things up and putting  things where they normally shouldn't be, the UNDONE x Minion | Gentleminions Bellograph Despicable is meant to show both watch lovers and Minion fans that there are in fact more than one way to peel a fruit- creating an elegant chronograph that is a literal "tongue in cheek" that can be tucked away up even the most formal of sleeves.
With their unmistakable babbling transcribed in the form of dial signage as well as the 3 subdials illuminating our anti-heroes in spotlight fashion; this subtle ode to bananas and world conquest will definitely not be lost to translation in the dark.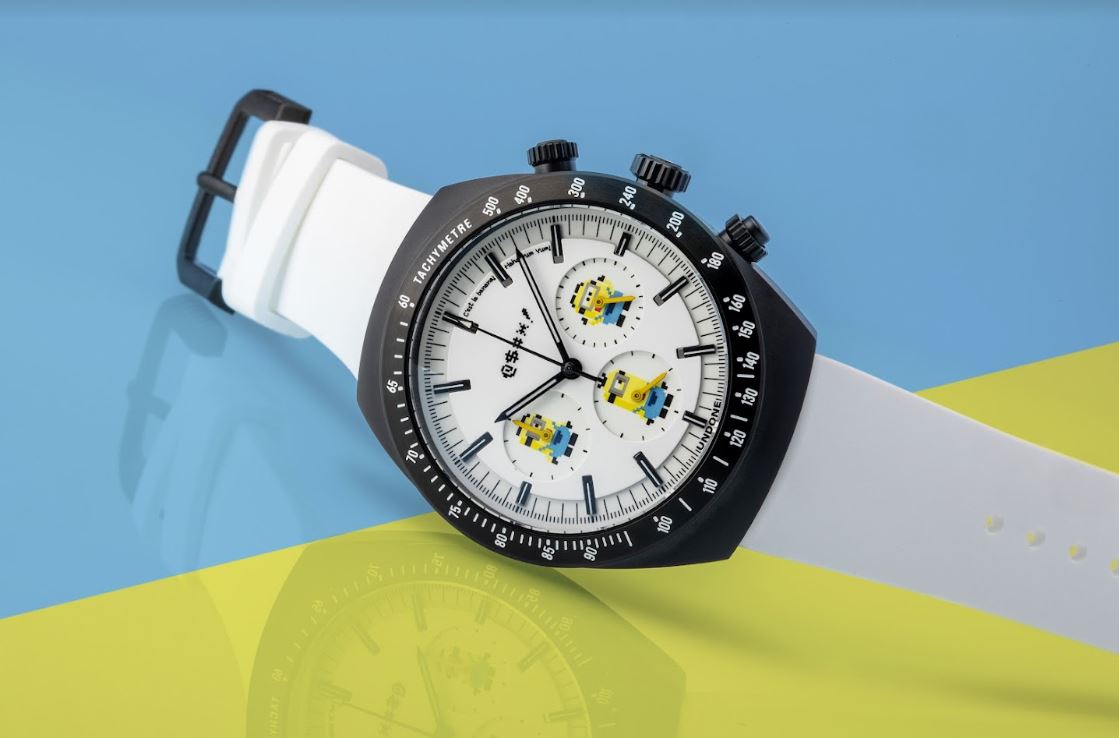 A CREW OF 3
Bob, Kevin & Stuart
The UNDONE X Minion | Gentleminions Bellograph Despicable brings back all 3 of its leading cast: Bob, Kevin and Stuart for this horological exercise in pixelated chaos and cuteness.
THE PLUS ONE BOXSET
UNDONE x Minion Gentleminions Bellograph Despicable + UNDONE x Minion Stuart
But for those in want of a more comprehensive expression of their "yellow fever", lucky earlybirds who purchase during the collection's pre-order period will be eligible to a special boxset offer of both the UNDONE Gentleminions Bellograph Despicable & The iconic "cyclops" design of the UNDONE Minions Stuart from the previous installment.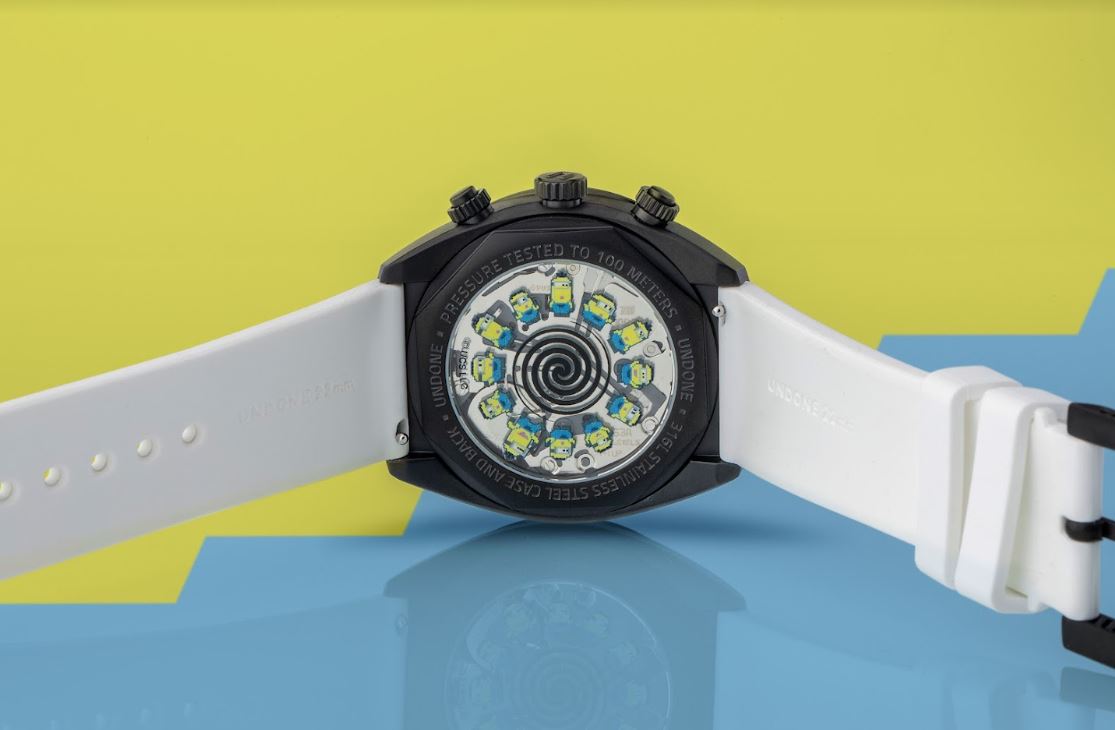 TECHNICAL SPECIFICATIONS
UNDONE Gentleminions Bellograph Despicable
MOVEMENT
Japanese TMI VK63 Mechanical-Quartz Hybrid Flyback Chronograph
WARRANTY
12 Month Warranty from purchase date
DIMENSIONS
Case Width – 41.8mm excl. crown
Case Thickness – 12.7mm incl. crystal
MATERIALS
Case – 316L Stainless Steel
Lens – Sapphire Crystal
WATER RESISTANCE
10 ATM / 100 Meters
WEIGHT
86g
UNDONE x Minion Stuart
MOVEMENT
Japanese VH31 Quartz with Sweep Second Hand
WARRANTY
12 Month Warranty from purchase date
DIMENSIONS
Case Width – 40mm excl. crown
Case Thickness – 12mm incl. crystal
MATERIALS
Case – 316L Stainless Steel
Lens – K1 Tempered Glass
WATER RESISTANCE
5 ATM / 50 Meters
WEIGHT
50g
SKU & PRICING
UNDONE Gentleminion's Bellograph Despicable RRP
Pre-order Price (NOV 1st – NOV 30th): USD 369
Regular Price (DEC 1st – DEC 31st): USD 449
UNDONE Gentleminion's Bellograph Despicable + UNDONE x Minion Stuart Boxset RRP
Pre-order Price (NOV 1st – NOV 30th): USD 449
Regular Price (DEC 1st – DEC 31st): USD 579