Comics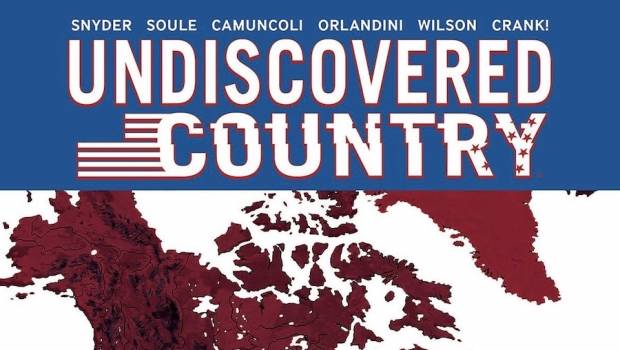 Published on July 21st, 2020 | by Sandro Falce
Undiscovered Country: Volume 1 – Destiny (2020) Review
Summary: You never know what you're going to get in this incredibly unique book. This is one world you're going to have a lot of fun exploring.
The idea of "dystopia" has been explored in many different mediums. There's films like the Mad Max franchise, books like The Hunger Games, and comics like Y: The Last Man. Late last year, a new title was added to the list of dystopian stories people are sure to remember. It's called Undiscovered Country and it's real weird.
The first volume of Undiscovered Country, which is titled Destiny, contains the first 6 issues of the series. It comes from bestselling writers Scott Synder (Batman, American Vampire) and Charles Soule (Daredevil, Star Wars). There's also art from Giuseppe Camuncoli (Spider-Man, Star Wars), Daniele Orlandini (Star Wars), newcomer Leonardo Marcello Grassi, and colorist Matt Wilson (The Wicked + The Divine, Paper Girls).
We enter a dystopian world filled with war and disease. A group are brought together consisting of doctors, soldiers, diplomats, and more. They are sent into a walled off country called America, where no one has set foot for over a century.
Then things get WEIRD. To directly quote the comic, "This place is insanity. Utter insanity."
The country we see beyond the wall is full of strange characters, stranger creatures, and a Mad Max meets Fallout aesthetic. Our main group of characters are constantly met with various twists and turns as this mission turns out to be way more than anyone bargained for.
The first issue is a bit of a slow burn as you're introduced to all of the main players of this title. There's a lot of military jargon, exposition and extended scenes with characters sitting around large tables. Once you enter America, that all changes. It's non-stop craziness from there and it's nothing but enjoyable. This book is a lot of fun and the first volume sets up a larger story that will be fun to watch play out. You can tell all involved have really thought this world out.
The characters did seem a little bland at first but most of them get expanded on throughout this opening arc. Issue by issue, we see flashbacks focusing on different members of the team and they all seem to be very interesting characters.
The designs for them are great as well, however the art really shines through in the design of America and all of those that reside in it. There's excellent moments of neon-filled horror, dangerous heights, and some incredible chase sequences. Everything looks just familiar enough to be believable, yet just strange enough to capture your interest and keep you reading.
This title is going to be a joy to follow. They've already set up an excellent over-arcing quest, endearing characters, and an art style that's going to keep you coming back for more. If you thought you'd seen everything there is to see in the wide genre that is Distopia, think again. You've yet to visit the Undiscovered Country.
Undiscovered Country: Vol. 1 – Destiny is out now via Image Comics.