Blu-ray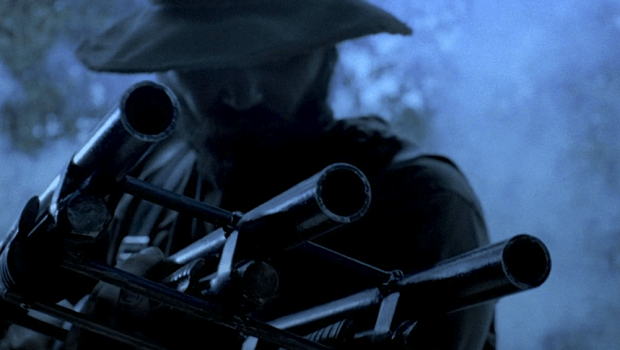 Published on January 9th, 2022 | by Tim Chuma
UNDEAD (2003) (BEYOND GENRES #12) BLU-RAY & CD SOUNDTRACK REVIEW
Summary: While not essential these days given the amount of zombie movies now available, still worthwhile to look at to see one of the first ones that came out in the early 2000s revival.
It's been a while, I first saw this on release in 2003 and have not seen it since then. I was going to keep track of the career of the Spierig Brothers but kind of lost track of them after Daybreakers and they have made a few films since then but not a lot since that does not seem to be the way they work as filmmakers.
The plot hardly matters in this since if you have seen one zombie movie you have pretty much seen them all but you do have to remember this came out when the marketplace had not been saturated in them and 28 Days Later had only come out the previous year.
From what I understand this was self-funded from the directors' TV ad work and backers, predating the Kickstarter trend for films by at least a decade. There used to be this thing a lot in trade papers back in the day or even the newspaper but it was a lot harder to pick a scam. The brothers also did all the effects on their computer at home over 9 months. This also points the way to a lot of the stuff YouTube channels ended up doing before that was even a thing.
The effects still hold up today although they do look a bit cartoon-ish by modern standards. They wisely decided to have a lot of things be very dark as they didn't stand out as much. I did like the cloud effects as they seemed fairly organic in the old school water-bath method.
Nothing much out of the ordinary on the extras the soundtrack CD is a nice to have but the music does not really stand out that much in the movie so I don't think I will be listening to it that much.
Still a fun early 2000s zombie movie to have a look at if you are not well and truly sick of the genre by now but by no means an essential purchase these days.
Trailer
Film details:
Writer/Director: The Spierig Brothers
Starring: Felicity Mason, Mungo McKay, Rob Jenkins, Lisa Cunningham, Dirk Hunter, Emma Randall, Steve Greig, Noel Sheridan, Gaynor Wensley, Eleanor Stillman
Genre: Horror/Comedy
Country: Australia
Disc details:
No. of discs: 2
Running time: 97mins
Audio format: 5.1 & 2.0 DTS HD-MA
Region: ALL
Format: 1080P
Colour: COLOUR
Languages: English
Aspect ratio: 16:9
Subtitles: English HOH
Year of Production: 2003
Distributor: Umbrella Entertainment
Release Date: 3/11/21
Extras:
Original Soundtrack CD
Audio Commentary with Directors Peter and Michael Spierig and Cinematographer Andy Strahorn
On the set of the Undead
Attack of the Undead – Short Film
The Making of Undead
Homemade Dolly Video
Undead Camera and Make-up Tests
Stills Gallery
Theatrical Trailer