PS5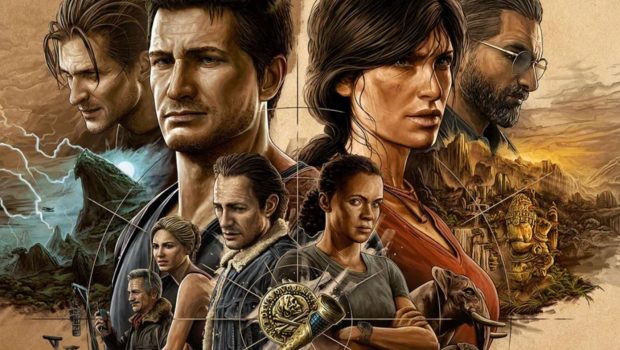 Published on January 27th, 2022 | by Andrew Bistak
Uncharted: Legacy of Thieves Collection Review #PS5 @Naughtydog #Uncharted
Summary: The gaming gods of Naughty Dog have spoken in Uncharted: Legacy of Thieves Collection and wow, what a ride on the PS5!
Seek your fortune and leave your mark on the map in the UNCHARTED: Legacy of Thieves Collection. Uncover the thrilling cinematic storytelling and the largest blockbuster action set pieces in the UNCHARTED franchise, packed with all the wit, cunning, and over the top moments of the beloved thieves – Nathan Drake and Chloe Frazer.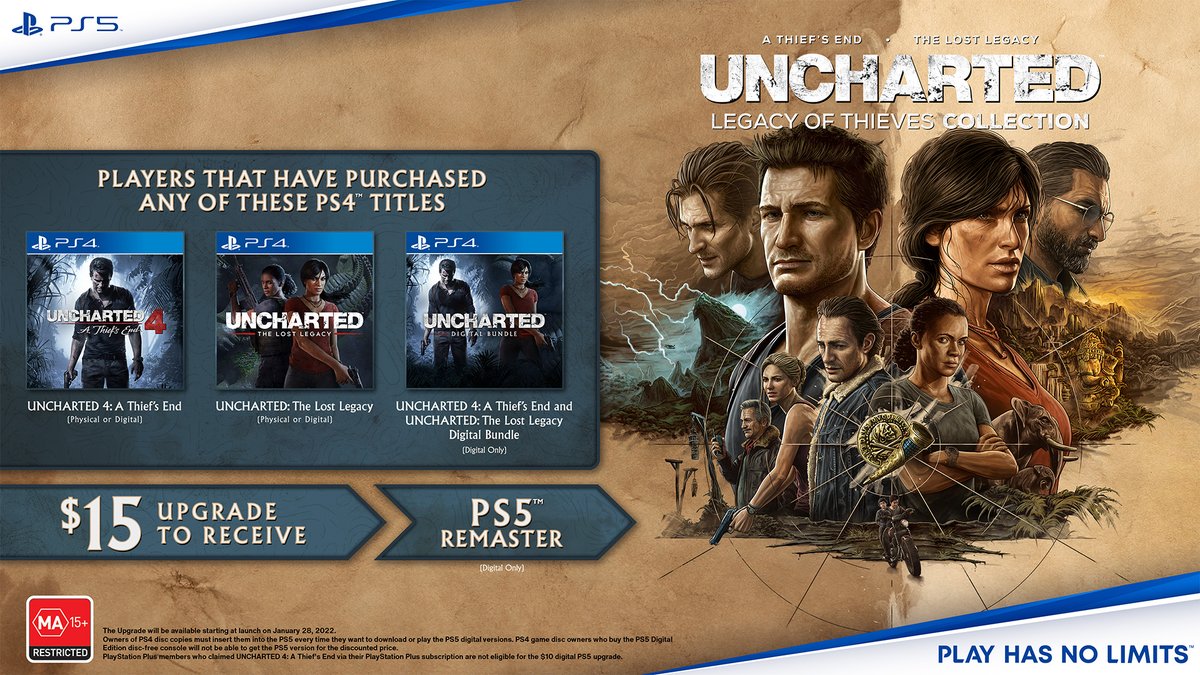 PS5 owners can now (and gloriously) experience the last two Uncharted games on their console with the remastered Uncharted: Legacy of Thieves Collection that boasts next-gen mechanics and graphics. This remastered edition features both Uncharted 4: A Thief's End and Uncharted: The Lost Legacy with three new graphical modes to choose from, the DualSense controller's haptic feedback and adaptive triggers system, 3D audio and greatly improved load times courtesy of the PlayStation 5's NVMe. So in other words, it's fast and looks glorious in 4K!
So what's Uncharted all about? Check out the official trailer below:
PC owners will be pleased to know that Uncharted: Legacy of Thieves Collection will also be available later this year (https://store.steampowered.com/app/1659420/UNCHARTED_Legacy_of_Thieves_Collection/), however no official date has been given yet. Further, those who have upgraded to a PS5 and already own these games on their PlayStation 4 have the option to upgrade to the remastered Uncharted: Legacy of Thieves Collection for just $15AUD (Jan 2022) which is excellent value for money!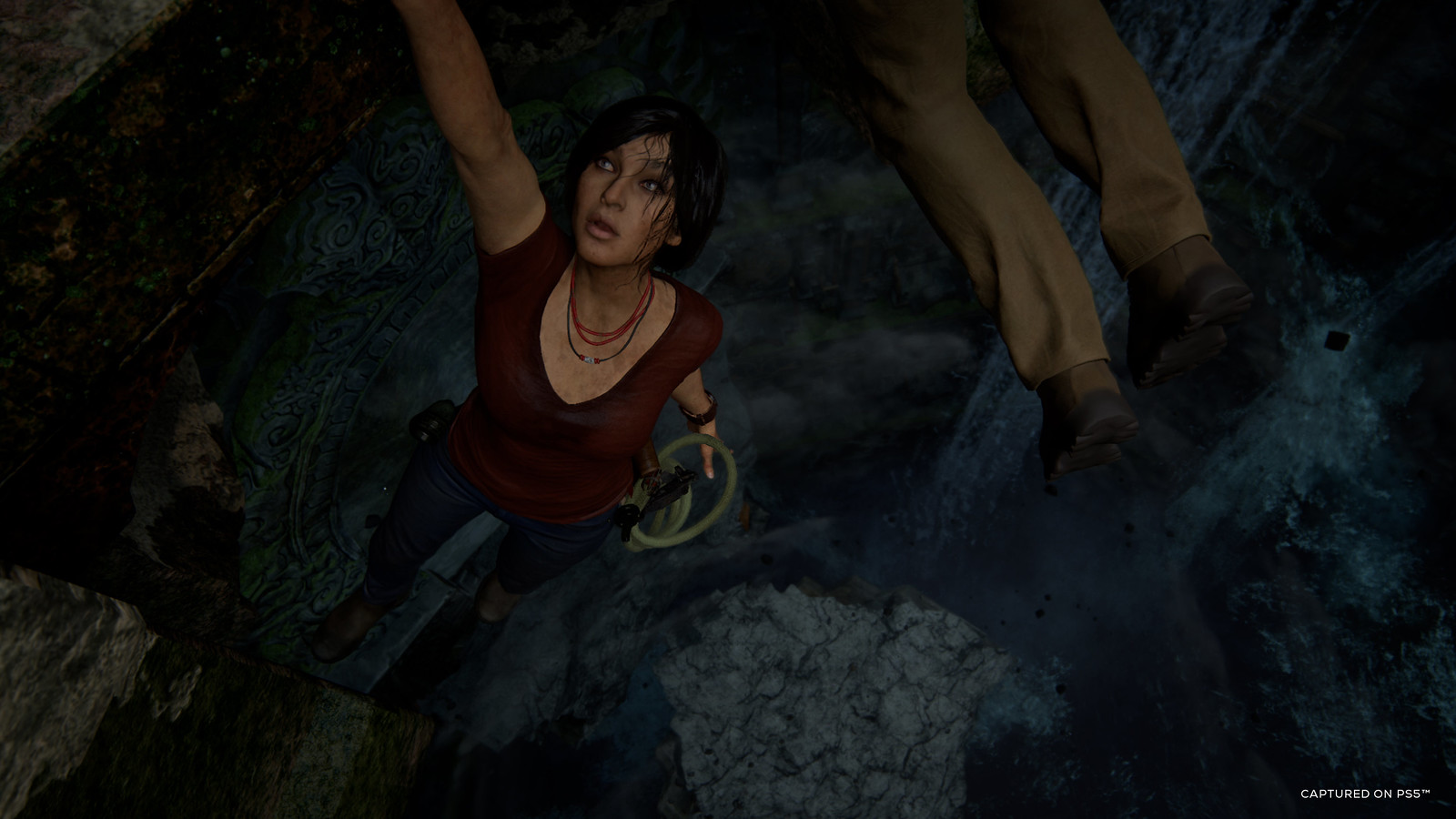 While both games are identical in terms of story, developers Naughty Dog offer a next-gen Fidelity Mode which allows you to immerse yourself even more into the gameplay thanks to stunning 4K graphics with 30 fps (frames per second). Needless to say the fidelity mode looks fantastic as the graphics are considerably more detailed and engaging that is pure eye candy, particularly with Uncharted: The Lost Legacy.

However if you prefer a faster framerate with reduced graphical detail, you can play the Performance Mode that offers 60fps or if you want something even faster, there is a Performance Plus Mode that delivers 120fps, however at a resolution of 1080p. Like other games running in Fidelity Mode, the entire game becomes a visual experience and you only notice the fps when you swap to other modes. For me personally, the Performance Mode was the best match as it offered a visual yet smoother graphical experience as the worlds of Nathan Drake and Chloe Frazer came to life in spectacular detail. But man, the Fidelity Mode is almost like photo-realism.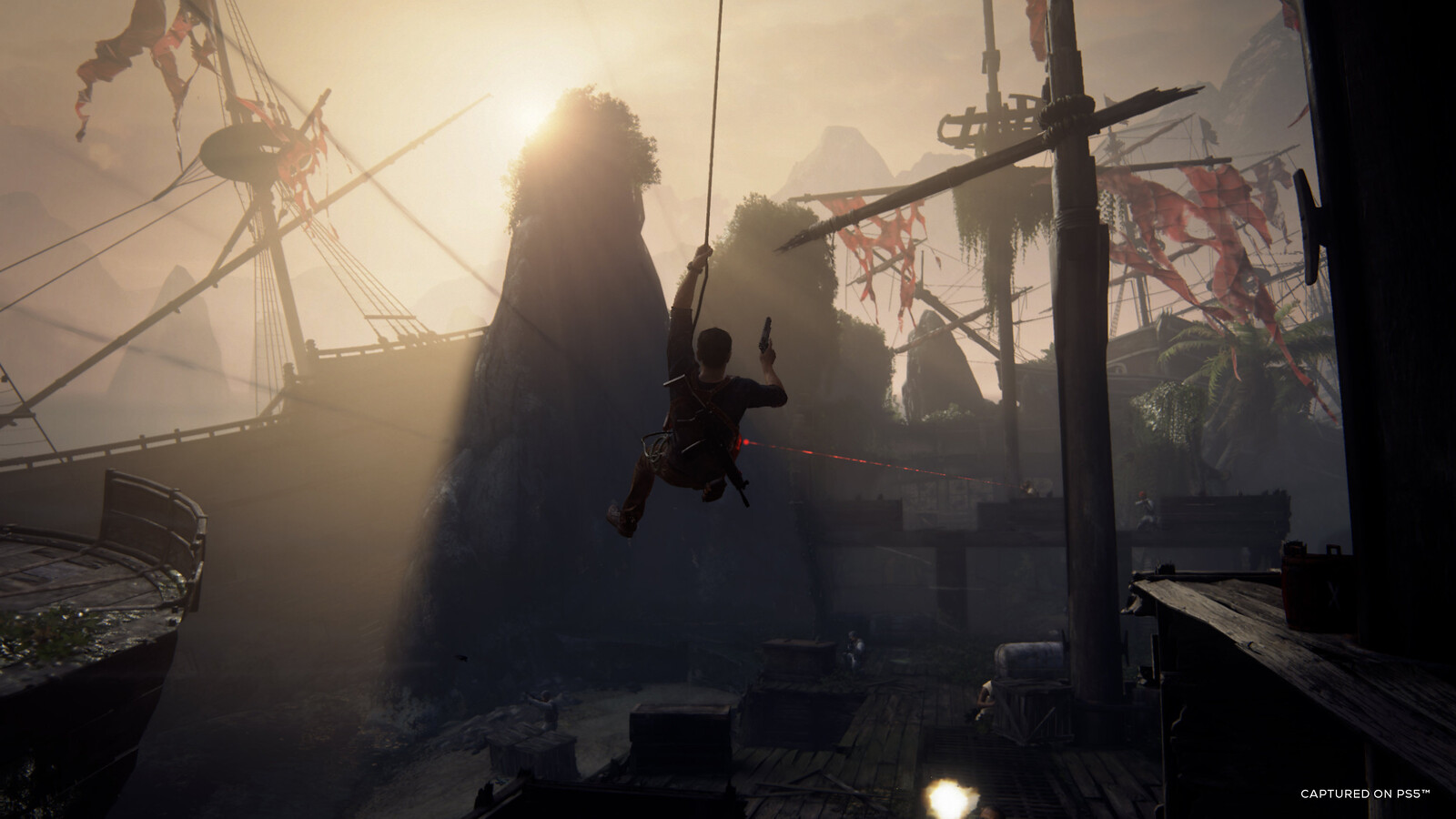 Another highlight of the new remaster is the use of the DualSense controller, mainly its haptic feedback and adaptive triggers system which adds a physical sensation to your gaming that through the rumble makes the title more interactive as you virtually feel the gaming environment. Needless to say, the new DualSense controller of the PS5 worked a treat and due to the faster visuals, it is a much smoother experience on this next-gen console, especially for combat or those more challenging manoeuvres where timing is imperative. Additionally the 3D audio with the right headset adds another element of immersion as you hear the subtle background sounds or action whizzing by your head that almost makes it feel like you are right in the middle.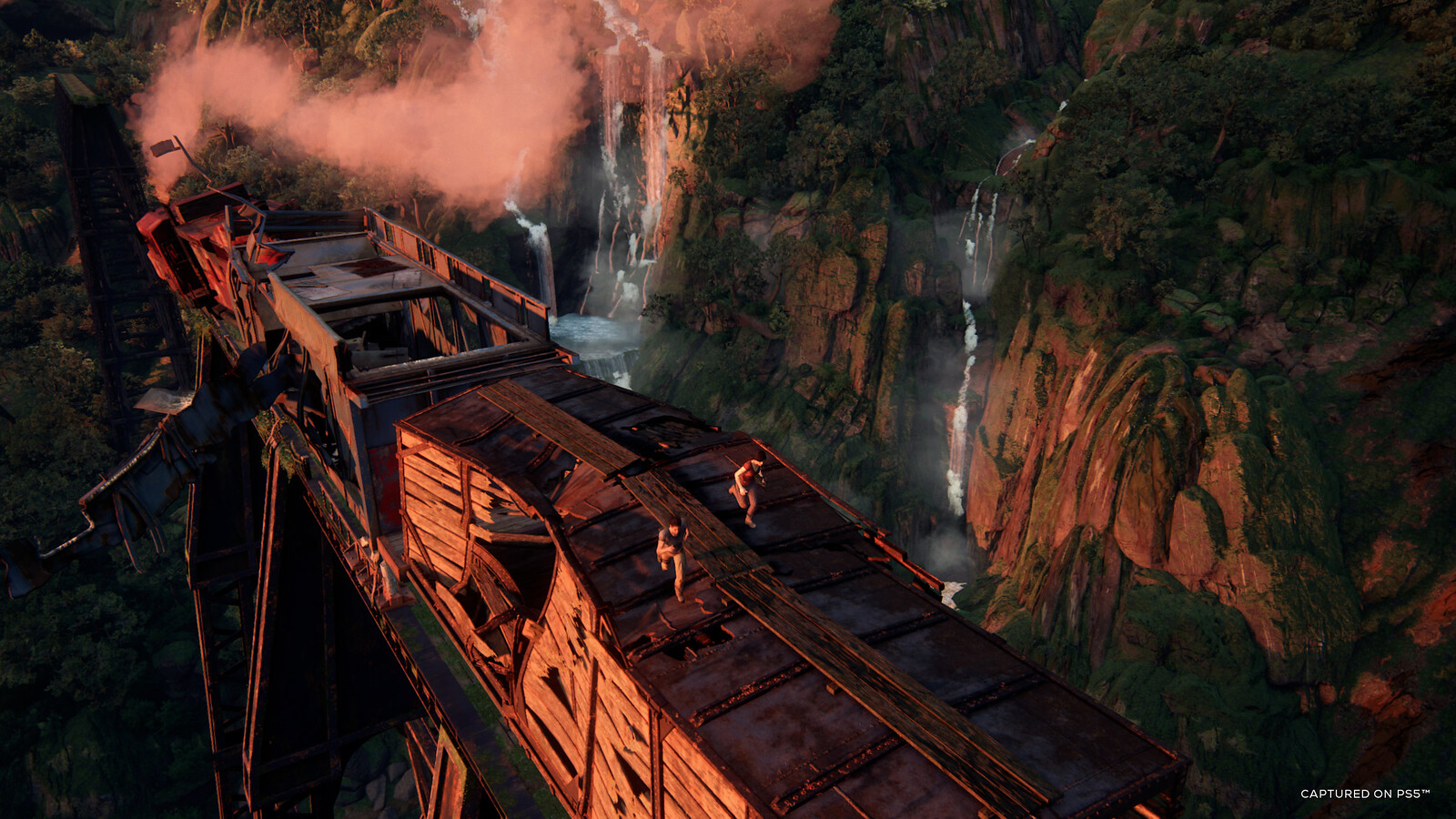 If you played both these titles on your PlayStation 4, you can transfer your saves to the PS5 which allows you to pick-up where you left of. PlayStation have put together on how to transfer your saves between consoles that we've included in our review below.
TRANSFERRING YOUR UNCHARTED SAVES FROM PS4 TO PS5
INSTRUCTIONS: Before starting the game, you must have previously transferred a valid UNCHARTED 4: A Thief's End or UNCHARTED: The Lost Legacy PS4 saved game file to your PS5 using the "Transfer saved data using PlayStation Plus Cloud Storage" method. FAQ can be found here:
Launch Uncharted: Legacy of Thieves Collection on the PS5.
Select either Uncharted 4: A Thief's End or Uncharted: The Lost Legacy from the menu.
The Story, Options, Extras screen appears (no matter which title you select).
Select Story, Import Game from PS4.
The game will look for save game files transferred using the above method.
Select the save game file that you wish to import from the list of saved games that appears.
Your save game file is imported to PS5.
On the Save screen, select New Game Data to create a save file for Uncharted: Legacy of Thieves Collection.
Continue your adventure from where you left off in the PS4 version.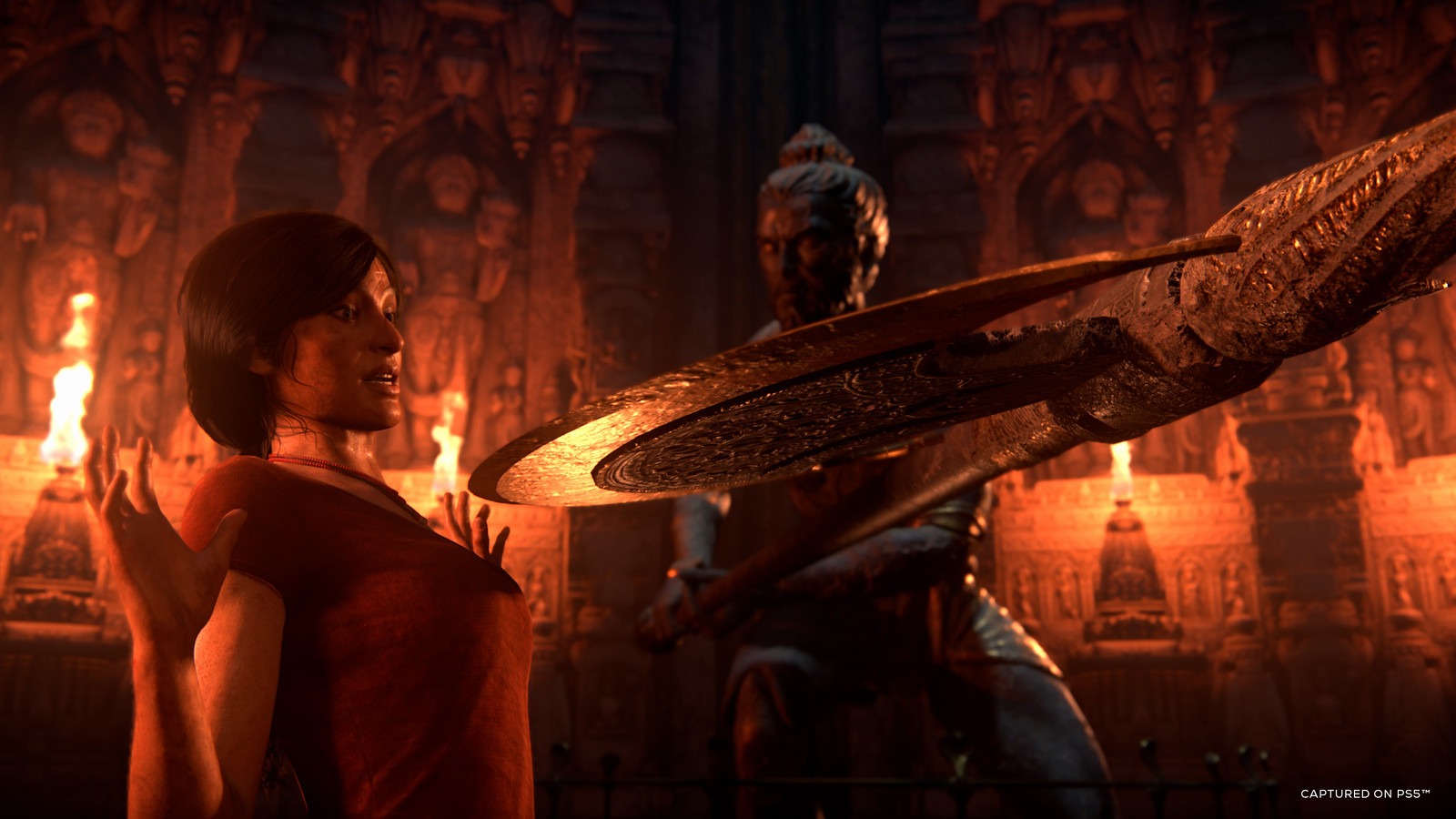 Uncharted 4: A Thief's End, The Review
Uncharted 4: A Thief's End combines elements of Indiana Jones and Tomb Raider into a spectacular third person action adventure on the PlayStation 5 which is filled with wondrous world building, a further exploration of the history of treasure hunter Nathan Drake plus a powerful narrative with realistic characters filled with emotion and inner turmoil. Add in some great gaming mechanics, a detailed environment plus graphics and audio to die for and these essentials will really make you appreciate this title (again) on Sony's latest console.

Compared to the previous sequence of events, Uncharted 4 still follows the wise cracking hero and protagonist Nathan Drake, however his life has considerably changed since we last saw him. After Uncharted 3: Drake's Deception that saw Drake reunited with his estranged partner Elena and witnessing the 'death' of his mentor Sully, not to mention going head to head with a clandestine organisation, this was probably one of his greatest and dangerous missions to date. However in terms of favourite games in this series, I'm sure each gamer has a favourite but for me, the original still holds a special place in my heart. However Uncharted 4 does come very close.
Although this title is set three years after the events of Uncharted 3: Drake's Deception, the story commences to another flashback as we are reintroduced to a young Nathan Drake who is in an orphanage. When his older and wayward brother Sam comes to visit and takes him on a parkour tour of the orphanage, Nathan believes that his brother is going to take him away but once again he disappointments. Regrettably Sam has been a string of disappointments for our hero.

Fast forward Nathan to adulthood and he is joined by his brother Sam and soon to be rival treasure hunter Rafe Adler as they search for one of the most reclusive pirate treasures in all history, that of Henry Avery, the 'King of Pirates'. Unfortunately their plan fails horribly that sees Sam shot as he plummets to his death. These flashbacks also serve as a tutorial to the player and for those who have played the series before, it's like riding bike because everything comes back naturally.
Fifteen years later, the game commences and Nathan's life has become a much more suburban affair as he's living in New Orleans with his wife and former journalist Elena Fisher. The couple even play Crash Bandicoot on a PlayStation One. Although life is quiet for Nathan and Elena, their life is good, however fate has other ideas and he still misses his treasure hunting days, although he secretly plays with a toy gun in the attic. Then one day, the presumably 'dead' Sam comes knocking on his door who explains to his brother that he made a deal with the nefarious drug lord, the Butcher of Panama (aka Hector Alcazar) who helped him escape jail.
Unfortunately during their time as cellmates, Sam was giving Alcazar lullabies of 'treasure dreams' which was that of Henry Avery and believed to be valued at 400 million dollars if found… and just like Henry Avery quoted hundreds of years ago 'I am a Man of Future, and must seek my Fortune', Sam is given 3 months to find Avery's treasure in order to prevent Alcazar from killing him.

However to compound the situation for the Drake brothers, their old rival Rafe Adler is also after the treasure and thus begins their 'last' adventure as they travel across the globe seeking fortune and glory and like the previous games, 'family' or relationships plays an integral part of the story which becomes quite an emotional journey. It's also good that Elena comes along for part of the journey as well, especially since Nathan 'lied' to her about his whereabouts with his brother Sam. It definitely tests their marriage and you can really feel the tension plus the emotion.
Uncharted 4 follows a similar structure of the previous games and developers Naughty Dog delivery a very sturdy gaming experience that almost makes this the best Uncharted experience to date. Sure, graphically it's the best game in the series but the gameplay is more fluid that goes hand-in-hand with the cinematics and story development. At its core, Uncharted 4 is a third person action adventure game that is filled with exploration, precarious climbing, combat and some challenging puzzles plus vehicles!

I really enjoyed the climbing mechanics in this game and even though there are times where it does feel a little clunky, it really instills a sense of danger and vertigo for the player. My partner actually got a little ill watching me play as I dangerously climbed high above the gaming environment with one false move resulting in instant death. Add in some very climatic cinemas and playing Uncharted 4 is like being the star in some blockbuster action movie, particularly when it comes to timing and just like the other games, there will be some 'healthy' controller rage as well. Given that, the game does contain a handful of difficultly levels plus an easy mode that also includes auto-aim.
One of your main tools in the game is the grappling hook that does have some similarities to both the Arkham and Tomb Raider series in relation from getting from point A to B plus it even helps during combat such as landing on enemies or even shooting. This device is also used to help solve some puzzles, including the support of your AI buddies that include characters such as Victor 'Sully' Sullivan and Samuel 'Sam' Drake.
Furthermore, they help during combat and even team up with the player to help take out your enemies which is quite a cool sight. Sure, the main character still needs to do 'most' the work but your AI friends do liven up the gameplay in the single-player mode, not to mention provide some excellent banter. It's also good that Sully, Nathan's father-figure returns and adds more depth to not only Nathan's story but also himself as a character.

Combat plays a vital component in the game and this includes both melee and ranged attacks. Hand to hand combat is relatively simplistic but where the game does shine is through its weapons. There's quite a few weapons to be found in the Uncharted 4 and the gunplay is very smooth which also offers a decent cover system to help get you to safety.
However one flaw with the cover system is that it does sometimes move you into the wrong area, particularly when you try to move from point A to B but overall, it does work relatively well. Another cool aspect about the combat is that stealth plays an important part to it. You can hide behind corners, throw people off balconies as you hang over the edge and even hide in long grass to perform some almost Batman-like takedowns. Furthermore, the controls are great on the PS5 DualSense controller and the haptic feedback and adaptive triggers system bridges the physical world with the virtual.

As mentioned, there's some great world building in this game that not only explores the character of Nathan Drake and his past plus multiple stories which makes this title almost a literary work of art. Interestingly enough and just like the The Last of Us, this game even allows you to choose your dialogue answers at certain points in the game which does add a sense of ownership. Then you have the various locations that you visit around the world that includes quite diverse areas like Scotland, Italy and Madagascar. Add in vehicles from cars to boats and Uncharted 4 is a very diverse game from start to finish.
Graphically, Uncharted 4 is perfect on the PlayStation 5… it's beautiful! The in-game graphics are not only detailed but quite flawless and this title would make a great "new" PlayStation VR title. Add in some realistic animation, special effects, weather and lighting plus the stunning cinematography and Uncharted 4 is brimming with life and realism. Facial animations are also simply to die for which really add to the emotional journey of our favourite treasure hunter and the eyes… gone are those days of 'dead eyes' as they now look almost real. A special mention should also be made about the water effects which is another 'wow' moment in the game.
To complement the amazing graphics, there are some great cut scenes to help progress the story which are just like watching a blockbuster movie. Audio is equally as impressive, especially through a surround sound system with the developers adding subtle sound effects to give the world a much more realistic presence. Voice acting is top notch and it's great that all the actors have returned such as Nolan North (Nathan Drake), Richard McGonagle (Victor Sullivan), Emily Rose (Elena Fisher) plus Troy Baker (Samuel Drake).
Compared to the previous game, Uncharted 4: A Thief's End is an almost flawless experience on the PlayStation 5 and those sometimes clunky control mechanics from the PS4 are almost perfect on this console thanks to the improved speed and DualSense controller. Nonetheless Naughty Dog should be commended for putting together such a well-made game from start to finish. It's emotional and it's powerful with a theme of redemption and forgiveness!


Uncharted: The Lost Legacy, The Review
Uncharted: The Lost Legacy revolves around treasure hunter Chloe Frazer voiced by the delightful Claudia Black who first appeared in Uncharted 2 and this time around is seeking the fabled Golden Tusk of Ganesh from the Hoysala Empire. Although Chloe has the smarts and wits to embark on this quest, she recruits Nadine Ross (Laura Bailey), a mercenary and former paramilitary leader from Uncharted 4 who will act her as muscle as they go head to head against the nefarious warlord Asav. This charismatic villain wants the artifact to help build his army of terror!

Like the previous games in the series, Uncharted: the Lost Legacy channels its inner Indiana Jones meets National Treasure and from the very first moments, you immediately know that you are in for a treat. I also like how Naughty Dog drop the player into the game without giving away too much of the story because when Chloe and Nadine meet for the very first time in the game, they are in a world of chaos as bullets whiz past their heads and they engage in some truly spectacular Uncharted mechanics that include running on rooftops and performing death defying leaps of faith to escape the enemy.
With that said, all the hallmarks from the Uncharted series are here with larger than life battles, puzzles and amazing cinematics to help progress the story, including lots of secrets for both characters. Furthermore, this incarnation of Uncharted offers the largest free-roaming level in the franchise which is massive and looks like art on the PlayStation 5 as it did on the PS4.
The relationship between Chloe and Nadine is tentative at best, however as the game progresses, their so-called friendship develops, even though they are both after 50% of the treasure. Furthermore, they need to work together as a team because without this element in their relationship, neither will be able to reach the end game so to speak. The antagonist Asav reminds me of an Indiana Jones villain who is always one step behind the heroes and lets them do all the hard work while he attempts to get the upper hand in order to fund his insurgence.
Exploring the world of Uncharted: The Lost Legacy is generally done on foot as you experience the beautiful scenery of India's mountainous Western Ghats and its hidden temples. Furthermore, you can engage in your 4×4 as you explore this rugged terrain which also makes for some excellent gameplay mechanics, not to mention its winch that is reminiscent from the previous game. With the 4×4, the haptics feel fantastic on the DualSense as well.
Complimenting this are the great chase scenes which are really fun. Another new addition to the game is lock-picking which plays an integral part of the game as you attempt to move the analog stick until it vibrates in a certain area which does add to the overall charm of the game, especially considering that Chloe is a treasure hunter… err… thief!
Another interesting difference between Lost Legacy and the other Uncharted titles is how the hand-to-hand combat is managed. Rather than the brute force that was employed by Drake and his friends, this feels more realistic with pinpointed attacks and evades plus brutal take downs. Then you have all the weapons which is equally as enjoyable and nothing is more satisfying than taking out one of Asav's platoons with bullets flying everywhere or you can skulk around and use stealth. Some of the tougher villains and 'bosses' can be a challenge and for the most part, you do need to use brute force to take them out.
So while you climb, grapple, explore, drive, sneak around and engage in lots of gun fights, there's so much do in this game. The puzzles in the game are well thought out and not too contrived or forced… or damn difficult. They actually make sense in Lost Legacy. The game also gives hardcore fans a wide gamut of collectables to find which really helps you explore the environment as you get lost in the world of Lost Legacy. Helping with the backstory are Hoysala Tokens which help piece together the story of this empire and are littered throughout the game. However without spoiling the story, there's some truly fantastic moments and lots of surprises in Lost Legacy, including a cameo and not who you think. The last chapter of the game is just like a Hollywood movie with plenty of action scenes and a very satisfying ending.

Not integral to the game, Chloe is equipped with a camera which allows you to take some truly gorgeous in-game photography. Oh, the photo mode in Lost Legacy is also quite a fun feature, especially when you can tailor Chloe's expression that made some very amusing moments for me. Furthermore, there's a plethora of bonus features when you complete the game that include Render Modes, Gameplay Modifiers, Character Gallery, Single player Character Skins Weapon Selector, Cellphone Camera Viewer, Concept Art Galleries and Encounter Select.
Graphically, there is nothing I can fault about Uncharted: Lost Legacy on the PS5 and the attention to detail is truly insane. Naughty Dog have successfully created a living breathing environment, especially the more open-world areas and when matched with the beautiful landscapes of India, more specifically the Western Ghats, it's like your part of a postcard… but with guns. The game also has some amazing draw distances, realistic foliage and lighting to die for.

The character models are stunning and all the characters move with this real-world grace. Add in excellent facial movements which help relay a wide variety of emotions and it's easy to become invested in the plight of Chloe and Nadine. Complimenting this are the realistic explosions, weather and other effects that really create a very dynamic title on the PlayStation 5. Graphically, the game was a next-gen looking title on the PS4 Pro and now on the PS5… wow, it's leveled up!
The voice acting in the game, especially Claudia Black and Laura Bailey really get into the psyche of each their characters and more importantly, the banter between the two protagonists not only feels real but there's some priceless banter as well. Add in humour and it's a real treat listening to these actors bring these Uncharted characters to life. Usman Ally is another highlight and really creates a villain you want to hate. Sound effects are flawless and the musical score helps serve as glue to bring the entire game together.

Although not quite on the same level as the previous games in the Uncharted series, Lost Legacy is still a very worth play with some new gaming mechanics added and truly impressive graphics which look amazing on the PS5. The only letdown of the game is that it does feel a little similar to the previous Uncharted games which is not a bad thing. Thankfully the protagonists are both interesting and fun, however Chloe is really the star of Uncharted: The Lost Legacy.

Final Thoughts?
The timing of Uncharted: Legacy of Thieves Collection is perfect as Sony (kudos to their PR) are also releasing their live action adaption of Uncharted on 17-Feb-2022 which stars Tom Holland as Nathan Drake and Mark Wahlberg as Sully… and for a limited time, you can redeem a free ticket for the film if you submit your claim between 28-Jan to 4-Feb 2022. So before watching the movie, it's time to revisit these games again or for the first time on the PlayStation 5 as you get thrown into the action. And although multiplayer has been removed, this is still one of the best darn single-player games around!
Recommended!