PS4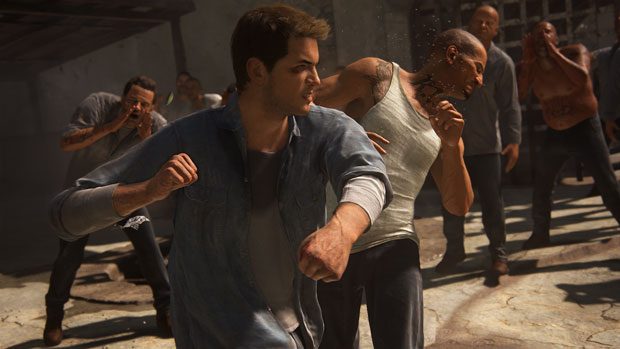 Published on May 9th, 2016 | by Andrew Bistak
Uncharted 4 A Thief's End Review
Summary: Nathan Drake punches his way back in Uncharted 4 A Thief's End that is a true PS4 blockbuster!
The highly anticipated Uncharted 4: A Thief's End is finally here that combines elements of Indiana Jones and Tomb Raider into a spectacular third person action adventure on the PlayStation 4 which is filled with wondrous world building, a further exploration of the history of treasure hunter Nathan Drake plus a powerful narrative with realistic characters filled with emotion and inner turmoil. Add in some great gaming mechanics, a detailed environment plus graphics and audio to die for and these essentials will really make you appreciate this title on the PlayStation 4. It's basically the blockbuster game of 2016!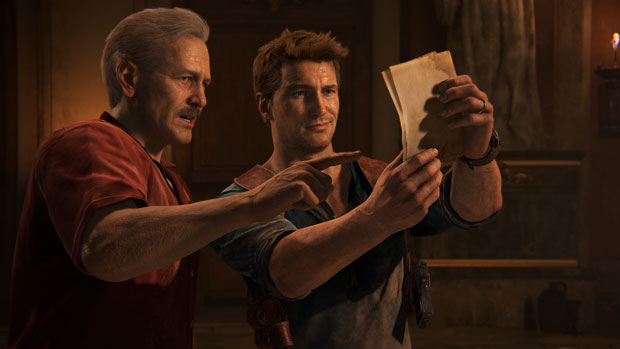 Compared to the previous sequence of events, Uncharted 4 still follows the wise cracking hero and protagonist Nathan Drake, however his life has considerably changed since we last saw him. After Uncharted 3: Drake's Deception that saw Drake reunited with his estranged partner Elena and witnessing the 'death' of his mentor Sully, not to mention going head to head with a clandestine organisation, this was probably one of his greatest and dangerous missions to date. However in terms of favourite games in this series, I'm sure each gamer has a favourite but for me, the original still holds a special place in my heart. However Uncharted 4 does come very close.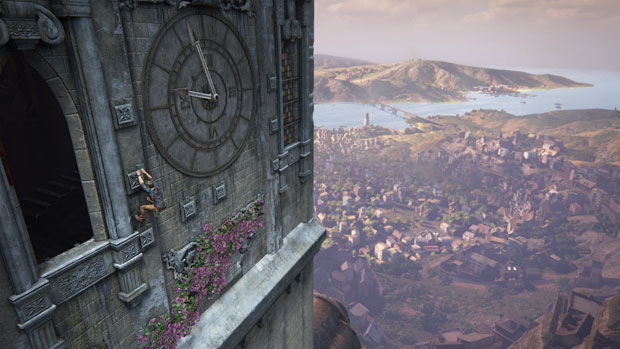 Although this title is set three years after the events of Uncharted 3: Drake's Deception, the story commences to another flashback as we are reintroduced to a young Nathan Drake who is in an orphanage. When his older and wayward brother Sam comes to visit and takes him on a parkour tour of the orphanage, Nathan believes that his brother is going to take him away but once again he disappointments. Regrettably Sam has been a string of disappointments for our hero.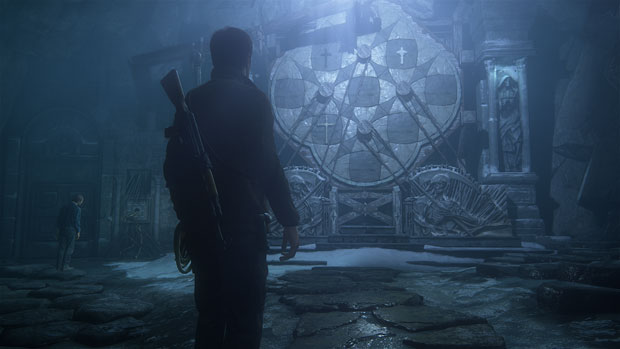 Fast forward Nathan to adulthood and he is joined by his brother Sam and soon to be rival treasure hunter Rafe Adler as they search for one of the most reclusive pirate treasures in all history, that of Henry Avery, the 'King of Pirates'. Unfortunately their plan fails horribly that sees Sam shot as he plummets to his death. These flashbacks also serve as a tutorial to the player and for those who have played the series before, it's like riding bike because everything comes back naturally.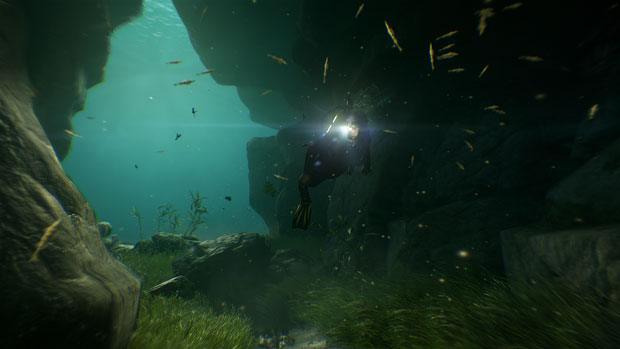 Fifteen years later, the game commences and Nathan's life has become a much more suburban affair as he's living in New Orleans with his wife and former journalist Elena Fisher. The couple even play Crash Bandicoot on a PlayStation One. Although life is quiet for Nathan and Elena, their life is good, however fate has other ideas and he still misses his treasure hunting days, although he secretly plays with a toy gun in the attic. Then one day, the presumably 'dead' Sam comes knocking on his door who explains to his brother that he made a deal with the nefarious drug lord, the Butcher of Panama (aka Hector Alcazar) who helped him escape jail.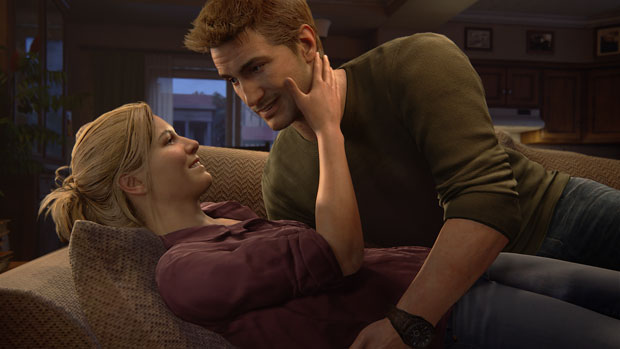 Unfortunately during their time as cellmates, Sam was giving Alcazar lullabies of 'treasure dreams' which was that of Henry Avery and believed to be valued at 400 million dollars if found… and just like Henry Avery quoted hundreds of years ago 'I am a Man of Future, and must seek my Fortune', Sam is given 3 months to find Avery's treasure in order to prevent Alcazar from killing him.
However to compound the situation for the Drake brothers, their old rival Rafe Adler is also after the treasure and thus begins their 'last' adventure as they travel across the globe seeking fortune and glory and like the previous games, 'family' or relationships plays an integral part of the story which becomes quite an emotional journey. It's also good that Elena comes along for part of the journey as well, especially since Nathan 'lied' to her about his whereabouts with his brother Sam. It definitely tests their marriage and you can really feel the tension plus the emotion.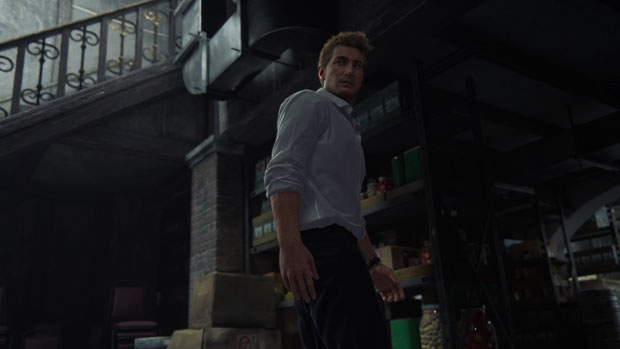 Uncharted 4 follows a similar structure of the previous games and developers Naughty Dog delivery a very sturdy gaming experience that almost makes this the best Uncharted experience to date. Sure, graphically it's the best game in the series but the gameplay is more fluid that goes hand-in-hand with the cinematics and story development. At its core, Uncharted 4 is a third person action adventure game that is filled with exploration, precarious climbing, combat and some challenging puzzles plus vehicles!
I really enjoyed the climbing mechanics in this game and even though there are times where it does feel a little clunky, it really instils a sense of danger and vertigo for the player. My partner actually got a little ill watching me play as I dangerously climbed high above the gaming environment with one false move resulting in instant death. Add in some very climatic cinemas and playing Uncharted 4 is like being the star in some blockbuster action movie, particularly when it comes to timing and just like the other games, there will be some 'healthy' controller rage as well. Given that, the game does contain a handful of difficultly levels plus an easy mode that also includes auto-aim.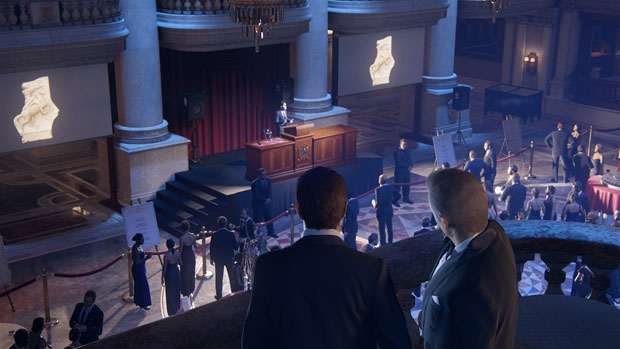 One of your main tools in the game is the grappling hook that does have some similarities to both the Arkham and Tomb Raider series in relation from getting from point A to B plus it even helps during combat such as landing on enemies or even shooting. This device is also used to help solve some puzzles, including the support of your AI buddies that include characters such as Victor 'Sully' Sullivan and Samuel 'Sam' Drake.
Furthermore, they help during combat and even team up with the player to help take out your enemies which is quite a cool sight. Sure, the main character still needs to do 'most' the work but your AI friends do liven up the gameplay in the single-player mode, not to mention provide some excellent banter. It's also good that Sully, Nathan's father-figure returns and adds more depth to not only Nathan's story but also himself as a character.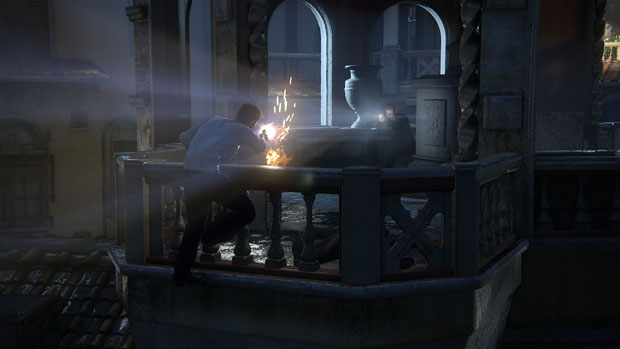 Combat plays a vital component in the game and this includes both melee and ranged attacks. Hand to hand combat is relatively simplistic but where the game does shine is through its weapons. There's quite a few weapons to be found in the Uncharted 4 and the gunplay is very smooth which also offers a decent cover system to help get you to safety.
However one flaw with the cover system is that it does sometimes move you into the wrong area, particularly when you try to move from point A to B but overall, it does work relatively well. Another cool aspect about the combat is that stealth plays an important part to it. You can hide behind corners, throw people off balconies as you hang over the edge and even hide in long grass to perform some almost Batman-like takedowns.
As mentioned, there's some great world building in this game that not only explores the character of Nathan Drake and his past plus multiple stories which makes this title almost a literary work of art. Interestingly enough and just like the The Last of Us, this game even allows you to choose your dialogue answers at certain points in the game which does add a sense of ownership. Then you have the various locations that you visit around the world that includes quite diverse areas like Scotland, Italy and Madagascar. Add in vehicles from cars to boats and Uncharted 4 is a very diverse game from start to finish.
Like the previous game, there's a multiplayer component of Uncharted 4 which uses parts of the gameplay to create this world of treasure hunters and villains as each player or team attempts to thwart each other. Another cool element of multiplayer is the inclusion of mystical artefacts that gives the player otherworldly attacks like spectres and even Djinn to get the upper hand in the battle. Sure, you still cannot beat ranged and melee weapons but this adds an element of surprise. For modes, multiplayer supports team deathmatch, domination (command) and capture the flag (plunder) and for those that like to customise their characters, this is also available as well. Given that, multiplayer is no way as enjoyable as the single player game but it does server as a nice distraction, especially with the daily challenges and entertaining maps.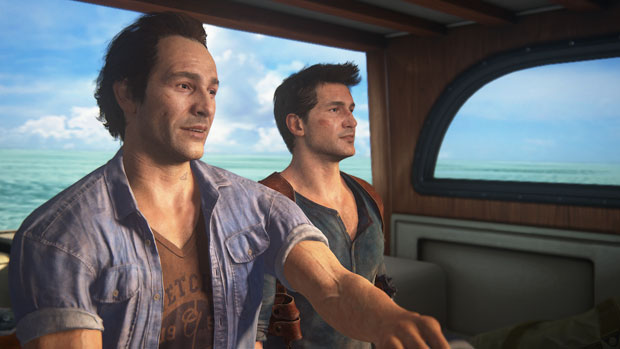 Graphics/Audio
Graphically, Uncharted 4 is perfect on the PlayStation 4… it's beautiful! The in-game graphics are not only detailed but quite flawless and this title would make a great PlayStation VR title. Add in some realistic animation, special effects, weather and lighting plus the stunning cinematography and Uncharted 4 is brimming with life and realism. Facial animations are also simply to die for which really add to the emotional journey of our favourite treasure hunter and the eyes… gone are those days of 'dead eyes' as they now look almost real. A special mention should also be made about the water effects which is another 'wow' moment in the game.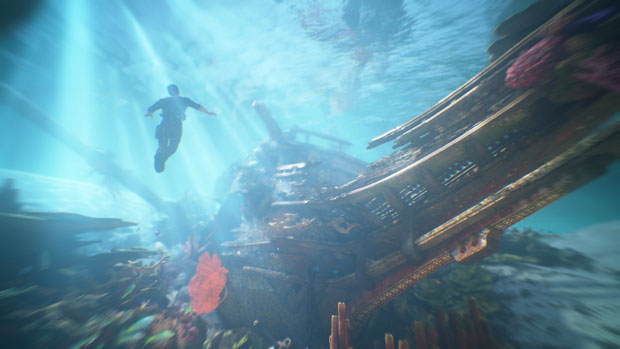 To complement the amazing graphics, there are some great cut scenes to help progress the story which are just like watching a blockbuster movie. Audio is equally as impressive, especially through a surround sound system with the developers adding subtle sound effects to give the world a much more realistic presence. Voice acting is top notch and it's great that all the actors have returned such as Nolan North (Nathan Drake), Richard McGonagle (Victor Sullivan), Emily Rose (Elena Fisher) plus Troy Baker (Samuel Drake).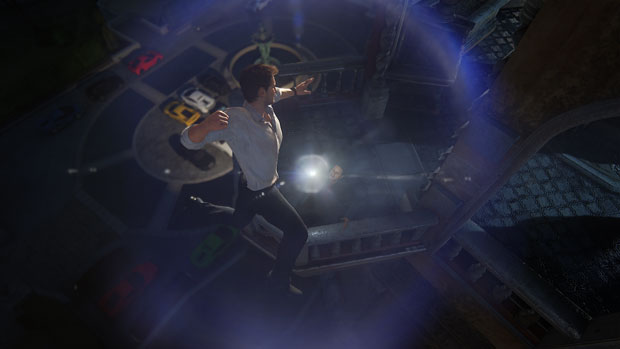 Final Thoughts?
Compared to the previous game, Uncharted 4: A Thief's End is an almost flawless experience on the PlayStation 4. Sure, there are a few clunky control dynamics such as interacting with the environment but overall Naughty Dog should be commended for putting together such a well-made game from start to finish. It's emotional, it's powerful but more importantly, it's probably going to be the most memorable game of the series with a theme of redemption and forgiveness!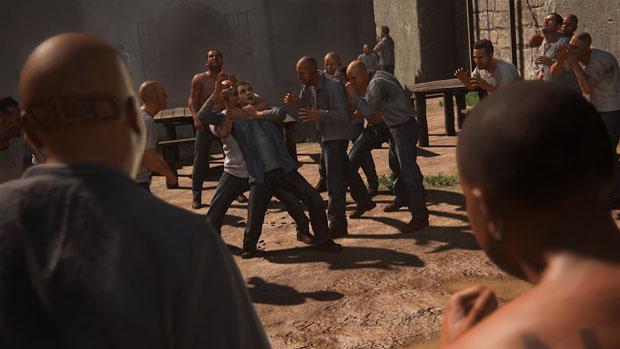 Key Features
• Next-Gen Blockbuster Adventure: UNCHARTED 4 ushers in a more cinematic experience on the PS4 system with real-time cut scenes and new character animations to highlight Naughty Dog's signature storytelling.
• Dynamic Gameplay: Evolved mechanics give players many fresh approaches to gameplay, including new rope and grappling mechanics, added climbing moves and equipment, and seamless fluidity between melee, stealth, and combat.
• Expansive Environments: Varied and richly detailed environments open up with multiple navigation paths to encourage exploration. Gameplay and enemy AI strategically leverage the wider design and added verticality.
• Drivable Vehicles: For the first time in UNCHARTED history, drive vehicles during gameplay to make big moments even more spectacular and interactive.
• UNCHARTED Multiplayer: UNCHARTED 4 will continue to evolve the franchise's multiplayer experience on PS4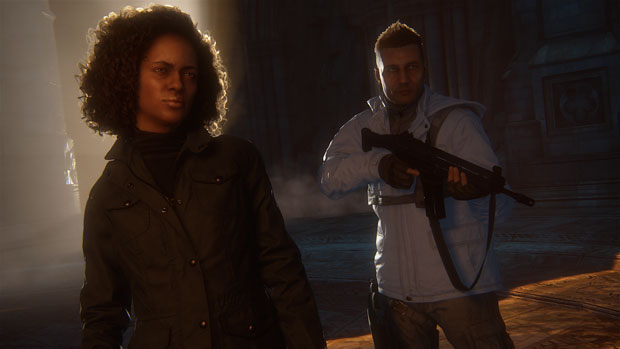 Game Details
Primary Format – Games – Playstation 4
Game Genre – Action & Adventure
Rating – MA15+
Game Developer – Naughty Dog
Game Publisher – Sony Computer Entertainment