Movies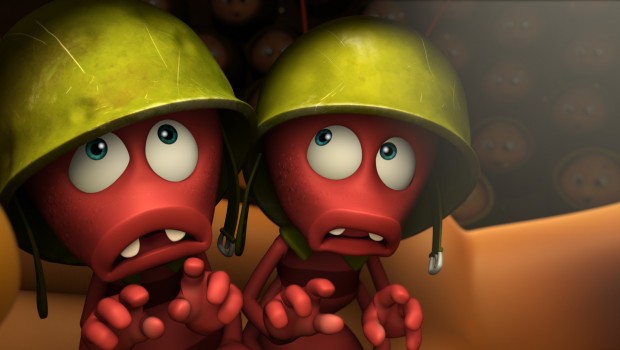 Published on December 9th, 2013 | by admin
THE UMBILICAL BROTHERS BRING THE LAUGHS TO FLYING BARK PRODUCTIONS' MAYA THE BEE MOVIE
Monday December 9, 2013….
Australian comic duo, The Umbilical Brothers will make their animated film debut as Arnie and Barney in the animated stereoscopic film, Maya the Bee Movie, produced by Flying Bark Productions.
Shane Dundas and David Collins aka "The Umbilical Brothers" join an already impressive cast list including Jacki Weaver, Noah Taylor, Miriam Margolyes, Richard Roxburgh, Justine Clarke, Kodi Smit-McPhee, Coco Jack Gillies, Andy McPhee and Joel Franco.
Arnie and Barney are a pair of accident-prone army ant misfits.  Despite their eager intentions, their bumbling antics cause constant grief for the Ant Commander and their troop.  On learning that baby bees Maya and Willi are missing and with no other soldiers to send, the Ant Commander reluctantly dispatches Arnie and Barney on a search and rescue mission, with hilariously silly results!
"The Umbilical Brothers provide great comedy throughout the film with silly, playful banter and a fun portrayal of characters that seem to find themselves in the wrong place at the wrong time.  The natural and energetic dynamic between Shane Dundas and David Collins will offer great credibility to the comedy duo of Arnie and Barney and is sure to have audiences buzzing with laughter" said Flying Bark Productions' Managing Director, Jim Ballantine.
Set against the backdrop of a longstanding conflict between bees and hornets, Maya is born into a world of order and rules. Her hilariously awkward attempts to fit in and "be a bee" immediately bring her into trouble with the narrow minded Buzzlina. When Maya stumbles onto Buzzlina's plot to steal the Queen's royal jelly and blame it on the hornets, the sly Advisor manipulates Maya into leaving the hive.  With her best friend Willi tagging along, Maya buzzes out into the meadow on an exhilarating adventure of self-discovery. Where does she fit in?  And how will she find a way to defeat the Royal Advisor and prevent a nasty battle between the bees and hornets?
The movie will be directed by Alexs Stadermann and is produced by Barbara Stephen and Alexia Gates-Foale as the Line Producer.
Production of the film was announced late last year during a special afternoon reception at Flying Bark Productions for His Royal Highness Prince Philippe of Belgium who was in Australia in the framework of a Belgian Economic Mission.
Recently, Flying Bark Productions announced the film had received funding from both Screen Australia and Screen NSW.
Maya the Bee Movie will bring together the experience and knowledge of outstanding Australian and European creative talent on the first ever animated feature to be produced as an official treaty co-production between Australia and Germany.
The original Maya the Bee television series was first produced in the 1970s and was an imaginative blend of fun-filled and thrilling adventures that gained Maya loyal fans from all corners of the globe.
Today a new generation of fans enjoy the tales of Maya the Bee with the CG television series already seen in many European countries as well as on ABC TV in Australia.
To find out more about Maya and her friends also visit the website www.mayathebee.com.au and like us on Facebook www.maya.tv/facebook
With an extensive and distinguished legacy as one of Australia's leading entertainment producers, Flying Bark Productions is at the forefront of the animation industry, creating film and television content that delights and captivates pre-school, young adult and family audiences worldwide.
Facebook: https://www.facebook.com/flyingbark
Twitter: @flyingbark