Collectibles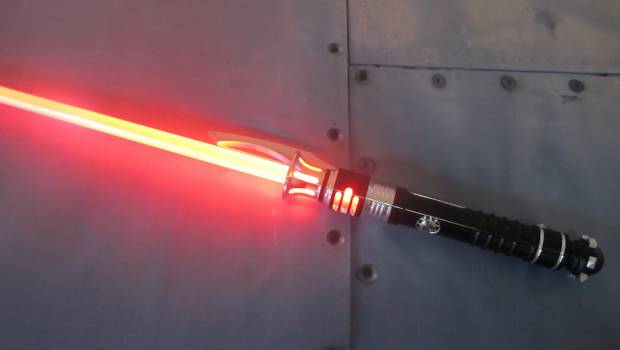 Published on January 21st, 2018 | by Edwin Millheim
Ultra Sabers Light Sabers Review
Summary: Excellent Light Sabers, any fan would be happy as punch to have in the collection.
5
The Force Is Stong Here!
One of the most iconic weapons from the beloved franchise Star Wars is of course the lightsaber and there have been replicas out there and toys of this illustrious and powerful Jedi Weapon. There is also a company that make lightsabers that are so well created, they are works of art themselves. They look like they came right off of a film set. I am talking about Ultra Sabers.
I really did not know what to expect when I decided to get two Ultra Sabers as a 30th wedding anniversary present for my wife and I. We met by way of gaming and sci-fi films and of course having our own light sabers would celebrate our common love for the franchise.
Out of the box, the first thing we noticed is that the Ultra Saber line are a solid bit of merchandise any one would be proud to own. The Sabers we got have a solid feel to them, look, and sound spectacular when lit.
As any one knows the lightsaber in the mythos of Star Wars are as diverse as the Jedi or Sith that wield them. Thankfully, Ultra Sabers has you covered here. In fact, they, almost mind numbingly have you covered. The amount of choices in saber hilt design, sounds, blade lengths and grade, as well as colors is staggering. Fans will do well to do plenty of reading and research on the site itself before purchasing to make sure they understand all the ins and outs and benefits of the different choices.
For one of our sabers I chose an end cap that complimented the smooth design and colors of the saber. The other one I chose a war-glaive end cap that made the saber look more menacing and functional in closer combat if needed.
When it comes to making your choice about purchasing an Ultra Saber you will be happy to know that they are very well made. They are very solid and durable, at least judging from the two types that we have purchased.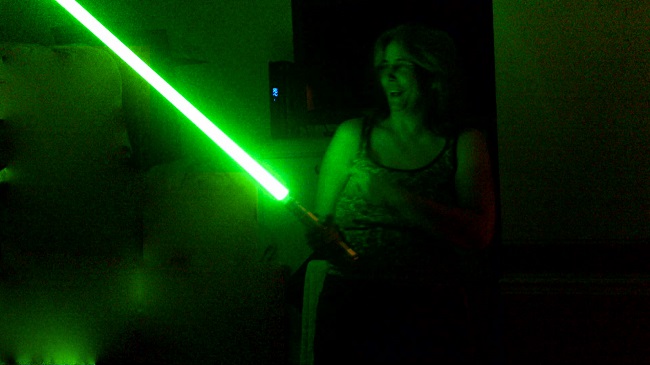 However Ultra Sabers can be pricey, and folks you get what you pay for. You can get just a hilt that is suitable for Cosplay. Just having one of these hooked to your belt and the rest of your costume will look spectacular indeed. You can also get what they called a stunt saber. This type has a blade with no sound, it just lights up and is good for sparring and choreographing duels.
If you want to go all out, while making your purchase and building your saber, you can get different levels of sound. The higher grades of sound are more expensive, though on the other hand also have the option for more customization. Though when you fire the saber up and it gives that unmistakable sound of a movie ready light saber igniting, then humming and pitch changing as it is moved, and even the sound of the saber being turned off. It is enough to make any fan smile from ear to ear.
Any higher options of course come with a price tag, upping the cost. There is even changing sounds for when the saber clashes with something such as another saber. Even a flash on clash can be added in some options. With this feature, it is programmed to flash a different color when it connects into something, preferably another Ultra Saber.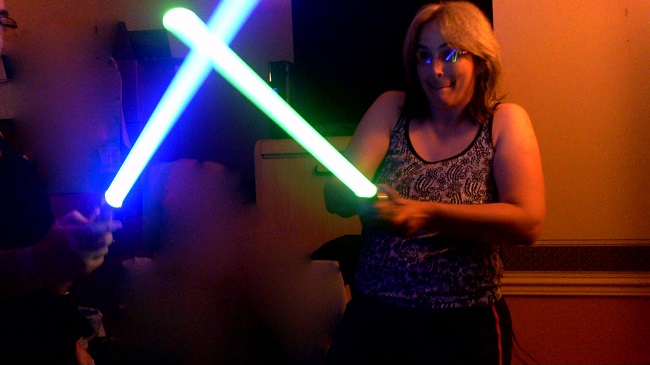 When considering the blade there are a couple of factors that come into play; Size of the blade, also the grade of the blade, in other words; do you plan to spar with it and clash with other sabers or just for show? There are 16-inch blades, 24- inch and 40-inch blades. The different grades of blades are broken down and the descriptions are listed here from their web site.
UltraEdge blades provide a thick, bright blade due to the white polycarbonate tube. The white polycarbonate creates a FULLER blade look but is not as bright as non-Ultraedge blades.
Mid-grade blades are an excellent all around choice. The saber blades are lightweight and allow the true color of the LED through at maximum brightness; however, they are not as thick as the Heavy grade blades and are not meant for full contact dueling.
Heavy Grade & Ultraedge Heavy Grade blades literally weigh twice as much as the mid-grade blades. They do sacrifice brightness in exchange for brutal strength. These are the recommended blade types for full contact dueling.
Final Thoughts?
Ultra Sabers are solidly constructed, have an excellent looks and feel which I highly recommend these. However before purchasing one of these powerhouses, do yourself a favor and research everything on the site itself as the choices and options are brilliant and numerous.
http://www.ultrasabers.com/?utm_source=bing&utm_medium=cpc
Have fun, play games
Edwin Millheim