Games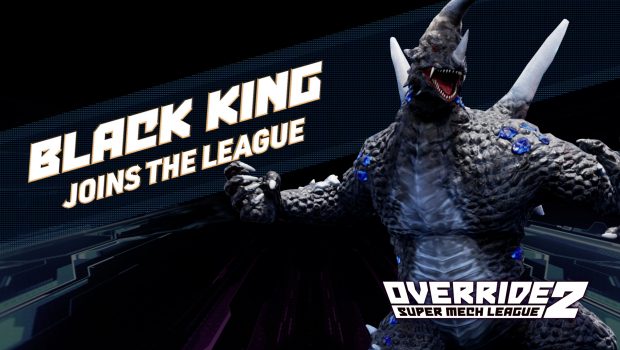 Published on March 23rd, 2021 | by Adrian Gunning
ULTRAMAN's Black King DLC Smashes Opponents to Dust in Override 2: Super Mech League
Publisher Modus Games today announced that Black King from the action-packed anime ULTRAMAN is now available to crush any and all opponents in his way, joining Override 2: Super Mech League as part of the game's season pass.
Today's news was accompanied by a new gameplay trailer that gives a look at the rip-roaring power joining the league:
Black King is a ravenous Kaiju from the ULTRAMAN anime with the power to rip enemies to shreds with ease. The character follows Ultraman and Bemular as the third of four ULTRAMAN characters coming to the game, with Dan Moroboshi releasing in the coming months.
Also announced today is the news that players can now engage in cross-platform matchmaking across Xbox, PC and PlayStation. Players on different platforms will experience improved queue times and battle against a larger competitive pool of participants for each match type. Read the full patch notes here: https://modusgames.com/news/keep-up-with-the-latest-override-2-patches-here/
If you haven't already, join in the unstoppable action by purchasing Override 2: Super Mech League now: www.override2.com.
Override 2: Super Mech League gathers a crew of distinctly devastating mechs for electrifying, over-the-top throwdowns for 1-4 players. Action is accessible to all and easy to jump into, but strategic depth in combat design means even the most skill-focused players will find a deeply rewarding, eSports-ready challenge. See if you have what it takes to rise to the top in the 'Leagues' Career Mode, or take on friendly matches as you begin to hone your skills.
For the latest on Override 2: Super Mech League, head over to the game's official site (http://www.override2.com/) and purchase the game now. For news on Modus Games' full lineup, head over to https://modusgames.com, join the Modus Games Discord channel (http://modus.games/discord), and follow @Modus_Games on Twitter.