Games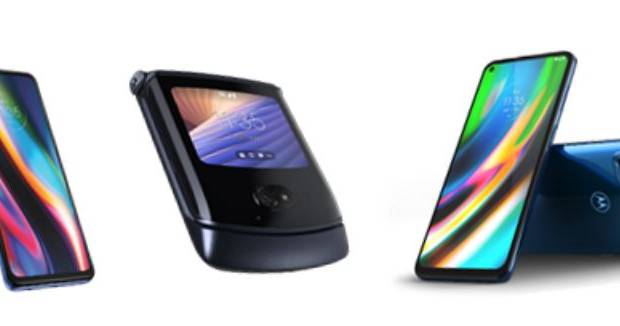 Published on November 2nd, 2020 | by Adrian Gunning
Ultra-fast connectivity for all tastes and budgets: New moto g 5G plus and motorola razr 5G launch in Australia
Motorola has today released three new smartphones in Australia, the moto g9 plus, moto g 5G plus and motorola razr 5G. Today's launch extends Motorola's 5G line up in Australia, following the release of motorola edge in July.
Whether you are after industry-leading features at an affordable price or a premium smartphone that is pocketable yet powerful, making you stand out from the crowd, Motorola has you covered. All three devices will be on sale in November:
moto g 5G plus: The moto g 5G plus brings advanced 5G connectivity to Australians at an unbeatable price. Add to that unbelievable speed and power, the moto g 5G plus delivers industry-leading features, such as class-leading performance, an outstanding CinemaVision display with a 90hz refresh rate, Motorola's first ever ultra-wide dual front camera system, 48MP quad camera system and powerhouse battery life.
motorola razr 5G: Back better than ever, the razr 5G is a new kind of fashion symbol that delivers a premium experience, performing unlike any other foldable on the market. Developed with direct consumer feedback as its driving principle, razr lets you experience the latest 5G speed and the most advanced selfie camera ever,[1] all in a one-of-a-kind stylish flip design.
moto g9 plus: Motorola has also launched its premium 4G model of its g9 series. With an outstanding 64 MP Quad camera system, 5000mAh battery and snappy Qualcomm 730G chipset with super-responsive performance that won't slow you down, the moto g9 plus has everything you want from a smartphone. The moto g9 plus is the latest addition to the moto g family which has sold in excess of 100 million units worldwide, since launching in 2013.
"As 5G coverage becomes more widely available in Australia, we're on the cusp of a new era in mobile technology where traditional expectations are being redefined. With the moto g 5G plus, we're bringing innovations that matter to Australian consumers in the next generation of mobility without the inflated price tag. The moto g 5G plus is for those wanting an affordable device with industry-leading features, speed and power," said Danny Adamopoulos, General Manager of Sales, APAC for Mature Markets, Motorola.
"At Motorola, designing a new product starts with understanding what matters most to customers while always having a vision for the future. The new razr carves out a completely new space in the market for Australians who value a balanced smartphone experience at the intersection of style-driven self-expression and cutting-edge technology," said Adamopoulos.
Affordable 5G with the moto g 5G plus
The moto g 5G plus supports ultra-fast 5G connectivity providing more bandwidth and lower latency to download TV shows in seconds[2], stream intensive online games and take video calls without lag. By offering compatibility 4G networks, you're covered for today and ready for tomorrow.
The moto g 5G plus features a quad camera system with a 48 MP main sensor with Quad Pixel technology and Night Vision that makes every shot shine, even in low lighting. The moto g 5G plus also introduces Motorola's first dual selfie camera system in Australia. Thanks to the 8MP Ultra-wide angle camera[3], you can fit 4 x more into the frame.
The display experience comes with a 6.7″ CinemaVision Full HD+ display for cinematic viewing. The 90 Hz screen refresh rate ensures smooth movements through the app drawer, images, and webpages, and offers a sleeker gaming experienc.
No matter how fast you're moving or how much you're multitasking, the moto g 5G plus can keep up. Powered by the advanced Snapdragon™ 765 5G Mobile Platform enjoy exceptional performance to meet even the most demanding 5G use cases. The massive 5,000 mAh battery lets you go for up to two days without having to worry about slowing down or recharging.8
Minimal meets maximal in the new razr
The newest iteration of razr's design exhibits simplicity on the outside but hides precision and ingenuity on the inside. A tapered chin, rear-mounted fingerprint sensor, and updated hinge offer aesthetic and functional changes based on direct consumer feedback for an easy, one-handed experience with razr. Polished 3D glass with 7000 series aluminum gives a distinguished, eye-catching look in a timeless and refined colour, Polished Graphite.
Flip open razr and reveal its 6.2 inch Flex View Display. When horizontal, the 21:9 CinemaVision aspect ratio draws you in with the same ultra-wide dimensions used by the film industry.
The new razr fits more cutting-edge technology into an even sleeker form factor. The updated chin design reduces the device size while also enabling 5G performance by housing two of the four 5G antennas. All this is powered by a robust Snapdragon™ 765G processor.
Open or closed, the new razr's camera system delivers a big impact in a small package. Capture sharp, vibrant photos on the 48MP camera[4] with Quad Pixel technology that provides 4 x low light sensitivity. Laser autofocus technology in the time of flight sensor helps the camera quickly focus on your subject. The 48MP camera system[5] also doubles as the most advanced selfie camera on the market when the phone is closed.1
The display works in harmony with Motorola's unique hinge design, offering the only zero gap closure on a foldable device that protects the internal display and keeps razr ultra-compact. We collected feedback from razr owners and put our dynamic folding system to the test with rigorous flip cycling, drop, temperature and other stress-testing to ensure longevity and reliability. We found an average user flips razr 40 times per day, while power users flip razr 100 times a day. Our flip cycling test showed razr is designed to withstand up to 200,000 flips, meaning it would take a power user over 5 years to reach that level of use.[6] Plus, a custom protective coating protects against scratches, while a water repellent barrier on the inside of the devices safeguards against spills, splashes, rain and more.[7]
Even power-hungry 5G has met its match with our new battery. With the new razr, you can go all day without recharging.[8] Despite the added complexity of 5G and a larger battery, the next generation maintains the slim, cohesive design consumers love.
Pricing and availability
The motorola razr 5G is available from today, Monday 2nd November and the moto g 5G plus and moto g9 plus will be on sale from Tuesday, 10 November:
motorola razr 5G: RRP $2,299, available in Polished Graphite at JB Hi-Fi, Harvey Norman, The Good Guys, Officeworks, Mobileciti and the Motorola online store.
moto g 5G plus: RRP $499, available in Surfing Blue from Telstra and Vodafone ($41.58 for 12 months and $20.79 for 24 months) and the Motorola online store.
moto g9 plus: RRP $399, available in Navy Blue at JB Hi-Fi, The Good Guys, Officeworks, Mobileciti and the Motorola online store.
[1] Based on the following unique feature combination not found in other phones: large sensor size (1/2.25"), large Quad Pixel size (1.6um), wide aperture (f/1.7), high sensor resolution (48MP Quad Pixel), optical image stabilisation, and time of flight (TOF) sensor.
[2] Based on 5G sub-6Ghz network connectivity, providing 90-130 Mbps download speeds to the average user. Available with 5G service plan and 5G network coverage (available in certain areas in 2020, expanding after that). See carrier for details.
[3] Compared to the measured area of the main 78° (FOV) camera in the same aspect ratio.
[4] 48 MP sensor combines 4 pixels into 1 large quad pixel, for a photo resolution of 12 MP.
[5] As above.
[6] Motorola razr is designed to withstand up to 200,000 flips. Testing conducted in a controlled environment, using accelerated life testing protocols; many factors, not all of which are included in such testing protocol, affect the durability of a phone; backed by Motorola's standard limited warranty.
[7] Water-repellent design creates a barrier to help protect against moderate exposure to water, such as accidental spills, splashes or light rain. Not designed to be submerged in water, or exposed to pressurized water, or other liquids; may diminish over time. Not waterproof.
[8] All battery life claims are approximate and based on the median user tested across a mixed use profile (which includes both usage and standby time) under optimal network conditions. Actual battery performance will vary and depends on many factors including signal strength, network and device settings, temperature, battery condition, and usage patterns.