PS5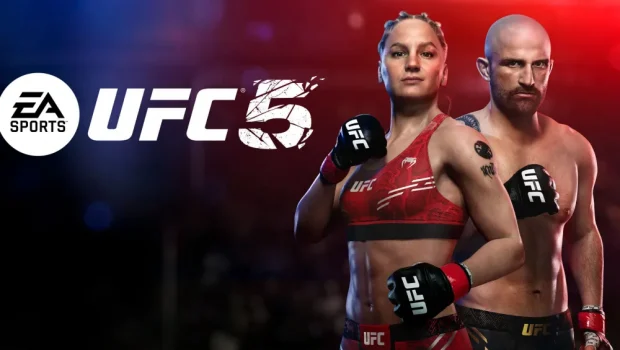 Published on November 16th, 2023 | by James Davie
UFC 5 Review (PlayStation 5)
Summary: Give this one a wait and see, or a miss entirely if you're unsure because while UFC features some worthwhile improvements, it's continuously swamped by the remnants of its archaic tendencies.
Nine years and five instalments after EA retrieved the UFC videogame license from the defunct remnants of THQ with 2014's EA Sports UFC, they've returned with perhaps their most polished entry in the series yet. Sporting a raft of fan-desired improvements including doctor stoppages, refined online modes and a reworked submission system, UFC 5 does what it can to vie for MMA videogame championship supremacy, though it still has plenty of room for improvement until it can reign supreme as a Jon Jones or Anderson-Silva-caliber fighting game.
The EA Sports UFC series has long been chopped down by Edson Barboza leg kicks because it lacks the impactful and fantastically authentic dukes of THQ's UFC Undisputed franchise. In the past, EA's UFC games have failed to live up to such lofty standards because the presentation has been disappointingly shallow, the combat gets hamstrung by head-spinning complexities, and the laser-focused details fans crave from the combat leader in sports have been snubbed from their games altogether. So far, EA's efforts haven't been a celebration of the sport at all, instead they've thrived on reminding us how much they've been inspired by Mortal Kombat-a fighting game series with gory decapitations and fatalities, unrelated to anything regarding UFC or MMA's long rich history.
The good news is UFC 5 does address a few long-standing demands from UFC fans. Cuts can open up anywhere on the face and head due to repetitive blunt force trauma, and eventually the severity of the gash will force the ref to freeze the bout to ask a doctor to check on the laceration, and he'll decide whether the fight should go ahead or for it to be called and rendered a doctor stoppage. This feature hasn't been seen since UFC Undisputed 3 from 2012, so seeing doctors evaluating cuts and making  decisions on the outcome of fights is a welcome and much-needed return.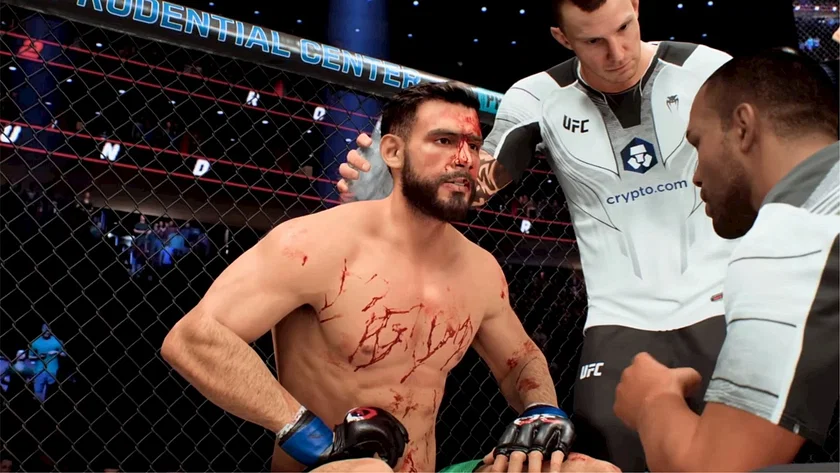 The reworked submission system is also applause-worthy. Before you needed to perform an annoying minigame where you had to chase your opponent's coloured bar around a circle to get him/her to submit, but this time it's gone for good and replaced with a positional alternative that corresponds well with the entire ground game.
Pulling off submissions depends on both the fighter you're using and the position you are on the ground; for instance if you're in full mount you could be given options for armbars, triangle chokes or arm triangles, whereas if you're position towards your opponent's feet you can be given choices such as whether to utilize a kneebar or heel hook. To submit an opponent you need to reduce his/her submission healthbar, which you can do by effectively keeping a submission hold and wrenching on it, or by moving from one submission to another to keep your counterpart guessing.
The new submission game is generally a vastly favourable improvement over the previous minigame-based submission system, showing that UFC 5 has grown up, and the satisfaction of submitting your foe does not come with a tacky out-of-place and shoehorned minigame.
Stand-up warfare feels as intimate and satisfying as the series has ever been. Strikes register with aplomb, allowing fights to feel scrappy and rewardingly visceral. As was the case with UFC 4, you can recognize the amount of damage you're doling out when the screen turns orange after an almighty blow, meaning the opponent must retaliate or face getting knocked out. These warnings are great wake-up call for adjusting strategy, meaning the tide can turn on you if you're not vigilant.
Leg kicks need to be paid attention to keenly as well. This time instead of the screen turning orange, it'll turn an icy blue if you receive too many shots to the shins, so like your advice to visit a doctor, go get those leg kicks checked-because if you do then your fellow combatant's legs will start to wane instead.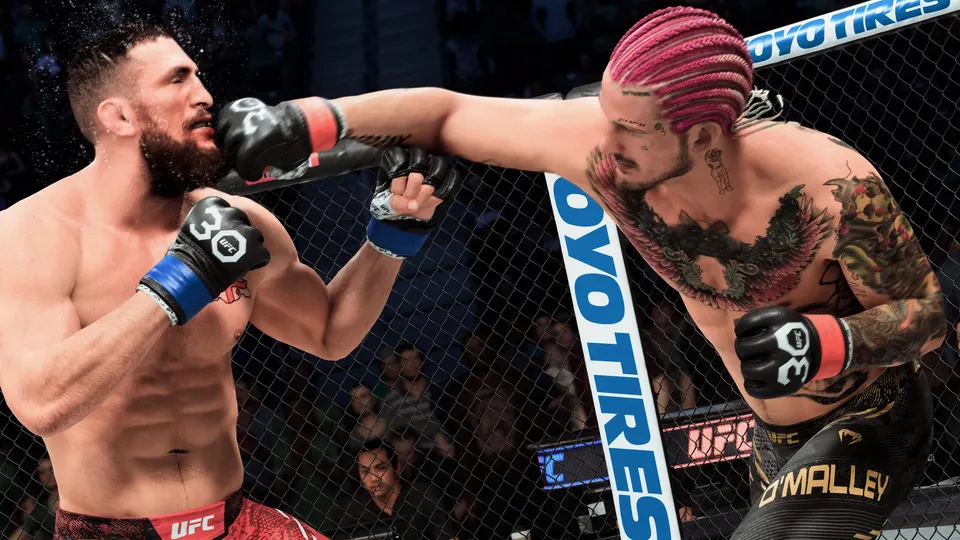 Many of the animations of fighters tumbling to the ground and reacting to big shots have been recycled from previous UFC games, so it's hard to ignore how UFC often feels like a slightly enhanced game from the previous generation, rather than a full next-gen enhancement, which consequently makes UFC 5 feel like an old game in new skin at times. This problem is most easily noticed thanks to the passable visuals; they're by no means awful, but you'd think current-gen horsepower would yield more impressive character models and textures, yet UFC 5 looks like a minimal upgrade of UFC 4.
On the subject of minimal upgrades, the roster is completely unchanged from UFC, and yes that includes all the free fighter updates. Not only are there no new additions to the roster, but a myriad of fighters in the game were released from the UFC long before this new version turned up. Fighters like Thomas Almeida, Gokhan Saki, Tom Breese, Omari Akhmedov, Yancy Medeiros and Marlon Moraes are all included in UFC and all of them are no longer with the promotion, forcing the latest game to feel outdated-but hey at least there are more fighters to play with than if they were cut, so there's some good to salvage from the bad at least.
Career mode returns and is as flat and uninspiring as it was in previous instalments. Your goal in career is to be the G.O.A.T by beating everyone there is to beat. Along the way, you receive bland pep talks from your coach, rub non-violent elbows with the indominable former UFC Women's Flyweight Champion Valentina Shevchenko, and tearing your way up the ranks by taking on fight offers, signing contracts with your special fingerprint, increasing your fighter attributes, and performing activities to boost your rep, such as watching tape of your opponents before bouts and attending events.
Don't expect the career mode to go places you haven't been to before, it's a pedestrian effort that could've used some spiciness or something meatier to get your savaging Volkanovski-esque teeth into. There's no buildup to fights, no authentic presentation such as Jon Anik and company standing in front of the Octagon and introducing the PPV events to you, it's all very straightforward and drearily uninspired.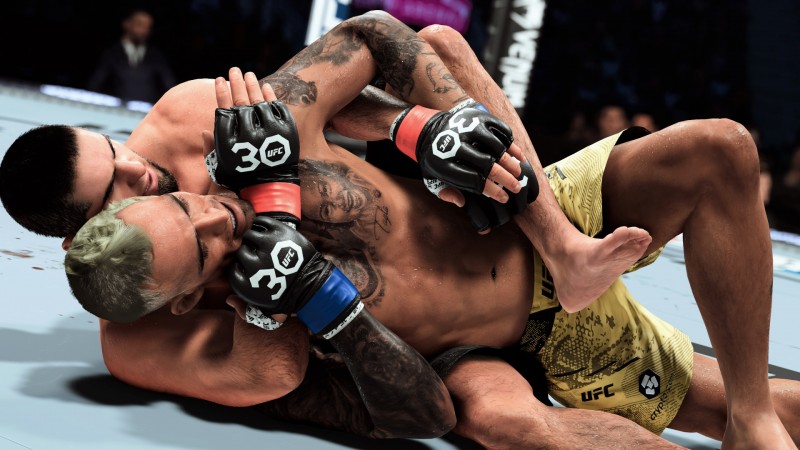 The online battle arena is fully stocked with modes and options to keep your fists clenched and your aspirations of being a budding online version of Israel Adesanya or 'Suga' Sean O'Malley in check. Online Career has you competing online to evolve your fighter into an indominable champion, encouraging you to wrack up wins to earn championships for your rise to greatness. Nothing's particularly remarkable here, but if you find yourself glued to UFC 5's online arena, you'll soak up most of what this mode has to offer.
Blitz Battles return from UFC 4, changing up your online encounters by mixing up rules so no two fights are ever quite the same, usually foregoing the standard 3 round MMA-style encounters for bouts where say only kicks are allowed under a knockouts-only format. The diversity on offer in Blitz Battles keeps you on your toes and keeps online matchups consistently exciting.
Altogether, there are a wealth of worthwhile options online that can keep you competing for months on end, and the stock of options are arguably more worthwhile than the host of single-player options. Nothing is groundbreaking here, but there's a suite of good modes that'll keep the fights entertaining and enjoyable with both friends and unknowns.
The music in UFC 5 is an acquired taste with its rap and hip-hop cohering to modern UFC vibes, though much like the dismal Career Mode dialogue, the soundtrack makes Daniel Cormier's crying after he lost to Jon Jones in 2017 more tolerable than the ear-nagging ensembles here. Of course music preferences are highly subjective, but gangster rap doesn't sound good for a sport where hard-hitting punches, kicks, elbows and knees are repeatedly and relentlessly thrown. The days of bangers like Saliva's "Click Click Boom" are long gone, and their replacements are simply dire. Best get your own Spotify tunes going for this game, or you'll be subjected to audible damnation.
Final Thoughts?
Refusing to go down without a blood-soaked war, UFC 5 does play host to a range of much-requested features that deserve praise such as doctor stoppages and a refined submission system. Fights are as sweaty and deliciously impactful as ever, producing the best EA Sports UFC experience to date. However, there are plenty of kinks that dig away at UFC 5 such as its half-caste presentation that recycles a plethora of animations from previous games, an outdated roster with no brand-new additions, a grating soundtrack, and the general lack of a proper evolution. UFC 5 is a half-baked game rather than a wholly new fighter, it's like BJ Penn-there is greatness in there, but the longer you play the more you just wish it did something new and stopped persisting with its mediocre elements. Give this one a wait and see, or a miss entirely if you're unsure because while UFC features some worthwhile improvements, it's continuously swamped by the remnants of its archaic tendencies.