Games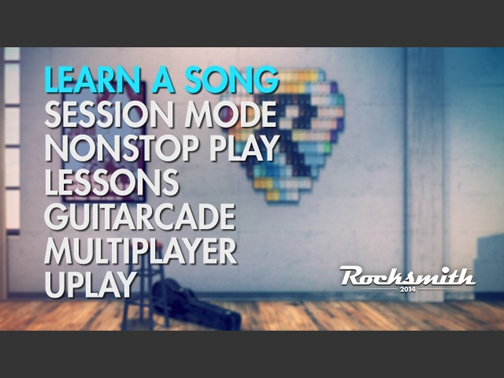 Published on October 24th, 2013 | by Admin
UBISOFT RELEASES ROCKSMITH® 2014 EDITION – THE FASTEST WAY TO LEARN GUITAR
SYDNEY – October 24 2013 – Ubisoft® has announced that Rocksmith® 2014 Edition™, the fastest way to learn guitar*, is now available throughout Australia and New Zealand. Rocksmith 2014 Edition builds upon the initial success of Rocksmith® (released in 2012 in Australia and New Zealand, 2011 in the US), which innovatively and effectively taught over 1.5 million players how to play the guitar.
Rocksmith 2014 Edition offers a completely redesigned interface, as well as the addition of all-new features, techniques, tunings and modes. Now with Rocksmith 2014 Edition, aspiring guitarists can learn to play in just 60 days.
Session Mode is a massive innovation that utilises an entirely unprecedented technology that allows players to create their own original music, as a virtual band accompanies them, following their lead in real time. Players choose the style of music and from over 70 instruments they'd like to play with, and on-screen prompts help the player learn how to improvise and jam live with a band. They can then play on their own or jam side-by-side with a friend in Multiplayer mode, and create their own band experience in the comfort of their living room.
Core to the Rocksmith learning experience is the new The Instant Riff Repeater which lets players choose the difficulty, speed and section of each track they play, helping them focus on the particular sections that they struggle with the most. Players are now in full control of their learning pace and can master every part of the songs they want to learn.
Rocksmith 2014 Edition also features a brand new track list with no less than 55 hit tracks and rock n' roll anthems, including "Knights Of Cydonia" by Muse, "Don't Look Back In Anger" by Oasis, Losing My Religion by R.E.M., "Paint It, Black" by The Rolling Stones, "The Chimera" by The Smashing Pumpkins, "Every Breath You Take" by The Police or Foo Fighters' "Everlong".
The standard edition of the game includes the Rocksmith Real Tone Cable™, a unique ¼" to USB cable that was developed exclusively for the original Rocksmith. This revolutionary cable turns the guitar's signal from analogue to digital, allowing it to be recognised and played through video game consoles as well as PC and Mac®. The guitar bundle provides a quality entry-level option for people that have always wanted to play but don't own a guitar. The bundle includes an Epiphone Les Paul Jr. guitar, along with the Rocksmith Real Tone Cable. For people that already own the original Rocksmith and have access to the Real Tone Cable, the game only version is available.
Rocksmith 2014 Edition™ will offer Australian and New Zealand fans a world-wide exclusive. The ANZ Limited Edition will include Tame Impala's 2012 smash hit "Elephant" and The Smashing Pumpkins' classic "Cherub Rock" as additional tracks to download for free.
Players already owning the previous version of Rocksmith will be able to further enjoy their rock experience in Rocksmith 2014 Edition by importing 52 songs from the original Rocksmith for $14.45. Each song from the first version has been revamped to support all of the new features including Automatic Tone Switching, Articulation, Timing and Instant Riff Repeater. Additionally, previous DLC purchased for Rocksmith will be compatible with Rocksmith 2014 Edition at no extra cost.
To further extend the Rocksmith experience, a comprehensive list of DLC songs and packs is planned. From today, players can foretaste the richness of Rocksmith 2014 Edition's upcoming DLC offer with a first DLC batch already available and comprising the following songs, each song is priced at $4.35:
Them Crooked Vultures – Mind Eraser, No Chaser
Chicago – 25 To 6 Or 4
Albert King – The Sky Is Crying
Queens Of The Stone Age – My God Is The Sun
The Hives – Hate To Say I Told You So
The Lumineers – Ho Hey
For the latest information on Rocksmith 2014 Edition, please visit: www.rocksmith.com