Games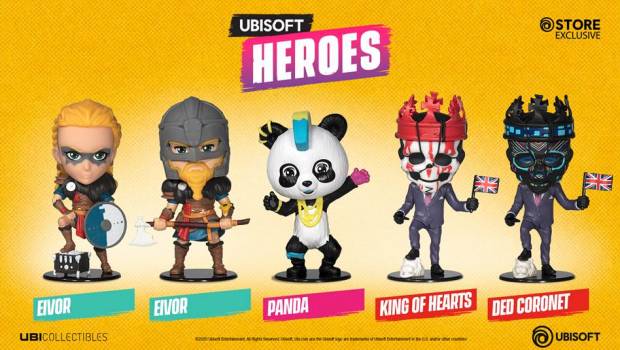 Published on August 28th, 2020 | by Adrian Gunning
UBISOFT HEROES, THE BRAND-NEW RANGE OF CHIBI FIGURINES, ANNOUNCES ITS SERIES 2 AND A UNIQUE COLLABORATION WITH BACCARAT
Today, Ubisoft announces that the Series 1 of Ubisoft Heroes is now available on Ubisoft Store and regular distribution channels. In addition, Ubisoft expands its brand-new set of chibi figurines, inspired by famous heroes from the Ubisoft worlds, by announcing an incoming Series 2.
The first series of Ubisoft Heroes is available now at an RRP price of AU$24.95 per figurine and the Series 2 can already be preordered at the same price and will be available from October 27th.This new series will include 4 iconic characters:
Eivor from Assassin's Creed Valhalla is a devoted and confident Viking clan leader, who is not scared of dying to protect his people. Despite his deep love for his clan, he is a lone wolf. Indeed, driven by his dream to prove his courage, he prefers to take on all tasks and risks himself. The male version of Eivor represents a conqueror and valiant leader who is ready to win new battles for his clan. On the other side, the female version of Eivor is represented triumphant after the discovery of a stronghold treasure after an intense raid battle.
Honest, compassionate and loving London almost to a fault, the King of Hearts mask is there to encourage the Dedsec recruits that wears it to resist oppression in all its forms – with a flourish! Modelled after the actual skull of King Richard III that was recovered several years back, this type of mask is usually held together by wiring. In true DedSec fashion, the Dedsec Coronet Limited Edition has been added colourful LED illuminated lines, and a pixelated graphic cementing the crown for the second version of this figurine, available as a Ubisoft Store exclusive.
The Panda has been busting moves in the last 7 editions of Just Dance. He first appeared in the song 'Timber' by Pitbull ft. Ke$ha in Just Dance 2014. Since then he's been breaking it down as a coach for songs like 'I Gotta Feeling' by The Black Eyed Peas and, most recently, 'Con Calma' by Daddy Yankee Ft. Snow. The most loved and iconic character of the Just Dance franchise now joins the Ubisoft Heroes Collection with this colourful figurine.
Ubisoft is also announcing a unique collaboration with Baccarat, the most prestigious crystal manufacturer in the world. To celebrate the launch of Ubisoft Heroes Series 1, Ubisoft and Baccarat have partnered to pay tribute to the iconic Assassin's Creed character Ezio Auditore with a unique creation in blue crystal. This handmade piece crafted by Baccarat's artisans symbolises the unique know-how of the 256 years old crystal brand. Recognised for the inimitable talent of its blowers, gilders, engravers and cutters, Baccarat has perfectly recreated the Ubisoft Heroes version of Ezio by portraying the ancestor of Desmond Miles with his Eagle's Vision. All Assassin's Creed fans will have the opportunity to win this exceptional, limited edition piece, simply by purchasing a box of Series 1 figurines.
Five Golden tickets have been placed inside the boxes of Series 1 figurines that will be on sale from August 28, 2020. Consumers who will find the Golden ticket in the box will win a Baccarat's Ezio Eagle's Vision figurine.
The Ubisoft Heroes Series 1 are now available for purchase, and Ubisoft Heroes Series 2 are available for pre-order here: https://ubi.li/8BVch