Events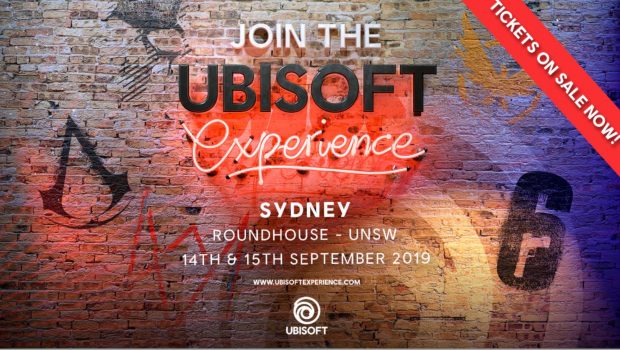 Published on August 22nd, 2019 | by Admin
'UBISOFT EXPERIENCE' PANEL SCHEDULE AND SPEAKERS REVEALED
Today, Ubisoft Australia announced the panel schedule and speakers for the 'Ubisoft Experience', an immersive community event heading to the Roundhouse, UNSW on September 14 and 15. The event panels, which run over the whole weekend, will be hosted by video game writer, television presenter and author Stephanie 'Hex' Bendixsen and will cover a range of diverse topics including:
Creating the Perfect Villain: A deep dive into the antagonists of the Far Cry series
Careers in the Gaming Industry: A discussion on the diverse range of careers available in the video game industry
Passionate Players Shaping Games: A look at the various ways community members have helped in the creation of Ubisoft games
Ghost Recon Breakpoint: See an all new exclusive mission from the upcoming game narrated live by the Paris studio team
Ubisoft Experience
Roundhouse, University of New South Wales, Anzac Parade, Kensington NSW
Tickets on sale now from Ticketek
All proceeds go to R U OK?
Saturday, September 14, 10:00am – 6:00pm
Sunday, September 15, 10:00am – 6:00pm
As well as these panel discussions, live onstage demonstrations will be held hourly all weekend in both the Beyond Good & Evil 2 and Watch Dogs: Legion theatres.  A full schedule for all panels and speakers can be found here. The 'Ubisoft Experience' panel line-up hosts a selection of local and international speakers, it includes:
Stephanie 'Hex' Bendixsen – Video game writer, television presenter and author, Stephanie was co-host of ABCTV's Good Game and Good Game: Spawn Point and regularly contributes to the Herald Sun's gaming column. Hex also has a YouTube Channel, live streams to Twitch and acts as MC, keynote speaker and panellist at numerous gaming industry events each year.
Dan Hay – Executive Producer and Creative Director at Ubisoft Montreal, Dan developed 2018's blockbuster Far Cry 5 along with each previous iteration of the franchise since Far Cry 3 including New Dawn and Primal.
Shelley Johnson – Originally from Melbourne, Shelley is Associate Producer on Watch Dogs: Legion and now an industry veteran with over 20 years' experience shipping games for many of the world's biggest entertainment brands.
Laura Cordrey – Community Developer at Ubisoft Paris, Laura introduced Ghost Recon Breakpoint's Delta Company program at E3 2019 at the Ubisoft Press Conference and continues to grow Ghost Recon's strong community of 15 million players.
Kevin Erwin – Community Developer at Ubisoft Montpellier, Kevin is currently working on Beyond Good & Evil 2 and is at the forefront of the Space Monkeys program.
James Nadiger – Associate Narrative Director at Ubisoft Montreal, James has most recently worked on the Far Cry franchise included recent releases Far Cry 5 and Far Cry New Dawn
Edward Fong – Managing Director of Ubisoft Australia and New Zealand, Edward has been a senior player in the games industry for over 20 years, launching many iconic brands and instrumental in the continued growth of the local market across multiple initiatives.
Muselk – One of Australia's most prominent streamers and gaming personalities. A member of the Click House in Sydney, Muselk has over 8 million subscribers and his videos are regularly featured on the global YouTube Trending (gaming) page.
Stephen Farrelly – Co-Managing Editor at AusGamers & Games Channel Manager at Red Bull Games Australia, Stephen is a highly regarded and experienced journalist and is a member of the prestigious Game Critics Awards.
Steve Wright –Editor-in-Chief at Stevivor, Steve manages one of the most successful independent video games outlets in Australia which has won multiple awards and is a member of the Games Critic Awards.
Jayden Rodrigues – Long-time Just Dance ambassador, Jayden has built and audience of over 1 million subscribers for his YouTube channel with his dance tutorials and choreography. Most recently, Jayden was a judge at the 2019 Just Dance World Cup.
Brad 'Fat Shady' Hill – One of the most recognizable faces in the Trials Community, Brad introduced Trials Rising at E3 2018 in front of millions of viewers worldwide. Brad's YouTube channel, The University of Trials, was featured in Trials Rising as the official tutorial mode.
Tickets are available to purchase from today via Ticketek, with all proceeds going to R U OK? that aims to start life-changing conversations. Fans can purchase a one-day pass to the Ubisoft Experience for either Saturday or Sunday here, full details below.
For more information including FAQ and full terms and conditions of entry please visit www.ubisoftexperience.com. Join the conversation with #UbiXP and follow Ubisoft Australia Facebook, Instagram and Twitter for the latest announcements.
*A one-off Ticketek Service & Handling fee of $5.40 per transaction applies on all purchases