Games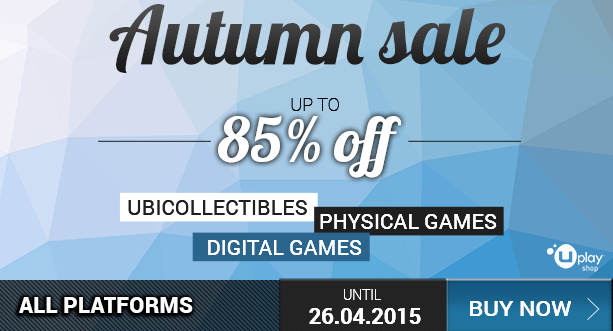 Published on April 17th, 2015 | by admin
Ubisoft Celebrates a New Season with the Uplay Autumn Sale
WHAT: The Uplay Autumn Sale includes discounts of up to 85% on PC Digital titles, such as Assassin's Creed Unity, Far Cry 4 or South Park the Stick of Truth. Titles like Dragon Age: Inquisition or Middle-Earth: Shadow of Mordor also are available at a discount. Additionally, during the Autumn Sale Uplay's catalog of physical games is 30% off (excluding pre-orders) while Ubicollectibles, a collection of premium merchandise for fans of Ubisoft's popular brands, are discounted by up to 50%.
WHO: The discounts on digital games are available to players worldwide. Physical games are shipped to more than 140 countries in the EMEA region as well as USA and Canada. The offers on Ubicollectibles are available in more than 140 countries across Europe, Middle-East, Asia, Africa and Oceania.
WHY: Uplay Sales give gamers a chance to discover new games and add to their collections, whether they're looking for a recently released title at a discount or a gaming classic. With discounts across multiple platforms and genres, the Uplay Autumn Sale has something for every gamer.
WHEN: The Uplay Autumn Sale runs now through April 26.
WHERE: Find these offers and more at http://shop.ubi.com