Games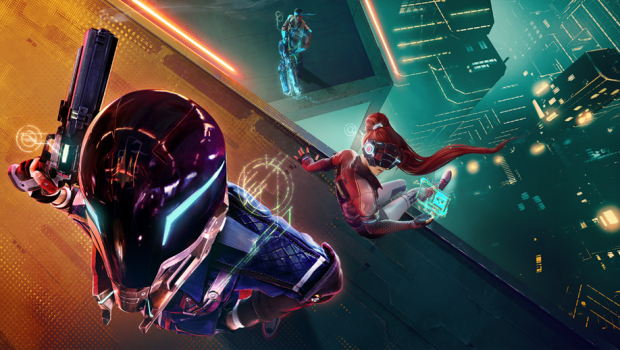 Published on July 3rd, 2020 | by Admin
Ubisoft Brings Battle Royale To New Heights With HYPER SCAPE™
Today, Ubisoft® announced Hyper Scape™, a free-to-play fast-paced urban battle royale first-person shooter. Developed by Ubisoft Montreal, Hyper Scape takes place in the distant future of 2054, where up to 100 Contenders descend upon the virtual city of Neo-Arcadia to engage in action-packed and fast-paced matches to be crowned champion. Starting today, Hyper Scape is available in a limited-time PC technical test in many territories across North America and Europe[1]. Interested players can try out the game during the technical test by tuning into one of the content creators currently broadcasting Hyper Scape on Twitch with Twitch Drops enabled. Full list available here.
[1] Full list of countries for Technical Test : Austria, Belgium, Canada, Denmark, France, Germany, Ireland, Italy, Netherlands, Norway, Portugal, Spain, Sweden, Switzerland, United Kingdom, USA
Hyper Scape was designed from the ground up as an intense, vertical and fast-paced battle royale experience. Three-player squads and solo players can dive into the futuristic virtual city of Neo-Arcadia to engage in dynamic firefights, quickly transitioning from narrow streets to open rooftops and deadly interiors.
Hyper Scape introduces Hacks, abilities that players can loot in the world the same way they do weapons. Hacks grant offensive and defensive capabilities to suit all playstyles. Laying down a mine that seeks enemies, protecting the squad with a big wall or turning invisible to sneak up on opponents are just a few examples of the Hacks players can combine and swap effortlessly. All Hacks and weapons can be upgraded through the Fusion mechanic to produce more powerful iterations of the pre-existing item.
Hyper Scape innovates and twists the battle royale formula in many ways, such as the unpredictable Decay which dissolves the map of Neo-Arcadia into different patterns, or the unique Echo mechanic that keeps players active in the battle even when they're down. At the end of a Hyper Scape match, the climatic showdown phase starts when the Hyper Scape crown spawns on the map. Players have two different ways to claim victory, either by picking up and carrying the crown for 45 seconds or by being the last player or squad standing.
Hyper Scape is fun to play and rewarding to watch. Developed in partnership with Twitch, the Hyper Scape Crowncast Twitch extension will entertain viewers by letting them impact the game in real time, creating unprecedented interaction between streamers and their fans. Viewers will also have a real-time impact on the battle by voting on events that affect all contenders within a match, such as low gravity or infinite ammo.
"We've built something really unique and fresh by streamlining the experience to focus on fun and intensity. We're really excited to let players have a try at it right away and we can't wait to hear what they think of it" said Graeme Jennings, Senior Producer on Hyper Scape at Ubisoft Montreal. "But this is just the start. Hyper Scape is a universe that is built to grow, and our players will see the beginnings of that even during our technical test."
"What makes Twitch so unique is the real-time engagement between our streamers and their fans. While traditionally this kind of interaction has been about commenting on gameplay, Hyper Scape transports viewers into the game themselves, to serve as active participants," said Sharmeen Browarek Chapp, VP of community product at Twitch. "The fact that fans can now directly impact what's happening in the game to either help or challenge streamers is an entirely new experience. We're thrilled to partner with Ubisoft on this and cannot wait to show our communities what else we have in store for them!"
For the latest on Hyper Scape, please visit https://hyperscape.com/