Games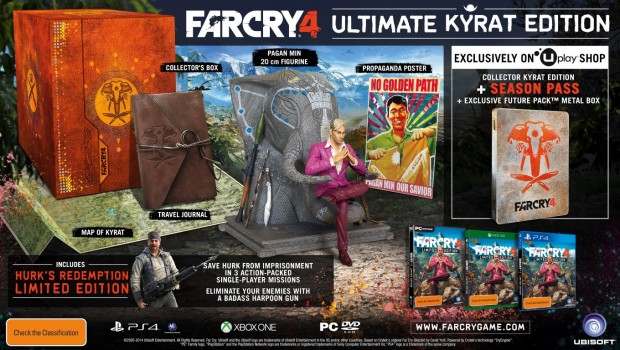 Published on July 4th, 2014 | by admin
Ubisoft Announces Ultimate Kyrat Edition Of Far Cry 4
New Collector Package Now Available for Pre-Order Exclusively on Uplay Shop 
SYDNEY, AUSTRALIA — July 4th 2014 — Ubisoft® has announced the launch of pre-orders for the most complete Far Cry® 4 package available: the Ultimate Kyrat Edition. Presented in an exclusive box, this definitive fan package will include all the elements featured in the Kyrat Edition and in the Limited Edition as well as the Season Pass that will allow players to get access to the forthcoming Far Cry 4 downloadable contents. Only available in European, Middle East and Asian (EMEA) territories including Australia and New Zealand, players willbe able to purchase this Ultimate Edition for PlayStation®4 computer entertainment system, Xbox One, games and entertainment system from Microsoft and Windows PC, on the uPlay Shop – shop.ubi.com/UltimateKyratEdition.
The Far Cry 4 Ultimate Kyrat Edition features:
Hurk's Redemption: Three action-packed single-player missions featuring Hurk, the popular Far Cry 3 character

Mission 1: Fight dangerous enemies in the ice caves of snow-capped mountains to retrieve a rare artifact.
Mission 2: What's better than riding elephants? Fighting waves of enemies on an elephant with Hurk by your side.
Mission 3: In this epic finale, chase down an enemy convoy in a gyrocopter and save Hurk from certain death.

Hurk's exclusive Harpoon gun "the Impaler"!
A 20 cm figurine of the game's villain Pagan Min seated on an elephant throne
A travel journal to record your own adventures
A Pagan Min Propaganda Poster
The game Map
The Far Cry 4 Season Pass
The exclusive future pack™ Metal Box
An exclusive collector case
With Far Cry 4 players will experience the most expansive and immersive Far Cry ever, in an entirely new, massive open-world. Players will find themselves in Kyrat, a breathtaking, perilous and wild region of the Himalayas struggling under the regime of a despotic self-appointed king. Using a vast array of weapons, vehicles and animals, players will write their own story across an exotic open-world landscape. Developed by Ubisoft Montréal in collaboration with other Ubisoft studios, Far Cry 4 will be available worldwide on November 18 for PlayStation®4 and PlayStation®3 computer entertainment system, Xbox One, Xbox 360 games and entertainment system from Microsoft and Windows PC.
For more information on Far Cry 4, please visit: http://www.farcrygame.com