Events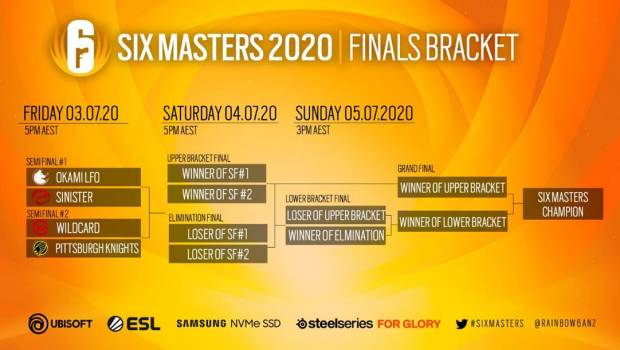 Published on July 1st, 2020 | by Adrian Gunning
UBISOFT® ANNOUNCES SIX MASTERS 2020 FINALISTS
Today, Ubisoft®  announced the finalists for the Six Masters 2020.  Finalists will battle it out online in a double-elimination bracket finishing with a BO5 Grand Final for the Six Masters 2020 title.
The four finalist teams that will be competing to be Six Masters Champion are:
Wildcard
Team SiNister
Okami LFO
Pittsburgh Knights
The matches will commence with the first semi-final on Friday, July 3, and conclude with the Grand Final on Sunday, July 5, with all matches being livestreamed. The full schedule is listed below: 
Friday, July 3rd:
~5:00pm AEST – Semi-Final #1: Okami LFO vs Team SiNister
~8:00pm AEST – Semi-Final #2: Wildcard vs Pittsburgh Knights

Saturday, July 4th:
~5:00pm AEST – Upper Bracket Final
~8:00pm AEST – Elimination Final
Sunday, July 5th:
~3:00pm AEST – Lower Bracket Final
~6:00pm AEST – Grand Final
The $50,000 (AUD) prize pool will be split as per below:
1st: $15,000
2nd: $11,000
3rd: $8,000
4th: $6,000
5th: $4,000
6th: $3,000
7th: $2,000
8th: $1,000
In addition, SteelSeries has partnered with Ubisoft as the official 'Moments of Glory' replay sponsor of the Six Masters 2020. As a leader in gaming peripherals focused on quality, innovation and functionality, and the fastest growing major gaming headset brand globally, SteelSeries is a pioneer supporter of esports.
The top three placed teams from the Six Masters 2020 will then advance to the Six August 2020 Major – Oceania, where they will compete online in a Gauntlet. The 2nd and 3rd ranked teams will compete in a Bo3 match, with the winner of that match progressing to face the Six Masters Champion in a Bo5 final.
All games will also be livestreamed on official Rainbow6 channels below:
For more information about the Six Masters 2020 and all Rainbow Six esports please visit the official website and follow us at twitter.com/rainbow6anz.