Games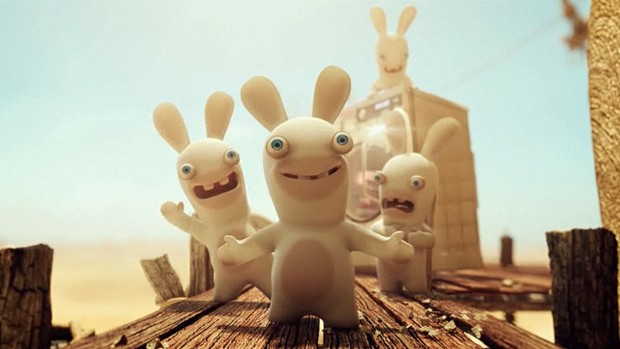 Published on November 7th, 2014 | by admin
UBISOFT® ANNOUNCES RABBIDS INVASION: THE INTERACTIVE TV SHOW® RELEASE DATE AND SEASON PASS
Get Raving All the Way with 15 Extra Episodes 
Sydney, Australia — November 7, 2014 — Today Ubisoft announced Rabbids Invasion: The Interactive TV Show and Season Pass will be available on November 20, 2014, for Xbox One and Xbox 360, the all-in-one games and entertainment systems from Microsoft, and PlayStation®4 computer entertainment systems. Rabbids Invasion: The Interactive TV Show will be available for $59.95 on Xbox One and PlayStation®4, and $49.95 on Xbox 360, the Season Pass will be available for $19.95 and will include all 15 add-on episodes with crazy challenges. The player will have the opportunity to get into a friendly competition with family and friends while watching the funniest scenes of "SUPER RABBID", "VAMPIRE RABBID", "RABBIDS WITH FLEAS", "ZOMBIE RABBID", "RABBID DREAMS" among others.
The Season Pass will include all 5 DLC Packs which contain 3 new full interactive episodes each. In addition to the 21 original episodes, the whole game will amount to 36 episodes. The 5 different packs will be available at different dates:
Pack 1 – At launch
Pack 2 – December 2014
Pack 3 – January 2015
Pack 4 – February 2015
Pack 5 – March 2015
The interactive series is being developed by Ubisoft Barcelona with support from Ubisoft Paris. With more than 14 million games sold worldwide, the Rabbids are some of Ubisoft's best-loved characters, and their wacky adventures appeal to kids and families across the globe. With Rabbids Invasion The Interactive TV Show, the majority of the 78 seven-minute CGI episodes from the original Rabbids Invasion TV series are adapted to allow the audience to join with the Rabbids in acting out some of their crazy antics.
Thanks to the integrated motion control and voice recognition of next-generation consoles, Ubisoft is able to create an innovative mix of classic television programming and the interactive elements of video games.