Events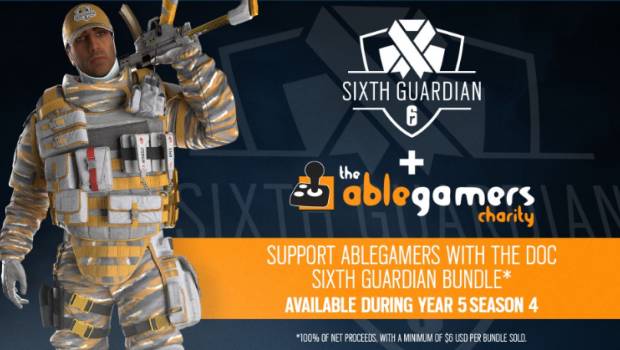 Published on November 24th, 2020 | by Alex Novus
UBISOFT ANNOUNCES NEW CHARITY BUNDLE INITIATIVE FOR TOM CLANCY'S RAINBOW SIX SIEGE
Today Ubisoft announced the launch of the Sixth Guardian Program, a new series of charity bundles in Tom Clancy's Rainbow Six® Siege. Starting in Year 5 Season 4, the game will feature a special charity bundle, with new bundles added in future Seasons to support different non-profit organizations. With this bundle, Rainbow Six Siege players will have the opportunity to access unique in-game items and donate to great causes.
To kick off the initiative, Ubisoft is partnering with The AbleGamers Charity, a U.S.-based non-profit organization that aims to support players with disabilities by providing gamers with the tools they need to enjoy their playing experience and by promoting inclusion in the video game industry. Beginning at the launch of Year 5 Season 4, Rainbow Six Siege players will be able to purchase a bundle with a uniform, weapon skin, charm, and headgear. One hundred percent of net proceeds, with a minimum of $6 USD per bundle sold, will be donated to The AbleGamers Charity.
"We decided to launch the Sixth Guardian because we recognized an opportunity to mobilize the Rainbow Six Siege community around important issues," said Karen Lee, Lead Community Developer for the game and creator of the Sixth Guardian Program. "Our players are so passionate, and we wanted to give them an easy, effective way to support incredible organizations, like AbleGamers."
"AbleGamers is honoured to partner with Ubisoft to support players with disabilities with this amazing Sixth Guardian bundle," said Steve Spohn, AbleGamers Director of Peer Support. "With more than 46 million players with disabilities in America alone and even more worldwide, we couldn't be more thrilled to have the ranks of the Rainbow Six community joining our quest to combat social isolation and improve the quality of life for people with disabilities by providing the equipment and knowledge they need to play in the virtual worlds we love so much."
The Doc Sixth Guardian bundle is available for purchase in Rainbow Six Siege beginning with the launch of Year 5 Season 4.
For the latest news on all Ubisoft games, please visit news.ubisoft.com.