Games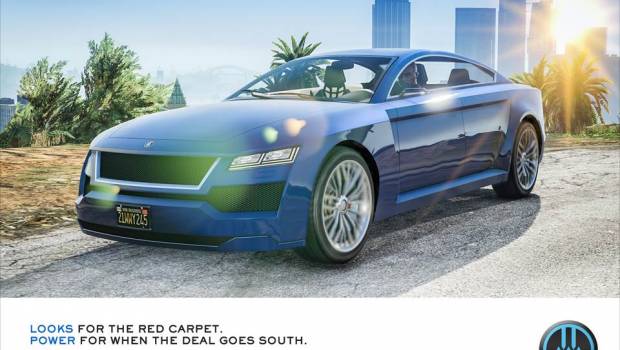 Published on January 24th, 2018 | by Admin
Ubermacht Revolter Now Available Plus Discounts on Mk II Weapon Customizations, GTA$/RP Bonuses and More
OUT NOW: UBERMACHT REVOLTER
As a well-rounded criminal, your line of work demands a certain amount of flexibility. You need a vehicle that can blend inconspicuously into a line of executive luxury cars, but not look amiss when it arrives on the red carpet. It needs to look respectable dropping you off at court, threatening picking you up from Bolingbroke, and when the deal goes south, it's gotta have enough horsepower to hightail your way back to HQ. Something with more power, more presence, more room for an optional forward-facing machine gun mount. Pick up the Ubermacht Revolter at Legendary Motorsport today.
DOUBLE GTA$ & RP OPPORTUNITIES
Jump into a frantic 16-pilot aerial battle featuring jets, helis and Thrusters in Air Quota, with extended Double GTA$ & RP payouts through January 29th.
And for those more at home on the ground than in the air, take to the track and earn Double GTA$ & RP in all Rockstar-created Stunt and Land Races for the same period.
DISCOUNTS ON MK II UPGRADES & CUSTOMIZATIONS
Pack a meaner punch on the battlefield by taking advantage of some deadly upgrades in your MOC or Avenger's Weapon Workshop. Now through January 29th, elevate your arsenal with the following discounts:
Mk II Upgrades – 30% off (cost to upgrade to Mk II weapon)
Mk II Magazines – 25% off
Mk II Scopes – 25% off
Mk II Muzzles – 25% off
Mk II Weapon Liveries – 25% off
Warstock Cache & Carry is also offering 25% off two heavily-armored favorites: deal some damage from the comfort of the Benefactor Turreted Limo, or take to the water in the HVY APC (Buy It Now & Trade Price) – an amphibious tank with room for the whole family.
PREMIUM RACE & TIME TRIAL SCHEDULE
Navigate an obstacle filled death-tube in this week's Premium Race or speed past the scenic coastal views of Blaine County in this weeks' Time Trial, both available through January 29th:
Premium Race – "Tube Rider" Locked to Ruiner 2000
Time Trial – "Coast to Coast"
Launch Premium Races through the Quick Job App on your in-game phone or via the yellow corona at Legion Square. The top three finishers will earn GTA$ and you'll get Triple RP regardless of where you place. To take a shot at the Time Trial, set a waypoint to the marker on your in-game map and enter via the purple corona. Beat par time and you'll be duly rewarded with GTA$ & RP.