Hardware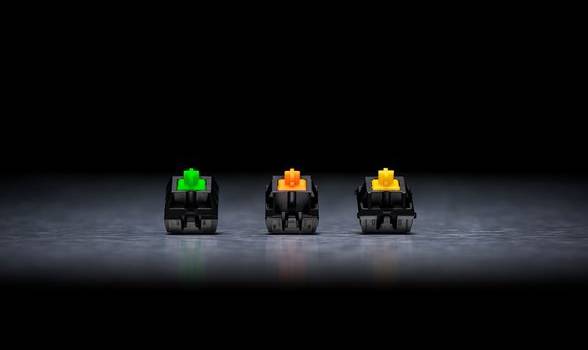 Published on June 5th, 2018 | by Admin
Two Razer Announcements from Computex 2018!
TWO RAZER ANNOUNCEMENTS FROM COMPUTEX 2018
RAZER MECHANICAL SWITCHES COMING SOON TO A KEYBOARD NEAR YOU
Critically acclaimed Razer Mechanical Switches now made available for more gamers
Melbourne, Australia—Razer™, the leading global lifestyle brand for gamers, today announced that its multi-award winning Razer Mechanical Switches will be coming to third-party keyboard makers later this year.
Created from the ground up for gaming, Razer Mechanical Switches are renowned for their speed and accuracy. They are designed to last 60 percent longer than standard mechanical switches and are today trusted by millions of gamers and esports athletes worldwide.
Previously available exclusively on the best-selling Razer BlackWidow series of keyboards, the switches will make their debut later this year on keyboards manufactured by select partners. More partners are expected to join the program by the end of the year.
All three varieties of the Razer Mechanical Switches will be offered to third-party keyboard makers:
Razer Green Switch: features a tactile bump and distinctive click sound along with optimized actuation and reset points for best in class gaming and typing performance.
Razer Orange Switch: features a tactile bump and feedback without the audible click. Offers the same optimized performance with less actuation force as a Razer Green Switch, while maintaining a quiet gaming experience.
Razer Yellow Switch: features an ultra-fast actuation of only 1.2mm and quiet performance for rapid-fire keypresses and lightning-paced gaming.
RAZER CHROMA LIGHTING NOW ENABLED ON THIRD-PARTY DEVICES
The world's largest lighting ecosystem for gaming devices will expand beyond Razer devices through strategic partnerships to enable a unified gaming experience
Melbourne, Australia—Razer™, the leading global lifestyle brand for gamers, today announced that its award-winning lighting technology Razer Chroma will begin allowing select partners to connect their devices into the ecosystem, bringing full-spectrum beauty to even more gamers.
Razer Chroma also enjoys integration with Philips Hue smart lights, giving gamers a full-blown in-room ambience that can be fine-tuned down to each individual light bulb, completely transforming the way they play.
Until now, a common experience for many gamers today is that the lighting effects on third-party devices such as PC cases, motherboards, and cooling fans are not fully in sync, producing an experience that is not in line with Razer devices.
The Razer Chroma Connected Devices Program will enable partners such as MSI, NZXT, AMD, Thermaltake, Lian Li, Vertagear, Gigabyte, and Ducky the ability to tap into Razer's lighting protocol through an API that lets them enable Chroma lighting through a single click on their software platforms.
The first third-party products with Razer Chroma support will launch in Q4 2018.
For more information about the Razer Mechanical Switches and Chroma Connected Devices Program, visit Razer at Computex 2018, Booth L0003.