Events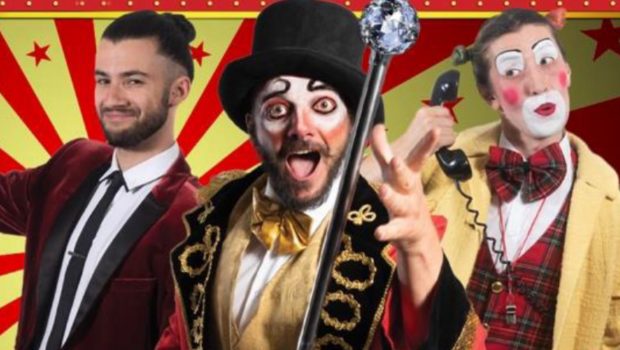 Published on March 4th, 2022 | by Admin
TWO FABULOUS FAMILY SHOWS COMING TO MELBOURNE IN APRIL
THE GREATEST MAGIC SHOW
Up close and personal with eye popping magic the kids will love and in their favourite theatre
The Spiegeltent, Arts Centre from April 9 to 24
Following a COMPLETE SELL-OUT 26 SHOW RUN at this year's Perth and Adelaide Fringe, SHOWMEN PRODUCTIONS are once again returning to Melbourne with The Greatest Magic Show – with more whimsical wonders than ever before! Having garnered international acclaim in countries such as Scotland, New Zealand and England; the stars Sam and Justin will be hitting the stage with brand new illusions direct from a Las Vegas stage!
After having debuted in 2018 to sell-out crowds across the country, the Showmen have continued their enormous success, being awarded the weekly award for Best Children's Show at the 2019 Fringe World, as well as winning Best Kids Show at the 2019 Sydney Fringe. At the 2019 Adelaide Fringe, they received further acclaim from GLAM Adelaide, where they were hailed as: "Quite possibly the Penn & Teller of Australia! ★★★★★!". During their 2020 season at Fringe World, the show was further praised by the West Australian as a "Rollicking, Rollercoaster Ride for Pint-sized Punters! ★★★★½"
This year for the Melbourne International Comedy Festival, THE GREATEST MAGIC SHOW stars Sam and Justin are bringing brand new illusions purchased direct from the same Vegas builder who worked with David Copperfield and Lance Burton; and of course will be joined by The Ringmaster, who after searching far and wide, has finally found The Greatest Magic Show – and will do everything he can to keep it on track! As an added bonus, every child who attends the show will receive a FREE MAGIC WAND on entry and have their chance to take a photo with the stars of the show after the performance, plus a wide range or merchandise available – including magic showbags so the kids can become masters of magic themselves!
"Full-on family entertainment from start to finish.. with a poignant speech at the end encouraging all kids to follow there dreams!" One4Review UK ★★★★★
"This was the BEST SHOW EVER!" GLAM Adelaide ★★★★★
"There was a smile on every face, adult and child!" Perth School Holidays ★★★★
"Sam & Justin's skills and clever banter had the packed out audience enthralled and delighted!" Fringe Feed ★★★★½
Comic magicians Justin Williams and Sam Hume bring their combined 15 years in family entertainment to this magical show, which is anything but a typical children's magic show. The routines from these charismatic performers are unique, hilarious and absolutely and out of this world.
Venue: The Famous Spiegeltent @ Arts Centre Melbourne 100 St Kilda Rd, Melboune VIC 3000
Dates: April 9 – 24 at 2:15pm (no shows April 11, 15-18)
Prices: Full Price: $26 Concession: $23 Groups 10+ : $20 Family of 4: $89
Bookings: https://www.comedyfestival.com.au/2022/shows/the-greatest-magic-show#
CIRCUS
A Must see for the entire family – with breathtaking Circus Feats. The Athenaeum Theatre from April 15 to 17
Following a sell-out debut season at the 2021 Adelaide Fringe, overwhelming demand for tickets at the Melbourne Comedy Festival – which saw the entire 16 performance season sell-out in two days, PLUS a ground-breaking season at Her Majesty's Theatre in Adelaide – Showmen Productions' CIRCUS is headed to back to the Melbourne International Comedy Festival with their BIGGEST SHOW YET and it is not to be missed Melbourne!
CIRCUS is an Australian trailblazer in children's entertainment featuring world-class illusions, tumbling acrobats, highly skilled jugglers, breath-taking and elegant aerialists, comedy and an endearing clown. The show has received numerous 5 star reviews as well as winning the award of Best Children's Show in the Adelaide Fringe Weekly Awards.
For the return Melbourne performances, CIRCUS's Ringmaster will be played by Justin Williams from Showmen Productions – one of Australia's most prominent touring circus companies (The Greatest Magic Show, Adults Only Magic Show, CIRCUS); while the clowning talents of Nathan Green will be on full display in a range of hilarious stunts including climbing completely inside a gigantic 6FT BALLOON!
This season will also star several high-class Melbourne-based performers; including aerialist and hula-hoop extraordinaire, Shaunah Johnson, who will be presenting her energetic and unique aerial performances of grace and beauty while keeping everyone fully captivated with hula-hooping tricks you will have to see to believe!
Also joining them is Will Anton, an urban circus legend from the United States who brings his energetic experimental style of circus in every one of his acts; alongside one of Australia's top jugglers – Richard Sullivan – who was trained by the best in the world in Stockholm, Sweden before returning to Australia to star in shows produced by companies including Circus Oz, YUMMY, Circus Trick Tease and now Showmen Productions!
CIRCUS producer and performer Sam Hume says, 'CIRCUS brings together years of experience and skill in the industry. We have some of the most talented family circus performers on the Fringe circuit on board to help teach children the importance of celebrating difference. The show concludes with a powerful message to always embrace your weirdness and never lose sight of your dreams – no matter how wild!'
"What you have experienced keeps you smiling, wondering and shaking your head long after the show is over!" The Advertiser ★★★★
"This is definitely a winner in family entertainment!" GLAM Adelaide ★★★★★
"A punchy 60-minute fun ride full of thrills, spills, gasps and laughter" The Clothesline ★★★★★
"The Greatest Circus Show Around!" KIDDO Magazine
Showmen Productions – the creative team behind CIRCUS and The Greatest Magic Show! – have toured to the Melbourne, Sydney, Perth, Adelaide and Edinburgh Fringes to critically acclaimed reviews and sell-out seasons in all cities.
Venue: Athenaeum Theatre, 188 Collins St Melbourne VIC 3000
Date/Time: April 15th 2022 at 3:30pm April 16th 2022 at 10:30am, 1pm and 3:30pm April 17th 2022 at 10:30am, 1pm and 3:30pm
Tickets: Admit Premium Reserve: $45.00 Family Premium Reserve: $160.00 Admit A Reserve: $39.00 Family A Reserve: $140.00
Bookings: www.athenaeumtheatre.com.au / PH: 9650 1500 https://premier.ticketek.com.au/shows/show.aspx?sh=CIRCUS21 / PH: 132 849