Films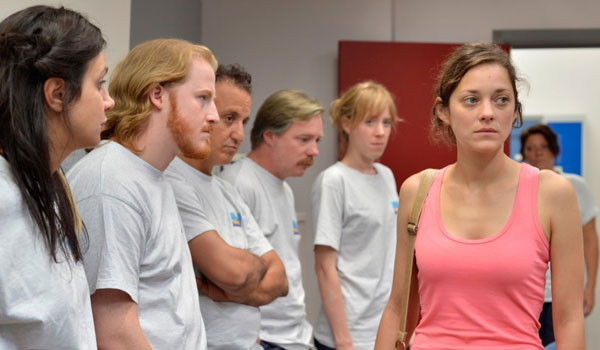 Published on November 5th, 2014 | by Damien Straker
Two Days, One Night – Film Review
Reviewed by Damien Straker on November 5th, 2014
Madman Entertainment presents a film by Luc Dardenne and Jean-Pierre Dardenne
Produced by Luc Dardenne, Denis Freyd and Jean-Pierre Dardenne
Written by Luc Dardenne and Jean-Pierre Dardenne
Starring: Marion Cotillard and Fabrizio Rongione
Cinematography: Alain Marcoen
Edited by Marie-Hélène Dozo
Running Time: 95 minutes
Rating: M
Release Date: November 6th, 2014
Time is a luxury few directors are willing to provide their actors anymore. In cinema unbroken time in front of the camera is essential for allowing an actor room to inhabit a character and their surroundings. To be able to impose an interpretation or personal impression onto a piece, as a director or actor, is pivotal in the art form. Films have become faster in cutting and editing, not necessarily pacing, which reduces the space an actor has to discover their techniques. But in Jean-Pierre and Luc Dardenne's social realist film Two Days, One Night, the directors are generous with the time provided to their French star Marion Cotillard (Rust and Bone, Inception). They rely trustingly on her to build the emotion and the humanity of their story. The relationship between the directors and the actress is clearest in their refusal to cut away during scenes. Using handheld cameras, they follow Cotillard with tracking shots and use mid shots to capture and gauge her reactions. The extended shot duration and lack of cuts builds the authenticity of the character because the emotion grows organically and singularly, uninterrupted by further cinematic techniques. During a phone call, it is unnecessary to see or hear the person on the other line because the shots of Cotillard's reactions alone heighten the emotion and the drama.
The brothers tightly structured script is deceptively simple and never lacks dramatic complexity. Sandra (Cotillard) is married to Manu (Fabrizio Rongone), with two children. She is recovering from depression but relapses when she learns she's lost her job at a solar panel company. The other workers voted for a bonus of a thousand Euros and have her made redundant. Her only chance is to visit the sixteen workers and ask them if they're willing to veto their bonus and vote again, allowing her to keep her job. Each person she visits has their own reaction to the dilemma. The workers seem like ordinary people with everyday problems. A couple wants to pay for changes to their house. Many have children and can't afford to lose their bonus. One woman hides from Sandra and won't speak to her. A man's son becomes violent because he thinks she's trying to take their money. Another man bursts into tears of guilt because Sandra covered for him once and he wants to repay her. The variety of reactions reduces any repetition and establishes a timely thematic goal, concerned with the post Global Financial Crisis viewpoint on the importance of finance and occupation.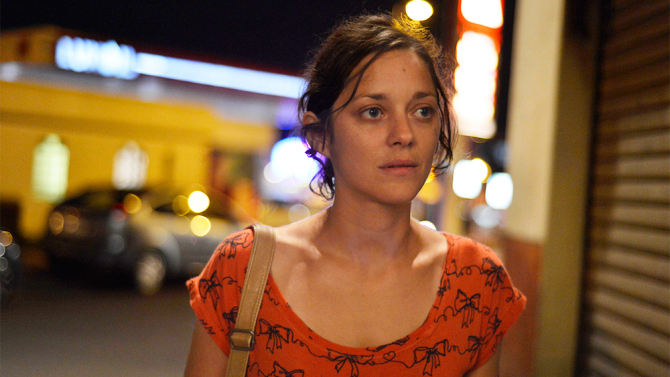 The film's dramatic tension is supplied by the workers' believable reactions and Sandra's instability. Her characterisation and reliance on anti-depressant drugs stresses someone still deeply unsettled. Her dialogue is self-critical and unconfident. She is reluctant to start her journey because she says they'll think she's a beggar. The counterpoint in her life is Manu, a great anchor for Sandra whose encouragement and kindness influences her innermost goal and motivation for survival, even though he is suffering quietly from a lack of sparks in their relationship. Cotillard, present in every scene, gives a performance worthy of an Oscar nomination. She dissolves into Sandra's physicality, presenting a vivid, truthful representation of depression, where she is drained from inside herself. Her body language is defeated and her eyes are regularly sad and disappointed. It's a remarkably expressive performance, and the little details like her untidy hair and ordinary clothes contribute to Sandra's authenticity. As Manu, Fabrizio Rongone doesn't have a showy role but the kindness and the warmth he brings to the character, without sentimentalising his work, proves pivotal to the story. These two characters are etched in a small, meaningful survival story, which is about whether one person's needs should outweigh anyone else's life. Smartly, rather than attempting to forcefully resolve Sandra's depression, the Dardenne brothers scribe a moment of selflessness and sacrifice into the story's end. From their perspective, it's a moment of hope showing even in the dog eat dog economy of today not everyone is a complete bastard or solely driven by self-preservation.
Summary: Cotillard, present in every scene, gives a performance worthy of an Oscar nomination.