Comics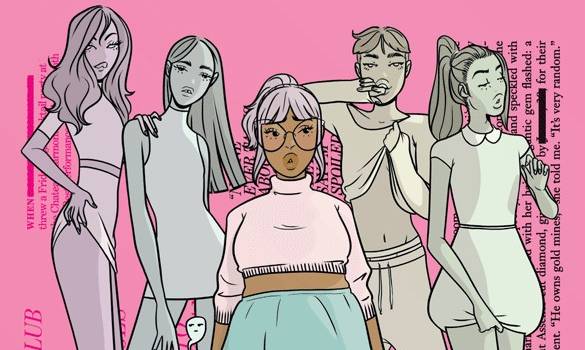 Published on February 15th, 2018 | by Dana Folkard
TWISTED ROMANCE #2 REVIEW
Summary: Original, compelling and highly enjoyable adventures in love.
Love is a strange and complex creature, differing from one person to the next and always taking those involved on a wild and tumultuous adventure. Twisted Romance #2 explores three short stories about the complexities of love, infatuation and heartbreak.
The first story, Twinkle & the Star follows the story of Twinkle, a fashion photographer's assistant who works day in day out alongside celebrities, models and famous actors. She's fashionable, cute and intelligent, but is insecure and full of self-doubt over her physical appearance. At work she's as cool as a cucumber, that is until the day Nick Powell, a cute but shy actor walks into the studio for a photoshoot. Finding herself instantly attracted to the "pretty boy", Twinkle tries to ignore her feelings for fear of being rejected. Nick, however, is smitten and the chemistry between them cannot be ignored. A bond begins to grow, and with it the complexities, awkwardness and confusions of romance begin to show, revealing a side to Nick that Twinkle wasn't expecting.
I loved this first story, written by Alex de Campi, finding it to be a very cute and endearing little tale. I immediately found myself loving Twinkle, with her unapologetically dry and sarcastic sense of humour. I found her to be a wonderful and relatable protagonist, and very easy to become smitten with. The story itself is well-rounded and explores some interesting themes about romance and sexual diversity. I rather like the ambiguity that initially hovers around Nick, as we are unsure what his intentions or motivations towards Twinkle are. It's clever and effective in keeping us guessing at how things are going to unfold for these two lovesick individuals. The art by Alejandra Gutiérrez is cute and animated, lending itself perfectly to a story like this. I really enjoy Twinkle's emotional outbursts that are awfully charming and very kawaii. I also loved the dynamic nature of the layouts and page composition, as it jumps back and forth from emails, texts and visuals. The colour palette is dominated by pastels, that make everything look sweet and candy-coloured.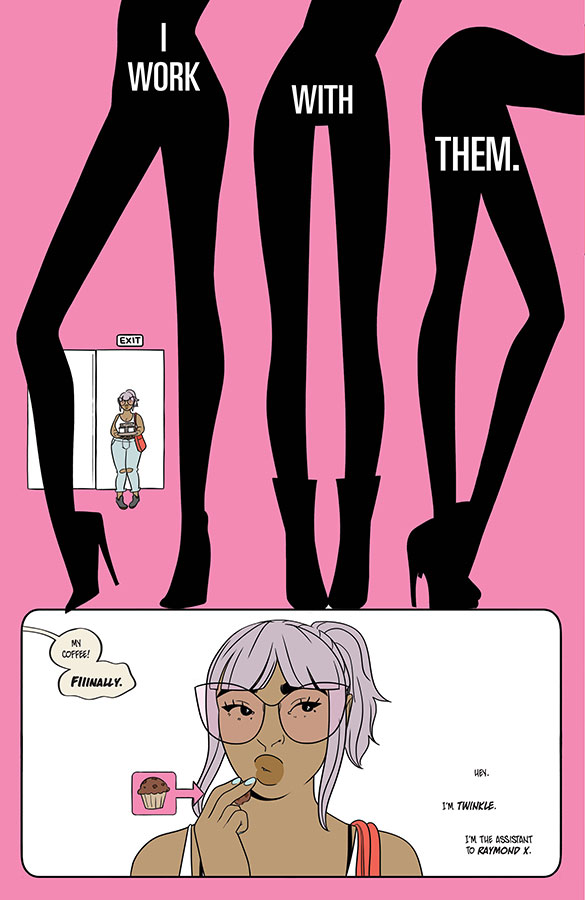 We then have a rather touching prose short called Back At Your Door by Vita Ayala, that explores unrequited love and the complications, heartache and longing that comes with it. The story follows Luz Lopez, a driven and determined young woman who is grappling with her conflicted feelings towards her new best friend and her old high school crush. Emotional turmoil, anguish and jealously plague her, as she struggles to bury her feelings towards them both, only discovering that it is completely futile. The final story, Would You Even Know It? written and illustrated by Meredith McClaren, is a compelling story about relationships forming between artificial intelligence and humans, and how this can develop into love. It is a revealing and powerful story, told in an a clever, natural and effortless way. McClaren's art is really lovely, stylised and graphic. There is a graceful simplicity to her art that I find to be incredibly engaging and beautiful.
I have to say, I'm really enjoying these weekly short stories from Twisted Love, finding them all to be original, compelling and highly enjoyable adventures in love. Next week the third instalment in this series comes out, and yes, I'm looking forward to seeing what delightful tales are awaiting us.
I'm giving this issue 4.5 out of 5 stars!
---
COMIC DETAILS
CREATIVE TEAM: Alex de Campi, Meredith McClaren, Vita Ayala and Alejandra Gutiérrez
PUBLISHER: Image Comics
PUBLICATION DATE: February 14, 2018
REVIEWER: Dana Folkard