Blu-ray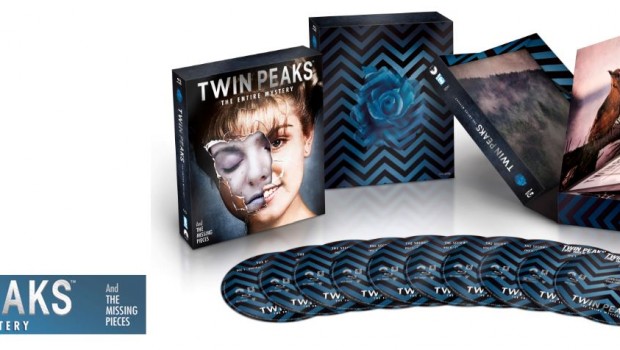 Published on June 27th, 2014 | by admin
TWIN PEAKS – THE ENTIRE MYSTERY BLU-RAY – Limited and Exclusive release & Brand New Trailer
DAVID LYNCH AND MARK FROST'S GROUNDBREAKING CULT PHENOMENON ARRIVES ON BLU-RAY™ 
WITH THE LONG-AWAITED DEBUT OF NEARLY 90 MINUTES OF DELETED/ALTERNATE SCENES FROM TWIN PEAKS: FIRE WALK WITH ME 
For The First Time Ever, Acclaimed Television Series And Feature Film Arrive In One Complete Box Set With Upgraded Picture, 
Newly Produced And Archival Special Features … All Under the Personal Supervision of David Lynch.
Limited Release, Exclusive to JB Hi Fi.
Available to own on July 29, 2014
Twenty-five years after the shocking murder of Laura Palmer in the acclaimed series from legendary filmmaker David Lynch and writer/producer Mark Frost, CBS Home Entertainment and Paramount Home Media Distribution will release TWIN PEAKS – THE ENTIRE MYSTERY.

Arriving for the first time on stunning High Definition Blu-ray with English 7.1 DTS-HD Master Audio on July 29th, this comprehensive collection contains every episode from the complete television series; both the U.S. and international versions of the series' Pilot; the North American Blu-ray debut of Lynch's follow-up feature Twin Peaks: Fire Walk With Me; and nearly 90 minutes of deleted and alternate scenes from the film. The set also features newly transferred Log Lady introductions for each episode; picture upgrades to many shots in the TV series; a new featurette with Lynch and the actors who portrayed the Palmer family which includes a mesmerising return to the lives of their characters today; and hours of never-before-released material that dives into the fascinating story behind the celebrated pop culture classic.
Along with a newly transferred version of Twin Peaks: Fire Walk With Me, created from a 4K scan of the original negative, TWIN PEAKS – THE ENTIRE MYSTERY Blu-ray box set boasts the long-awaited missing pieces from the original version of the film – nearly an hour-and-a-half of deleted/alternate scenes from Twin Peaks: Fire Walk With Me – often referred to as the "holy grail" of Twin Peaks fandom. This feature-length experience has been directed and edited by Lynch exclusively for this release. Capping off more than 30 deleted/alternate scenes is an epilogue providing a fascinating glimpse beyond the cliffhanger finale of the TV series.