Films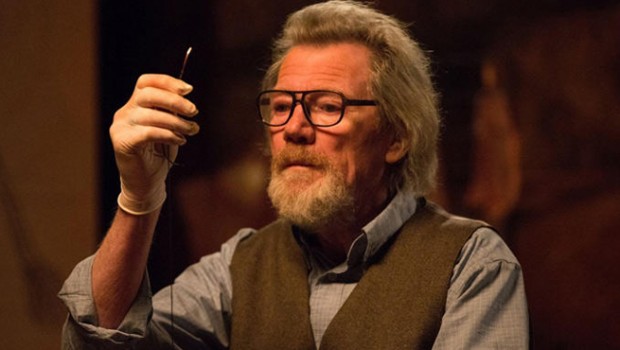 Published on October 10th, 2014 | by Curtis Mayfield
Tusk – Film Review
Reviewed by Curtis Mayfield M-H on October 2nd, 2014
Song Pictures presents a film by Kevin Smith
Produced by William D. Johnson, Sam Englebardt, Shannon McIntosh and David Greathouse
Written by Kevin Smith
Starring: Justin Long, Michael Parks, Haley Joel Osment, Génesis Rodríguez
Music by Christopher Drake
Cinematography: James Laxton
Edited by Kevin Smith
Running Time: 102 minutes
Rating: MA15+
Release Date: October 9th, 2014
Inspiration can come from the most unlikely of places. Director turned podcast host turned director again, Kevin Smith, discovered that a film idea can come from something as small as a stoned conversation with a friend and a fake Gumtree posting. If you're lost already, let me explain. Kevin Smith is a director who found fame with his 1994 debut film Clerks. The indie movie gave Smith enough cult status to work his way into Hollywood. Though his resume was never perfect. His career would experience highs with classic movies such as Dogma with Matt Damon and Ben Affleck. But then on the other hand he would also make Jersey Girl with Ben Affleck. With his career as a director experiencing more ups and downs than the stock exchange, Smith retired and re-retired several times from the director's chair. He would later discover a creative outlet in podcasting. His podcast (titled SModcast) required no red tape and no expectations. Perfect for an overweight guy who had just been introduced to weed by Seth Rogen and gone through the ringer of the Hollywood shuffle.
The reason why Smith has now come back to the movie business is due to one particular episode of his podcast where he and buddy Scott Mosier read out an advertisement from the community site Gumtree. The ad read something along the lines of: "an older gentleman looking for somebody to live rent-free in one of his spare rooms". The only catch was that the applicant had to dress in a walrus suit two hours a day as the landlord threw fish and crabs for them to eat. Smith and Mosier ran with the idea of this becoming a messed up horror film for almost the whole hour of the podcast. Reaching out to his fans via Twitter, Smith asked for a vote whether the film should be made or not. #WalrusYes was used for the affirmative, while #WalrusNo meant a negative vote. Well a large amount of Smith's fans voted yes. Less than five months after the vote was counted the movie was in production. With a mere 18 days of shooting we now have Tusk, a movie filled to the brim with so much what the f*ckness it's hard to explain what you just watched.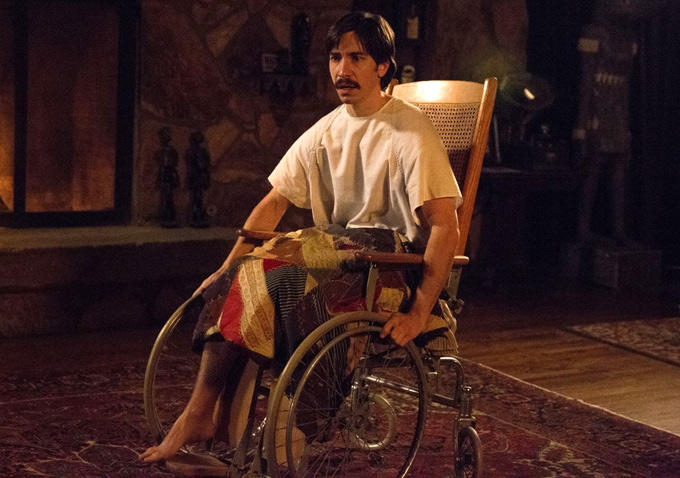 The plot follows Wallace (Justin Long), a douche bag of a comedian who co-hosts a podcast called The Not-See Party with friend Teddy (Haley Joel Osment). The podcast takes Wallace all over the country, interviewing people with strange and intriguing stories. He then returns home to Los Angeles to retell the stories to Teddy. When a trip to Canada turns out to be a bust, Wallace is stuck for anecdote ideas. What will lead him down a disturbing path is an ad posted in the men's bathroom. Wallace is absorbed by what he reads: an old sailor looking for somebody to whom he can tell his whimsical tales. Perfect. Wallace then meets with the enticing Howard Howe (played brilliantly by Michael Parks). The dialogue alone between these two characters could be a movie in itself (or possibly a podcast). Here comes the weird and magical part. Howard doesn't just want to share his stories with somebody with open ears. He wants to trap and transform an unlucky being into a…walrus. This premise alone is hilarious and warped but doesn't provide enough meat to carry a whole movie plot. Lucky for us Smith decided to take the story outside of the house that Wallace is trapped in by telling a non-linear narrative. This technique is chosen wisely as it gives a decent background to the character of Wallace as well as his downtrodden girlfriend Ally (played by Génesis Rodríguez).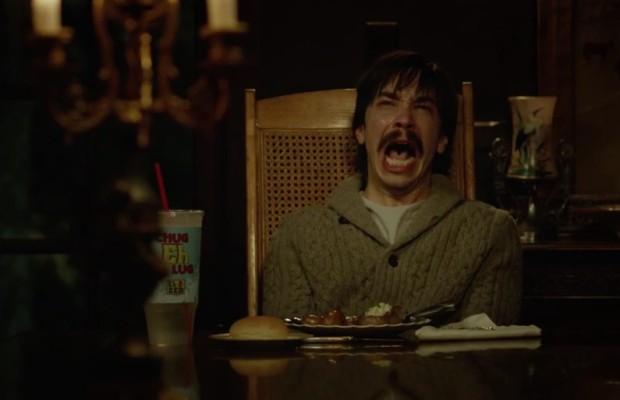 Though the idea of turning a human being into an animal through surgery is quite gruesome, the graphics are a little less Saw as there isn't a huge focus on the operation. But make no mistake, this film will leave you feeling sick and confused. Perhaps the most brilliant element of Tusk is the way it gently steps between comedy and horror. Smith is a great wordsmith and the dialogue shows that. One scene of particular hilarity is when Justin Long's character meets a Canadian customs officer at the border. The two share warm banter until the American admits that he doesn't follow ice hockey and almost gets rejected from entering the country. Though most of the comedy is played entirely straight with no wink to the audience, this is one scene that nods towards hardcore Kevin Smith fans but still doesn't exclude newcomers. The comedy and horror is played out so well that laughing at some scenes feels like the only way to get through it. Maybe the best line in the movie could go to Michael Parks. As the third act comes to an end he asks his victim "Is man really a walrus at heart?" with entirely no irony in site. Parks' calm psychopathic approach to his character is something to admire and fear.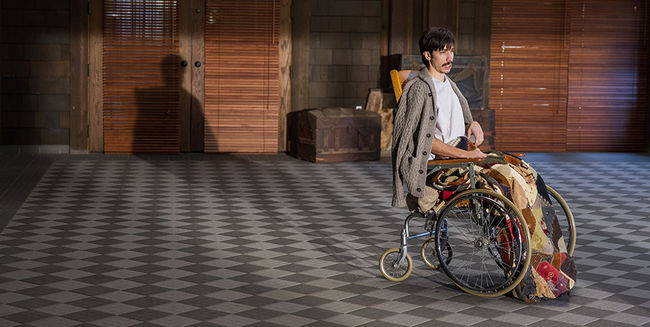 On paper this movie sounds ridiculous and that's because it totally is. With Tusk, Smith has proved that a decent film doesn't need to be made with a lot of time or money but just dedication and a great idea. He's managed to pull together a great and small cast, particularly with Génesis Rodríguez whose heartbreaking monologue shared directly to the camera is something to look out for. The idea of a guy being changed into an animal via sick and twisted methods may seem like it would run a little thin for a 102 minute movie but with a story that's heavy on interesting dialogue and surprisingly good character development, Tusk shapes up to be a decent watch. Sure, there is a built in audience of avid Kevin Smith fans for this movie but from the way it's been presented this should reach and please that fan base as well as other curious moviegoers. But the less said about this film the better as there are some casting surprises that worth keeping secret. If you're interested and game enough, go see for yourself.
Summary: Perhaps the most brilliant element of Tusk is the way it gently steps between comedy and horror.