Hardware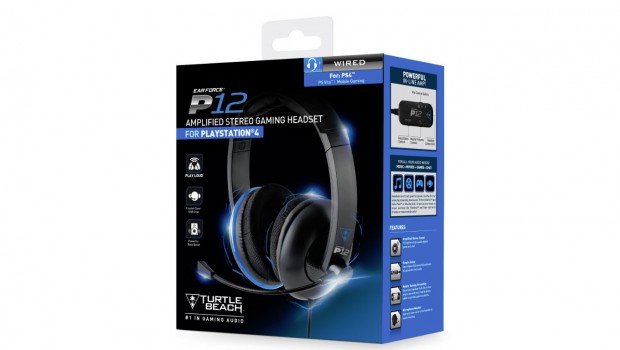 Published on April 14th, 2014 | by admin
Turtle Beach Introduces New PlayStation 4 Headset at PAX East
SAN DIEGO, C.A.  – April 10, 2014 – Turtle Beach, the leading audio brand in the games industry, today announced a new addition to its lineup of gaming headsets for the PS4TM. The Ear Force® P12 amplified stereo gaming headset.
The P12, which is specially-designed for the PlayStation®4 and PS Vita TM, provides high-quality digital game and chat audio through one simple USB connection. The P12 will be available at retail globally on July 10. (AU RRP $89.95)
To address differences in audio output between the PS4TM and PS3TM consoles, the P12 gaming headset provides louder amplified stereo sound and incorporates two features popular with gamers: Adjustable Bass Boost and Microphone Monitor.
An inline amplifier provides easy access to volume control, Base Boost and microphone mute.  Large 50mm speakers deliver a full-range of high-quality audio, from crisp highs to thumping lows.
Consumer demand for the Sony PlayStation®4 has exceeded analyst expectations, and next-generation console sales have contributed to strong demand for gaming headsets.
According to sales data reported by The NPD Group, Inc. (NPD), Turtle Beach had 55 percent share* of the U.S. gaming headset market in the fourth quarter of 2013 (*Share based on Value), driven in part by strong sales of PlayStation®4 compatible headsets,including the wireless surround sound PX4 and P4C chat communicator.
"Consumers associate the Turtle Beach brand with high-quality, feature-rich gaming headsets," said Juergen Stark, Chief Executive Officer of Parametric Sound Corp.
"With our market share gains at the end of 2013 and our strong line-up of products for 2014, I am confident our headset business is well-positioned for growth as the console transition accelerates."