Hardware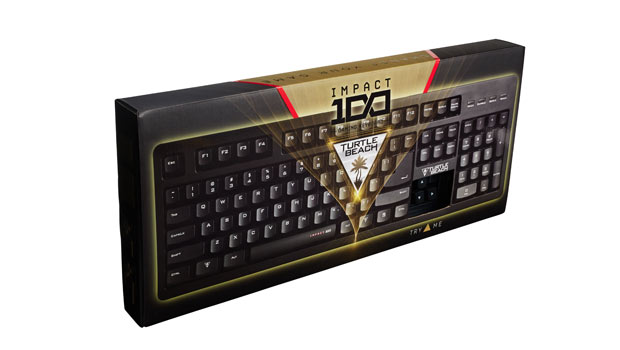 Published on May 3rd, 2015 | by Admin
Turtle Beach Impact 100 Gaming Keyboard Review
Summary: The Turtle Beach Impact 100 Gaming Keyboard is a well designed keyboard that is not only affordably priced but gives gamers a great alternative
Turtle Beach Impact 100 Gaming Keyboard
Company: Turtle Beach
Product: Gaming Keyboard
URL: http://www.turtlebeach.com/product-detail/-/turtle-beach-impact-100-gaming-keyboard/632
Reviewer: Kyle Sudukis
Mechanical keyboards seem to be the rage now when it comes to gaming accuracy. However Turtle Beach have another option available that is also a little more affordable and gives users an almost Cherry MX switch-like experience. It's also quite a well designed and compact keyboard that excels at accuracy and looks great as well.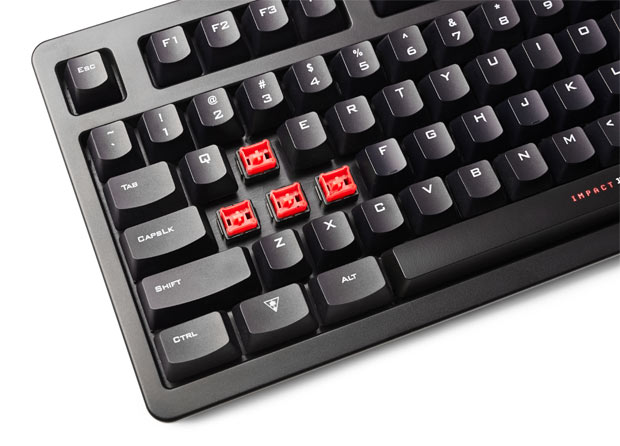 Key Features
Smart guided keycap sleeves
The feeling of a mechanical keyboard made affordable to everyone.
Durable Construction
Circuit board mounted on metal plate for stability and maximum durability.
USB plug and play
No software required.
Full antighosting
Full antighosting and a world-patent 30-key rollover.
PBT keycaps
Unlike regular ABS, PBT keycaps don't wear down over time.
According to Turtle Beach, the Impact 100 Gaming Keyboard does not use a mechanical or traditional keyboard membrane but is rather a hybrid that uses smart-guided keycap sleeves to emulate the sensation of a mechanical keyboard. Add in a steel reinforced construction, a 30-key rollover with full anti-ghosting and this creates a very fast keyboard which ensures keystrokes won't be missed. So does it work? The answer is yes!
Priced at $79AUD (April 2015), the Impact 100 is a standard full sized keyboard that is black in colour, has a red ribbon around the side of the keyboard with the Turtle Beach logo just above the keypad. All the keys are well placed with the function keys up the top and the main keyboard area below. It may look like a standard keyboard but it definitely has a few tricks up its sleeve.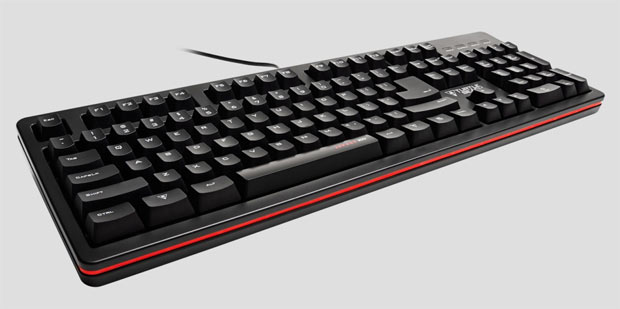 Installation is pretty much non-existent and you simply connect the Impact 100 to your PC and it's basically ready to go. In terms of usage, the keyboard definitely feels more like a traditional Cherry MX Red mechanical keyboard but not as "clicky" and there is a minimum amount of required to push the keys down and overall, the responsiveness is quite good.
I tested this keyboard on a variety of games like Battlefield 4, MK X, World of Warcraft with all titles performing quite well. I love the antighosting feature of the keyboard because it basically allowed me to press a variety of keys in sequence and simultaneously with no issues whatsoever. Using the keyboard for typing was equally as good and I must admit that this hybrid technology works quite well.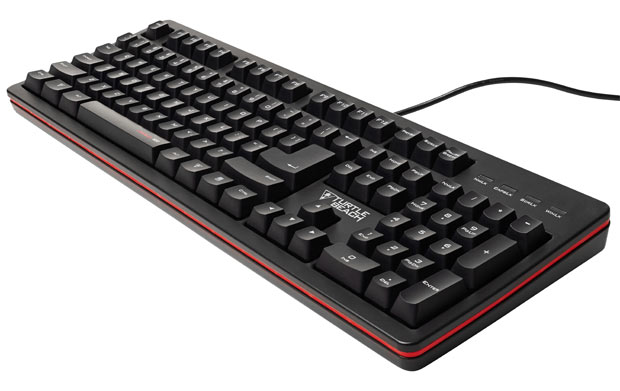 Final Thoughts?
In conclusion, the Turtle Beach Impact 100 Gaming Keyboard is a well designed keyboard that is not only affordably priced but gives gamers a great alternative to mechanical keyboards. It's fast and the accurate with no issues whatsoever. I also like the more compact size of the Impact 100 compared to some other gaming keyboard and overall, it ticks all the right boxes for gamers!