Hardware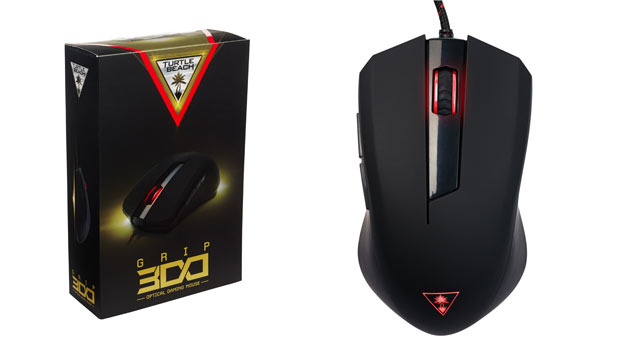 Published on April 27th, 2015 | by Admin
Turtle Beach Grip 300 Optical Gaming Mouse Review
Summary: The Turtle Beach Grip 300 Optical Gaming Mouse is a well rounded product that is quite affordably priced and boasts a sturdy and professional build
Turtle Beach Grip 300 Optical Gaming Mouse
Primary Format – Games – PC Gaming
Games Accessory Type – Mice
Company – Turtle Beach
Price – $69AUD (April 2015)
Reviewer – Peter Bourke
Turtle Beach are known for the excellent gaming headsets, however they also produce other peripherals that include mice and keyboards with their latest product being the Grip 300 Optical Gaming Mouse. The Grip 300 boasts an Avago 3050 optical sensor, Omrom switches, adjustable DPI (500 to 1750) with a polling rate of 125 to 1000Hz. Installation is also non-existent as it simply plugs into PC which allows you to play games immediately without any fuss or bloated software for your system.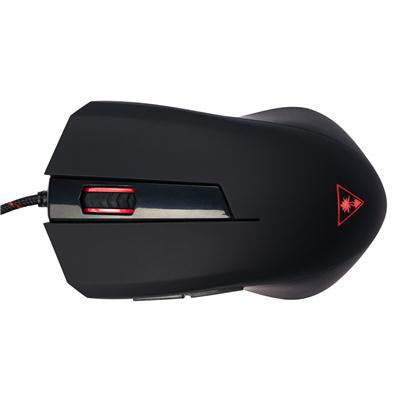 The Grip 300 also looks like a Turtle Beach product with is stylised design that is created for gamers, especially with its non-slip coating. So when the action heats up and the bullets start firing on your virtual battlefield, you can rest assured that the Turtle Beach Grip 300 Optical Gaming Mouse will give you the edge needed to succeed.
Compared to other gaming mice, the Grip 300 is more minimalist with two buttons on the side, two on the top and the scroll wheel. The 300 also comes with a braided cable and a high quality gold plated USB connector to add to the overall quality of this product.
Key Features
Precision and response.
Features optical Avago tracking technology with the option to customize without use of software.
Premium components
Only highest quality components go into the GRIP 300, including Avago sensor, Omron switches and braided cord.
USB plug and play
No software download required.
Personalized settings
Set DPI resolution directly on the mouse and adjust polling rate for optimal performance.
Ergonomic design
Non-slip, soft-touch coating enhances grip control and increases gamer endurance.
The first thing that you notice about Turtle Beach Grip 300 Optical Gaming Mouse is its design that actually feels quite comfortable and ergonomic in your hand with all buttons in the right place and the scroll wheel is quite flexible without it being overtly touchy.
It should be mentioned that the scroll wheel has a rubber coating for additional accuracy and overall, most users should have no issues in accidentally pushing either of the buttons on the mouse when the action heats up. The Grip 300 is also illuminated which adds to the overall gaming feel of the product.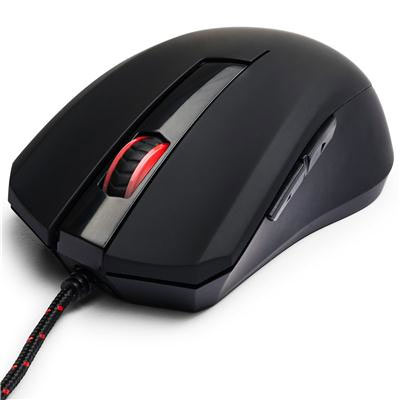 To change the polling and the DPI, this is done on the fly by turning the mouse over where you'll notice three settings for both polling (125, 500 and 1000Hz) and DPI (500, 1000 and 1750). So while we played Battlefield, Diablo II or used Adobe Photoshop, we could easily change the responsiveness of the mouse without accessing any fiddle some software packages.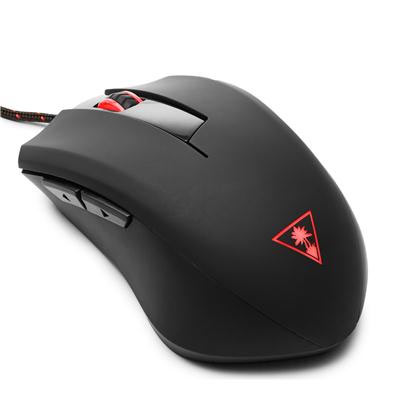 Final Thoughts?
In conclusion, the Turtle Beach Grip 300 Optical Gaming Mouse is a well rounded product from this company that is quite affordably priced and boasts a sturdy and professional build that is ready to be used straight out of the box on both a PC or Mac. Sure, it may not have the features of those high-end gaming mice but given the price and quality components, it's definitely an affordable alternative with all the right features.