Games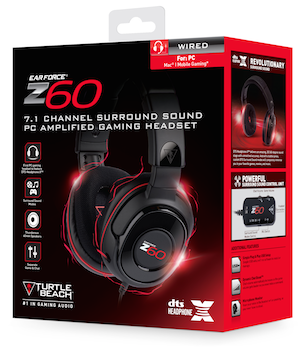 Published on October 16th, 2014 | by admin
Turtle Beach Ear Force® Z60 – the First PC Gaming Headset with DTS Headphone:X 7.1 Surround Sound – is Now Available in Stores
Sydney, Australia – October 16, 2014 — Turtle Beach, the leading audio brand in the video games industry, today announced that the Z60 PC gaming headset is now available in stores. The Z60, which was unveiled at the CES trade show in January 2014, has an RRP of AU$149.95 and is the first PC gaming headset to feature new DTS Headphone:X 7.1 surround sound. Turtle Beach is the gaming audio brand of Turtle Beach Corporation (NASDAQ: HEAR).
About the Turtle Beach Ear Force Z60:
DTS Headphone:X  is an innovative new sound experience designed to make movies, music and games sound better over headphones. Because it enables much more discrete control over speaker positon and angles, the engineers at Turtle Beach have created audio presets using DTS Headphone:X designed to provide soundscapes that are more realistic than provided by existing surround sound solutions.
For example, most surround sound mixes put the center channel about eight feet in front of the listener perceptually, which is the default for TV and film because the dialogue is coming from the screen. With a first person shooter and many other game genres, much of the centre channel audio comes from the player's character for example the sound of the player's feet walking in the snow, their inbound radio, and the sound of spent cartridges being ejected from their gun. Using DTS Headphone:X, the audio engineers at Turtle Beach created gaming presets that pull the center channel in towards the players' midsection to make the placement of those sounds more realistic.
"Turtle Beach saw the value of DTS Headphone:X immediately, was the first gaming headset partner to integrate it, and is moving aggressively to incorporate DTS Headphone:X and deliver benefits to video game enthusiasts," said Kevin Doohan, executive vice president and chief marketing officer of DTS, Inc. (NASDAQ:DTSI). "Turtle Beach continues to be a dynamic partner and we look forward to working closely with them as they launch new gaming headsets with DTS Headphone:X for PC and console gaming."
The Z60 also features PC gaming's largest speakers at 60mm, which deliver an expansive soundscape and bone-rattling bass. The bass-rich, cinematic quality of the surround sound is ideal for movies as well as video games that have rich, atmospheric audio and lots of fast-paced, multiplayer action.
An inline control unit provides easy access to independent game and chat volume, surround sound modes and microphone mute. The control unit connects to any PC using a simple plug and play USB connection with no special software required or installed. The Z60 also has Dynamic Chat Boost™ and Microphone Monitor, two features multiplayer gamers rely on for chat in multiplayer games.
"DTS surround sound represents a new approach to audio that is sweeping across the film and gaming industries and fundamentally changing the way consumers experience sound," said Bob Picunko, chief marketing officer of Turtle Beach. "At Turtle Beach we are incorporating DTS Headphone:X into our gaming headsets to ensure players have the best possible audio experience."