Hardware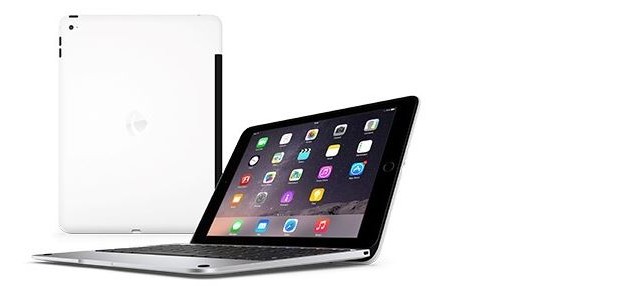 Published on November 23rd, 2015 | by Admin
Turn your iPad into a MacBook with the ClamCase Keyboard case
SYDNEY, Australia – November 23, 2015 – ClamCase® is excited to announce the Australian availability of the ClamCase Pro keyboard case range, an innovative new way to use your Apple iPad devices. With a hard-wearing outer shell and an elegant aluminium Bluetooth keyboard, it is certain to turn heads and cause double takes as the design is strikingly similar to a MacBook. Lead by the flagship ClamCase Pro for iPad Air 2, the range also includes cases for iPad Air, iPad 2/3/4 and iPad mini 1/2/3 with multiple colour variants.
Each model in the range has patented 360 degree hinge functionality which opens greater possibilities to an already versatile device by being able to be used in notebook mode, tablet mode or display mode. The spacious and accurate keyboard is designed to make typing more efficient and reduce errors, even while maintaining a compact, low-profile, so your productivity never slows down on-the-go. In addition, the durable and stylish polycarbonate and anodised aluminium enclosure protects the iPad and the extended battery life allows you to use ClamCase for long periods of time between charges.
The flagship ClamCase Pro is specifically built to enhance the new Apple iPad Air 2 experience. The most advanced ClamCase Pro model to date, it is also available in a Special Edition Gold design to complement the elegant iPad Air 2's exclusive gold finish. Matched with the iPad Air 2, the ClamCase Pro delivers a user experience that is powerful, productive and fashionable for business, education and everyday use.
The Special Edition ClamCase Pro in Gold literally sets the "gold standard" for iPad keyboard cases. It features a metallic housing that integrates perfectly with the lustrous finish of the all-new, highly desirable gold iPad Air 2. Marrying great style with solid functionality, the Special Edition ClamCase Pro in Gold brings together beauty and productivity.
The traditional aluminium finish incorporates exclusive features that have made ClamCase a versatile and award-winning "must have" productivity enhancement for iPad owners. The added security of the touch sensor on the new iPad models makes it even more appealing for enterprise customers as well.
The Clamcase Pro for iPad Air 2 as well as cases for iPad Air, iPad 2/3/4 and iPad mini 1/2/3 are available now in Australia. ClamCase Pro for iPad Air and iPad Air 2 are currently available in New Zealand.
Pricing and Availability
Product: ClamCase Pro iPad Keyboard Case
Availability: Available now in Australia and New Zealand
| | | | |
| --- | --- | --- | --- |
| Product | RRP (AUD) | RRP (NZD) | Colour Options |
| ClamCase Pro for iPad Air 2 | 199.99 | 229.99 | Smoke/Black, Gold/White, Silver/White |
| ClamCase Pro for iPad Air | 199.99 | 229.99 | Smoke/Black, Silver/White |
| ClamCase Pro for iPad mini 1/2/3 | 189.99 | 189.99 | Smoke/Black, Silver/White |
| ClamCase Pro for iPad 2/3/4 | 199.99 | 199.99 | Silver/White |
Australian Retailers: Beezer, MacintoshAddict New Zealand Retailers: Mightyape, Ubertec, iStore