Events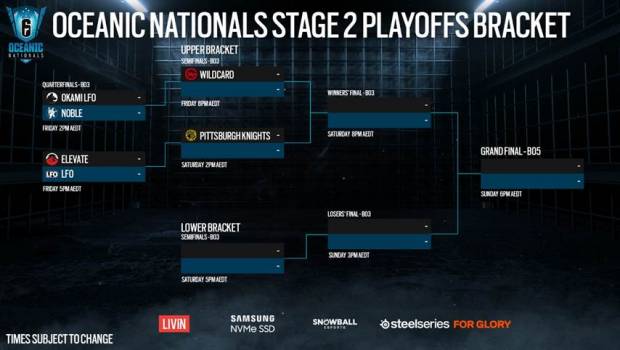 Published on October 13th, 2020 | by Adrian Gunning
Tune In To The OCEANIC NATIONALS Stage 2 Playoffs
Today, Ubisoft announced the six teams that will compete in the Oceanic Nationals Stage 2 Playoffs. Finalists will battle it out online in a double-elimination bracket finishing with a BO5 Grand Final.
The six teams that will be competing in the playoffs will be:
Wildcard
Pittsburgh Knights
Elevate
Okami LFO
Noble
LFO
The matches will commence on October 16th at 2PM AEDT and conclude with the Grand Final on October 18th at 6PM AEDT with all matches being livestreamed.
The Oceanic Nationals AUD$40,000 prize pool will be spilt as follows:
1st: $12,000
2nd: $9,000
3rd: $7,000
4th: $5,000
5th: $3,500
6th: $3,500
The top three placed teams from the Oceanic Nationals will then advance to the November Six Major – Oceania, which will run in an online format. Teams will battle it out for their share of the Six Major $125,000 USD prize pool being allocated to each region. The Oceania region split will be as follows:
1st: $15,000 USD
2nd: $9,000 USD
3rd: $6,000 USD
After placing 7th and 8th in Stage 2 of the Oceanic Nationals, Ferox and Rhythm, will now compete in the Oceanic Nationals Relegations on November 21-22 in order to secure their spot for the 2021 season. They will be playing against the top two teams from an open qualifier, which will take place on November 7-8. The open qualifier is open to all teams playing on PC, interested parties can sign up here: http://esl.gg/OCNREL
All series during the playoffs and Six Major will be livestreamed on the official Rainbow 6 channels: