Films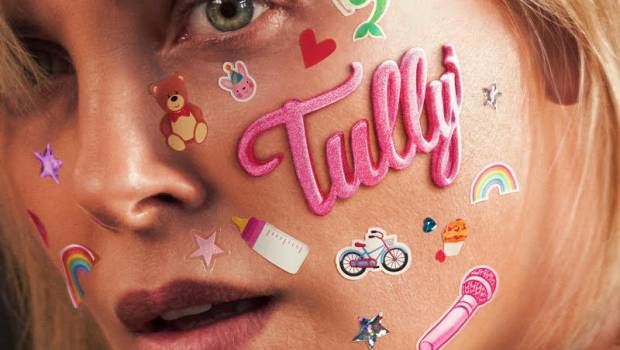 Published on May 3rd, 2018 | by Damien Straker
Tully – Film Review
Reviewed by Damien Straker on the 18th of March 2018
StudioCanal presents a film by Jason Reitman
Produced by Aaron L. Gilbert, Jason Reitman, Helen Estabrook, Diablo Cody, Mason Novick, Charlize Theron, A.J. Dix and Beth Kono
Written by Diablo Cody
Starring Charlize Theron, Mackenzie Davis, Ron Livingston and Mark Duplass
Music by Thomas Newman
Cinematography Eric Steelberg
Edited by Stefan Grube
Running Time: 90 minutes
Rating: M
Release Date: the 10th of May 2018
During Tully's brisk 90-minute running time, there's at least thirty minutes of a witty and observant slice-of-life story. Additionally, it also marks another impressive performance by Charlize Theron. She perfectly emulates the defeated and sunken body language of woman nervously expecting her third child. However, Tully also proves that clever ideas don't always make great movies.
The film postures as a return to form for director Jason Reitman. Ten years ago, he was on par with Alexander Payne in cornering the market on American comedy-dramas. His best films (Up in the Air and Juno) examined dark, fascinating issues, including corporations, teen pregnancy, and infantilism. He lost his edge once he hit the wall and became sentimental and clumsy (Men, Women and Children and Labor Day proved this).
Despite a strong start, Tully's script by writer Diablo Cody lacks a compelling middle and third act. The belated arrival of the title character (played by Mackenzie Davis) is less interesting than Theron's dominant role. Similarly, a gimmicky twist is unexpected but substitutes the realism established earlier in the narrative. There's a lot to admire, but it is a missed opportunity for a major depiction of parenthood in America.
Theron plays Marlo, a struggling mother who is married to a lazy man named Drew (Ron Livingston). Drew takes business trips, sleeps a lot, and enjoys playing video games in bed of an evening. Together, they are expecting their third child. They already have a girl named Sarah (Lia Frankland), and Jonah (Asher Miles Fallica) who is a small boy with emotional issues. Several people refer to Jonah as being "quirky". He is troubled at school and it is recommended to Marlo that she should hire an aide for him.
Marlo and Drew are invited to a dinner party at the home of her brother Craig (Mark Duplass) and her sister-in-law Elyse (Elaine Tan) who are rich, trendy and a bit strange. Craig knows the difficulties Marlo has faced with Jonah and that this third child was unexpected. He suggests the idea of a night nanny and offers to pay for it.
Marlo undergoes the gruelling process of childbirth followed by the cycle of nappy changes, crying and breast feeding. She then meets Tully, a young, enthusiastic night nanny. Her job is to care for the baby in the evening while Marlo and Drew sleep. Tully quickly improves the household and eases Marlo's pain.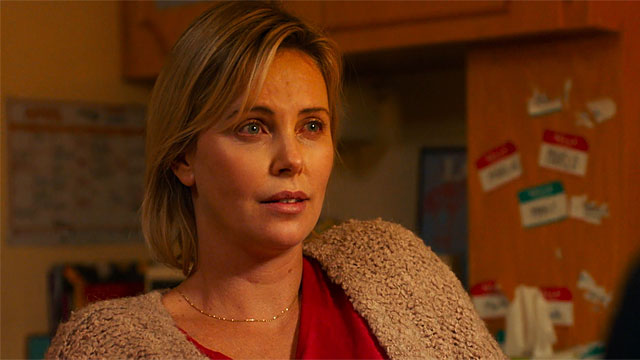 This film marks the third partnership between Diablo Cody and Jason Reitman, and her inclusion is a positive one. Few screenwriters possess such an easy penchant for blending sarcasm and pop allusions within American suburbia. There are several funny lines aimed at the bourgeoise and hipster parents, such as Elyse telling Siri on her phone to play hip-hop music at the party or bragging that their child does Pilates. Another funny moment sees Marlo angrily question whether she has a son or a ukulele when someone describes Jonah as "quirky".
Cody and Reitman have also devised an acute image system for dramatising the difficulty of motherhood. To show the endless cycle of chores Marlo undertakes while caring for the baby, Reitman employs a series of quick cuts and uses a bass soundtrack to heighten a stylish, musical quality to the action. The effect of the pulsating music and the speed of the cutting reflects the increasing pressure and urgency of parenting.
Similarly, there's time given to small, everyday actions, which adds texture to the world. Marlo unenthusiastically using her breast pump, Jonah kicking her seat while driving, and the baby squealing while the handheld camera focuses on Marlo's agonised face are examples of the strong attention to detail given to parental challenges.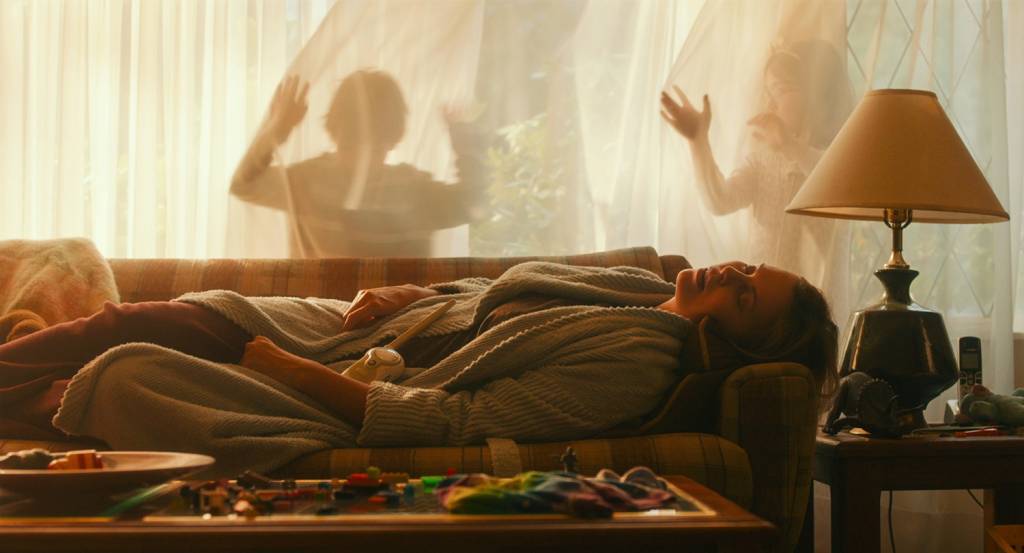 Additionally, the sight of Marlo's swollen stomach and the squealing of the baby seem like standard inclusions but they're pivotal images and sounds in the story that feel right. Note one tiny detail that underlines how good Theron is at amplifying a character's weariness. Marlo takes a bowl of vegetables from the microwave and places it onto the table. She then dismissively throws the packet onto the floor before sitting down.
Unfortunately, the longer the film continues the more the first act is a mirage. Marlo's deflated physicality and her discontent with her life (she rues not using her English literature degree) is so believable and compelling that it fatally asks why Tully is the title character. Aesthetically, Tully is painted as a stereotypical millennial with a belly shirt and torn jeans. The character is cartoon-like compared to Marlo's realistic composition.
Furthermore, Cody's script resists building conflict between the women. Tully is a miracle worker who radically cleans the house, bakes cupcakes for Jonah to take to school, and even helps Marlo play out a sexual fantasy with Drew. The concept is that Tully is a contemporary reworking of Mary Poppins for the "totes" millennial generation. Yet where can the story go if there are few meaningful setbacks or obstacles?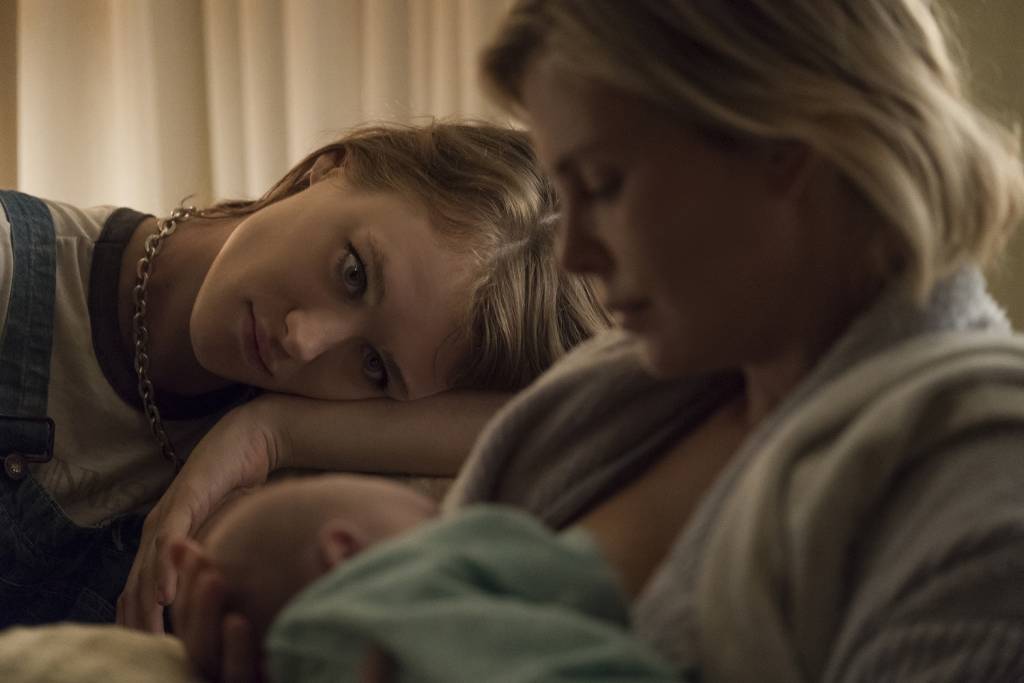 Life improves so rapidly for Marlo that we impatiently wait for cracks to appear in the near-perfect image of the mysterious and confident Tully. The only rift in personalities is that Marlo thinks Tully is odd. One asks in vain if Marlo will grow jealous, if Tully will approach Drew, or if there's any major payoff forthcoming. Instead, there's a loose comment about age as shown in a scene where Marlo is out-jogged by a younger woman. Cody, Reitman and Theron were more daring about age and resentment in the darkly comic satire Young Adult.
To complement the thematic spine of parentage, Cody takes aim at the flawed American school system. However, once Jonah starts a new school and experiences one tough moment this subplot is resolved with a cute gesture from a friendly teacher and is never touched upon again. Its economical in showing he is in a positive environment but a longer film could have teased out the conflict for both Jonah and Marlo.
As an exploration of a marriage under pressure, Tully is equally sparse. One of the only dramatic questions lightly posed is whether Drew will return from one of his business trips. However, he's soon returns to play video games, which dispels the subplot's tension. Cody employs a clever turn of phrase to soften Drew's persona, but the minimalism of his development reinforces the film's lightweight nature. How would a man like Drew change to help Marlo beyond a kind word and a two-shot image of solidarity?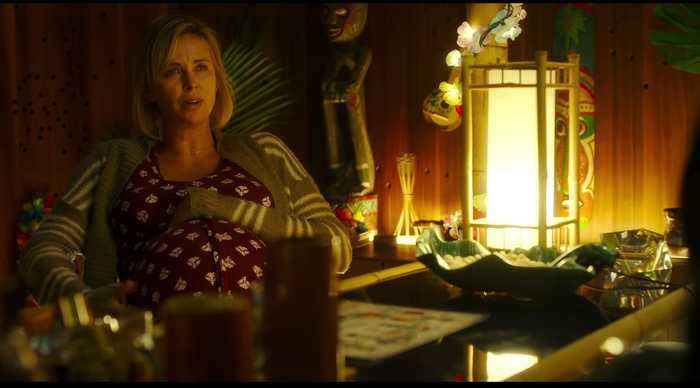 Its problematic that the most interesting aspect of Tully's narrative is its concealment. Tully's identity is eventually revealed after a drinking session between herself and Marlo. What unfolds won't be revealed here. The payoff is implausible, a disservice to the verisimilitude of the early scenes, and denies many interesting narrative avenues.
Evidentially, Diablo Cody believes in earning a good twist by peppering clues throughout the story. There are several hints to reflect upon, which is interesting. Marlo's dreams about water are one example. Yet it's questionable why Reitman and Cody, the masters of banal suburbia, couldn't conceive a grounded film about postnatal depression without employing a cliché plot device. Its apparent he hasn't rediscovered his edge.
Regardless, Tully is an interesting, funny movie that improves significantly over Reitman's last two films. This is highly attributable to the wit in Diablo Cody's screenplay but also Charlize Theron's tough performance. She is highly expressive in evoking Marlo's exhausted physicality and dwarfs the other actors. There's little room in the script for anyone else to shine, which is problematic when Marlo isn't the title character.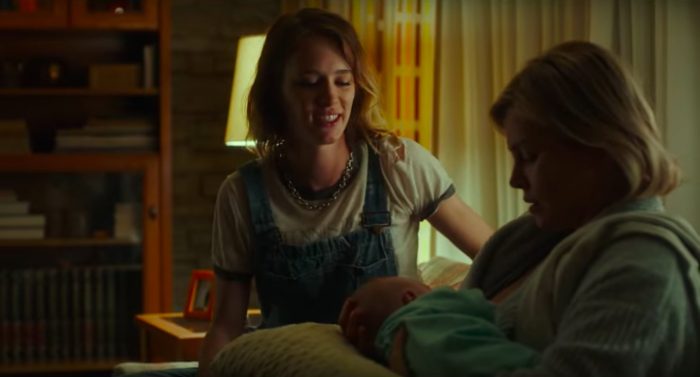 The initial qualities make the rest of Tully disappointing and confusing. Despite the rich setup, the plot is undercooked. It's a cute idea in need of development. The longer it hides Tully's identity the more apparent it is that it doesn't have a story or personal conflict to explore. The film is about finding self-improvement and inner-strength, but it uses contrivances to resolve major issues, such as depression, in simplistic ways. It's a disservice to the talents of Cody, Reitman and Theron. We see glimpses of it but are left wanting more.
Summary: Despite the rich setup, the plot is undercooked. It's a cute idea in need of development. The longer it hides Tully's identity the more apparent it is that it doesn't have a story or personal conflict to explore.