Events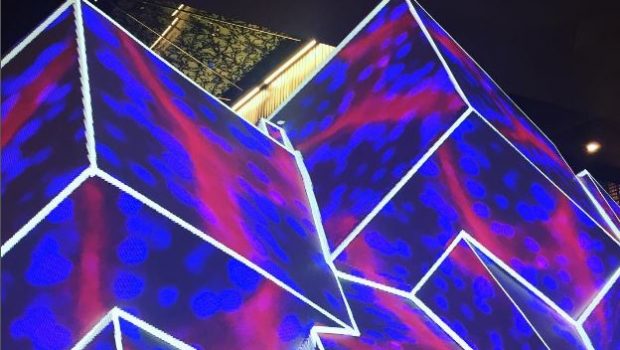 Published on June 22nd, 2016 | by Admin
True Life Projected at Vivid Festival with Epson
SYDNEY, 22 June 2016 – Without the use of animation or artificial graphics, artist Joe Crossley's Vivid 2016 installation, True Life, mapped the life of an object as viewed under a lens. Picture the cross-section of a microscope slide showing sea larvae or coral cells interacting in real time, with cells dividing and forming unique patterns. This is the field of vision through which True Life exists. Footage of these natural processes was projected using Epson Z-Series projectors onto a 3D sculpture taken from the shape of a Sodium Chloride crystal. Sodium Chloride is more commonly known as salt, the defining ingredient of the world's oceans.
Crossley explained, "True Life draws on media produced by academics and students from the University of Sydney's Faculty of Architecture and Faculty of Biomedical sciences. This was an installation trying to bridge the gap between science and art. We took microscopic images from oceanic cells and creatures and created a projection-mapped installation. The sculpture is based on a crystal of sea salt expanded and cleaned up, and the idea is that we can engage people to think of the sea and have more care in its conservation."
Crossley used Epson EB-Z10000U WUXGA, HD, 10,000 lumens and EB-Z11000W WXGA, 11,000 lumens projectors to realise his vision with the True Life installation.
He continued, "The colour from the Epson projectors is the best. They give really great contrast for the images and they are bright and vibrant – a noticeable difference and something sadly lacking from other projectors in their class. Their control options, corner correction and calibration functions are the best I have ever used. The stability and durability of these projectors is another big plus and the controls are well thought out and simple. Finally the multi-angle orientation also allowed us to project in different ways."
Crossley's work takes him all over the world and he is known as an artist who never settles for second best where his work is concerned.
He concluded, "Without trying to sound too salesey, the Epson EB-Z10000U and EB-Z11000W are the best and most versatile projectors I have ever used. They work brilliantly straight out of the box and have a great durability, especially for artistic installations. That said, anything you need from Epson that's not in the box is never an issue and always taken care of very quickly. Their level of service and support is excellent and second to none. As a result we can't wait to get to use the new Epson high lumen laser projectors in the future."
For more on Joe Crossley visit:
Facebook – https://www.facebook.com/Joe.CrossleyArtist/?fref=ts
Instagram – https://www.instagram.com/unclejoecrossley/