Games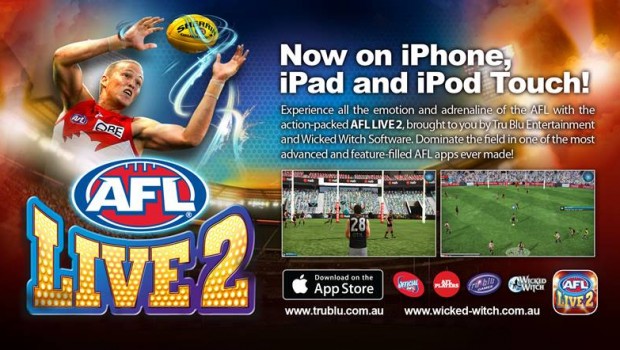 Published on May 29th, 2015 | by Admin
Tru Blu Entertainment & Wicked Witch Software
Melbourne, Australia – May 28th, 2015. Today, Tru Blu Entertainment and Wicked Witch Software have announced the release of AFL LIVE 2 for iPhone, iPad and iPod Touch. The game is out now on the App Store and features the 2015 Toyota AFL Premiership Season Fixture and AFL Club player lists.
First released for Playstation®3 and Xbox 360®, AFL LIVE 2 for iPhone and iPad includes all the features from the 2013 console hit, including a comprehensive 15-year career mode, over 60 teams from the AFL, VFL and more to choose from, plus over 15 playable stadiums including Adelaide Oval, MCG, SCG and The Gabba. The App contains some great new features too, such as online multiplayer via Game Center and the ability to connect a compatible Bluetooth controller for a home console experience.
"Online multiplayer was something we worked hard to achieve while developing the game for iPhone, iPad and iPod Touch, and it's awesome! Players can pick up their phone or tablet and instantly challenge a friend to a game of AFL LIVE 2 online" said Daniel Visser, Managing Director of Wicked Witch Software. "We've also added the latest fixtures and team line-ups for the 2015 Toyota AFL Premiership Season and have made a few gameplay improvements following the 2014 DLC update on consoles."
"Mobile games have certainly come a long way and AFL LIVE 2 is definitely the pinnacle of its genre" said Sebastian Giompaolo Managing Director of Tru Blu Entertainment.
AFL LIVE 2 for iPhone and iPad is packed with original content, as well as new features and updates:
• Go head-to-head with friends in real time multiplayer – Online!
• Single Player Mode – battle it out against the CPU
• 2015 Toyota AFL Premiership Season Fixture and Team Line-ups
• Stunning 3D graphics with over 200 realistically modelled AFL star players
• Over 60 teams from TAC Cup, VFL, AFL, as well as various bonus teams such as the Big V
• 15-year career mode with drafting, trading, finances, tribunal, training and more
• Realistic stadia including Adelaide Oval, MCG, SCG and The Gabba.
• Random and configurable match conditions including heavy wind, calm, day, night and twilight modes
• AirPlay wireless streaming via Apple TV – for big screen play
• Intuitive touch controls
• Bluetooth controller support
• Dynamic cameras and replay
• Fully motion captured animations
• Rich team tactics and combinations to personalise your strategy!
• Extensive player information and statistics to explore
• Play, Watch, and Simulate AFL matches
• Create your own players and edit licensed teams in the Footy Factory
• Sign in with Game Center and earn Achievements
• Unlockable features; including stadia and bonus teams
• Expert commentary by Dennis Cometti and Tom Harley
"AFL Live 2 is an exciting new release that brings the highly detailed console experience to mobile and tablet users," said Jessica Hatz, AFL Licensing Manager. "Building on the highly successful AFL Gold, the AFL is proud to be supporting Tru Blu and Wicked Witch in the development of its successor."
AFL LIVE 2 for iPhone and iPad is now available on the App Store. Download today and experience all the emotion and adrenaline of the AFL in the palm of your hand.
App Store Link: https://itunes.apple.com/au/app/id949787896?mt=8
Official Trailer: https://www.youtube.com/watch?v=na2qTYxT-14