Games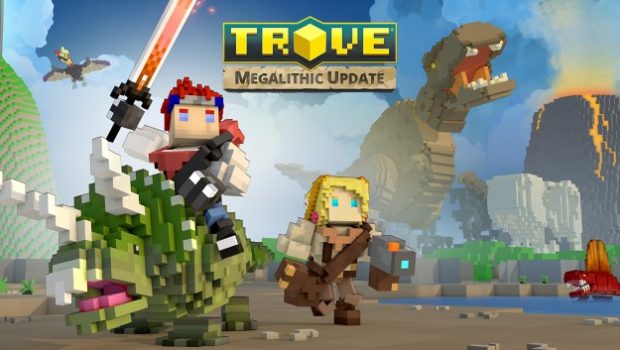 Published on June 23rd, 2017 | by Admin
Trove Gets Colossal Console Update, Coming to PlayStation 4 and Xbox One on June 27
On June 27, Jurassic Era dwellers stampede their way into Trion Worlds' epic block-building adventure Trove on PlayStation® 4 and Xbox One with the release of the game's first major update on consoles. The Megalithic Update adds hours of new content with the Dino Tamer class, Jurassic Jungle biome, minigames, custom maps, and other features that expand the open world feel of Trove, which now has over 5 million players on consoles.
Players looking to craft, create, and battle their way through Trove will find the following new features in the Megalithic Update:
The Dino Tamer Class – Traveling through time from the Desert Frontier and emerging in the Jurassic Jungle, the Dino Tamer is a ravenous, ranged ruffian best equipped to survive the harsh wilderness. With the ability to use darts, snares and summon dinosaurs to attack or mount, the Dino Tamer is a player's best bet at surviving prehistoric threats.
The Jurassic Jungle Biome – The new lush wilderness environment is full of dangerous dinosaurs and deadly dungeons. From dense jungle floor to towering canopies, the Jurassic Jungle biome features distinct enemies to fight and tons of dungeons to conquer. As players battle their way through this blast from the past, they will pick up all new styles and recipes to bring that extra retro look to the modern Trovian. That is, if raptors with razor-sharp claws, thick-skinned triceratops tanks, or the titanic Tyrannosaurus Rex don't eradicate them first.
Minigames – At the top of the hour, players may find a portal in the Hub leading to one of two types of minigames – Racing and Coin Collecting – which offer more options for players looking to complete Hourly Challenges. Trovians who love a creative building challenge may now also build custom minigame maps within their own Club Worlds, invite other players to try out their custom club maps and vie for high scores and bragging rights.
More Free Content – Beginning with the Megalithic Update, Trovians can log in every day and receive a daily login bonus chest just for signing into Trove. Chaos Chests will also now drop for free just by playing the game, meaning players will have even more materials to use with the brand new Chaos Crafter bench to craft new costumes, allies, mounts and Class Unlockers.
The latest trailer showing off content in the Megalithic Update can be viewed on YouTube here. New assets can be downloaded here.
For additional details on the Trove Megalithic Update, check out the official Trove blog.
Trove is available now as a free download from the PlayStation Store and the Microsoft Store.