Games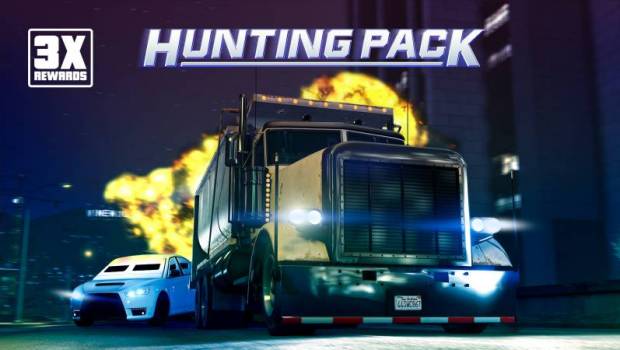 Published on May 22nd, 2020 | by Adrian Gunning
Triple Rewards in Hunting Pack and Daily Objective GTA$1M Bonus Plus Get the Blue Jock Cranley Jumpsuit and More
Picture the scene: you've been tasked to deliver a booby-trapped vehicle to a destination, while your opponents risk life and limb to make sure you are blown to bits.
As if the stakes couldn't be any higher, those who emerge from a rousing round of Hunting Pack victorious will take home 3X GTA$ & RP – all the more reason to strap in for this explosive ride.
Plus, earn a hefty GTA$1,000,000 bonus for completing 10 Daily Objectives from now until May 27th. You can find Daily Objectives from the Player Interaction Menu.
Stockpile Events
If that sounds like a little too much teamwork for your independent spirit, cut out the middleman and deliver the payload yourself while dodging high-altitude dogfights in Stockpile, which is paying out double this week.
Freemode Events
Freemode Events occurring regularly around the map are dishing out triple rewards, while all enterprising supervillains can earn 2X GTA$ & RP for completing all Mobile Operations Missions for good measure.
There is no career more American than daredevil stunt man. Unlock the Blue Jock Cranley Jumpsuit by playing GTA Online between now and May 27th. Star-spangled motorcycle and ramp sold separately.
This week's top reward is the Bravado Half-Track, a marvel of American engineering with military bona fides.
FREE GTA$500,0000
If you haven't played GTA Online in May, get a one-time gift of GTA$500,000. Play before May 31st and the GTA$ will be automatically sent to your Maze Bank Account within seven days.
DISCOUNTS
Get in the spirit by visiting Ammu-Nation and picking up the Firework Launcher and Firework Ammo – on the house this week. Light up the sky or your worst nemesis… the choice is yours.
50% Off Hangars
LSIA Hanger A17, LSIA Hangar 1, Fort Zancudo Hangar 3499, Fort Zancudo Hangar 3497, Fort Zancudo Hangar A2
50% Off Hangar Modifications & Add-Ons:
Hangar Style, Lighting, Floor Graphics, Office Furniture, Living Quarters, Workshop
Free Mobile Operation Center Liveries
Stars & Stripes, Eagle Claw, Eagle Claw Flag, Fighting Freemode
Vehicle Discounts:
Truffade Thrax – 40% off
Declasse Scramjet – 40% off
TM-02 Khanjali – 40% off
All Yachts – 40% off
BF Ramp Buggy – 50% off
Mammoth Patriot Stretch – 50% off
Buckingham Akula – 50% off
Volatol – 50% off
TWITCH PRIME
GTA Online players who connect their Twitch Prime account to Social Club will receive a GTA$200K gift in GTA Online just for playing at any point between now and May 27th (gift may take up to 72 hours to appear in your Maze Bank account). Plus, you get a rebate on the Pixel Pete's Arcade base property in Paleto Bay, 80% off the amphibious Mammoth Tula plane and 60% off the Grotti Furia supercar. To ensure access to future benefits, make sure to visit Twitch Prime and sign up.
Look out for more details in the coming weeks on future updates to GTA Online, and head over to the Social Club Events page for all the latest special events, bonuses and discounts.
Check Rockstar Support for details and limitations.
A portion of all proceeds from Red Dead Online and GTA Online over April and May 2020 will go toward relief for those affected by COVID-19 – see here for details.