Films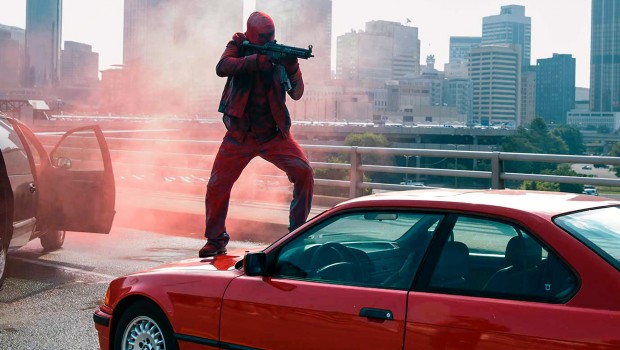 Published on February 29th, 2016 | by Damien Straker
Triple 9 – Film Review
Reviewed by Damien Straker on the 29th of February 2016
Roadshow presents a film by John Hillcoat
Produced by Keith Redmon, Bard Dorros, Marc Butan, Anthony Katagas, Christopher Woodrow and John Hillcoat
Written by Matt Cook
Starring: Chiwetel Ejiofor, Casey Affleck, Anthony Mackie, Aaron Paul,  Kate Winslet, Woody Harrelson and Teresa Palmer
Music by Atticus Ross, Bobby Krlic, Leopold Ross and Claudia Sarne
Cinematography Nicolas Karakatsanis
Edited by Dylan Tichenor
Running Time: 115 minutes
Rating: MA15+
Release Date: the 3rd of March 2016
Considering the first rate cast assembled for Triple 9, directed by Australian filmmaker John Hillcoat, the film rates as a letdown. The films Hillcoat has made so far are primarily about violence, desolate landscapes and the moral ambiguity that challenges men. The Road, The Proposition, Lawless and now Triple 9 are arguably all Westerns that reflect societies collapsing because of the failure and corruption of law enforcement and the broken rules of survival. To reassert these themes once again, a cast including Chiwetel Ejiofor, Kate Winslet, Woody Harrelson, Aaron Paul, Casey Affleck, Anthony Mackie and Teresa Palmer has been assembled. It's a powerful and experienced ensemble, which begs why they aren't served well by the screenwriter Matt Cook. He is a first-time feature writer and also the film's co-producer. His script needed more light and shade with the characterisation and stronger personalities because making all of the men grizzled, tough and brooding doesn't exactly bring warmth to the film. The coldness is compounded by the fact that a number of the men (specifically Ejiofor, Mackie and Aaron Paul) are bank robbers who used to be Special Forces soldiers together. But these are the only details of their past and more backstory would have sparked our interest in them. One of these robbers is also a police officer, who doubles as a corrupt cop. Outside the gang, Woody Harrelson is a drunken cop and uncle to Casey Affleck's own police character, who himself becomes a target of the gangs plan to murder him as a distraction so they can infiltrate a building and steal a document for a Russian gangster (Kate Winslet).
The weak characters combined with John Hillcoat's insistence on chopping the film into multiple threads makes the film unfocussed and lacking in a sympathetic protagonist to guide the narrative. Woody Harrelson is employed as a comic relief figure and his drunken cop provides the film's only colourful and funny lines to standout against the otherwise banal dialogue. Though funny, it's also an act from him we've seen before. Much anticipation has centred on Kate Winslet as a Russian gangster but it's a tiny role that isn't given enough time to justify itself as more than stunt casting. Underneath the clutter of narrative lines these characters find themselves in, there isn't anything thematically unique or insightful. The film's philosophy or political viewpoint is that cops and robbers aren't always transparent, an idea explored extensively recently in shows such as The Wire and the impressive crime thriller Black Mass. It's about the star power and the atmosphere but even the latter is hampered by muddy photography and an emphasis on tattooed street thugs and Latino gangsters that comes across as forced and stereotypical, which is not something from which the environments and landscapes of John Hillcoat's other films have suffered. Even the action sequences include a weak end heist that only takes two people to complete, further adding to the disappointment of seeing a cast like this being put to work on something that is surprisingly forgettable and disappointing.
Summary: Considering the first rate cast assembled for Triple 9, directed by Australian filmmaker John Hillcoat, the film rates as a letdown.