Films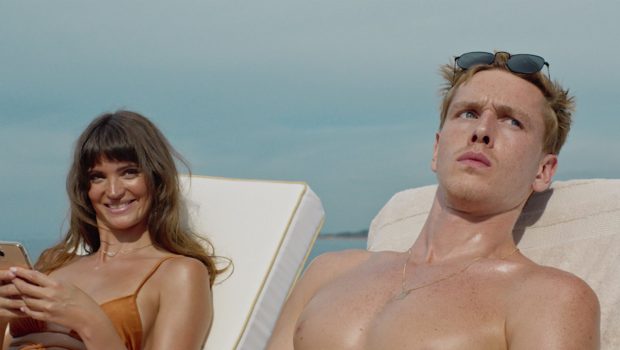 Published on October 29th, 2022 | by Damien Straker
Triangle of Sadness (Sans filtre) – Film Review
Reviewed by Damien Straker on the 29th of October 2022
Sharmill Films presents a film by Ruben Östlund
Written by Ruben Östlund
Produced by Erik Hemmendorff and Philippe Bober
Starring Harris Dickinson, Charlbi Dean, Dolly de Leon, Zlatko Burić, Henrik Dorsin, Vicki Berlin, Iris Berben, and Woody Harrelson
Cinematography Fredrik Wenzel
Edited by Ruben Östlund and Mikel Cee Karlsson
Music by Mikkel Maltha and Leslie Ming
Rating: TBA
Running Time: 142 minutes
Release Date: the 26th of December 2022
The comedy-drama Triangle of Sadness, directed by Swedish filmmaker Reuben Östlund, is marred by poor pacing and an understructured plot. The result is disappointing given Östlund's previous film, The Square (2017), was one of the most unique films of the past few years. It became infamous for a haunting scene involving performance art gone wrong. A man pretended to be a violent ape and clawed his way through an upper-class dining room. Glimpses of similar social observations and cultural parodies that fuelled The Square and Östlund's Force Majeure (2014) are visible here. However, Triangle's disjointed form and overlength sabotages the director's first English-language feature. He paints targets on various social issues, including relationships, fashion, and class, but is indecisive about who is best suited to explore its comedic avenues.
Östlund has divided the story into three separate chapters. The first episode focuses on Carl (English actor Harris Dickinson), a young man who auditions for a gig as a fashion model. When unsuccessful, he is relegated to the backrow of the fashion show's audience. On the same night, he shares a meal with his girlfriend, Yaya (Charlbi Dean), whose success as a model is eclipsing Carl's ambitions. Yet when Carl sees her playing with her phone and ignoring the cheque, it ignites a protracted argument about who should pay for dinner. The disagreement extends into a cab ride and then back to their hotel room. 'I want us to be equal!', he pleads with her to no avail. In the second chapter, the couple holiday together on a luxury cruise.
They meet an assortment of strange characters, including an elderly couple who are arms dealers, a German woman (Iris Berben) who only spout the words 'in der Wolken!' ('in the clouds'), and a Russian oligarch named Dimitry (Zlatko Burić) who brags about working with 'shit'. The couple doubletakes upon hearing this confession but Dimitry explains he runs a fertiliser business. Another major figure is The Captain (Woody Harrelson, underused), a drunkard who refuses to leave his cabin despite pressure from the crew's leader, Paula (Vicki Berlin). In the last chapter, the ship's passengers are washed up on a tropical island. The social hierarchy is disrupted with the passengers forced to pull their weight. They find themselves under the thumb of a crewwoman named Abigail (Dolly De Leon) whose resourcefulness sees her become the island's leader.
Without compelling protagonists to drive the film, Östlund scrambles to align story threads and striking images. He opens proceedings with a group of young male models, including Carl, being photographed together. They are told how to walk and smile, which gives the film its title. Apparently, the triangle is the frown on a person's forehead (yes, really). While the fashion industry is always ripe for parody, this odd prologue is isolated from the rest of the narrative. It suggests Östlund started with one idea but laced it together with two or three separate scenarios. Is the film about stifled ambitions or the powerful and overprivileged? If the early scenes infer overcontrol, it is a timely projection. During a laborious midpoint, Östlund's camera discards Carl and Yaya entirely. Instead, he films a torturous passage where Dimitry and The Captain drunkenly bond over Marxist ideologies and taunt the passengers. This moment is strange enough alone but married to Triangle's most overinflated set piece. Östlund sets an impossibly lush dinner scene during a violent thunderstorm.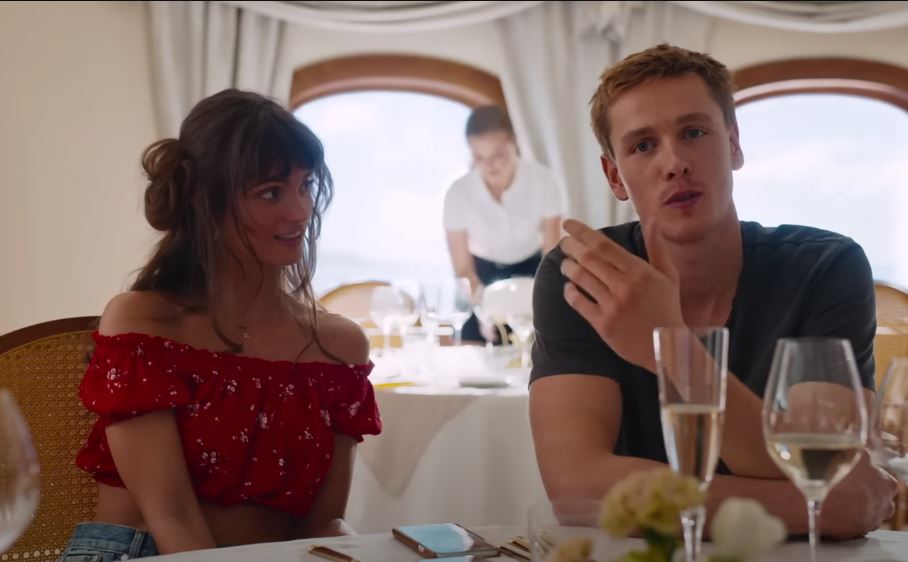 Struck by a moment of visual clarity, he tilts the camera to mimic the ship's queasy movements as it is rocked by the storm. The swerving motions down long hallways would be vivid enough alone. Instead, Östlund lingers as the rich vomit uncontrollably over their lush meals. The moment is juvenile and unashamedly funny, particularly some inventive slapstick where a woman slides across a bathroom floor while desperately clinging to a toilet for safety. Yet the sequence's duration and its indifference to Carl and Yaya begs for intention beyond the violent artillery fire of Östlund's class warfare. Convinced this liquid onslaught is insufficient, Östlund summons wilder contrivances to shipwreck the passengers. His messy, unfocused screenplay resembles an overzealous fashion designer rather than a clever, judicious artist sculpting his best work.
The third chapter arrives too late and underlines Östlund's indifference to character and perspective. He scribes a predictable companion piece to the novel Lord of the Flies (1954), where battlelines and factions are set, but makes irresolvable missteps. The episode is shockingly long. It sees the film crawl to nearly two-and-half hours. Another pitfall is withholding Triangle's most complex and sympathetic character until this episode. Abigail is a Filipino woman who cleans toilets on the ship. Once on the island she uses her fishing skills to declare herself leader of the group. Her social elevation allows her to punish greed and laziness and demand sexual favours, which adds drama. These ideas are intriguing, but it also begs to ask why Östlund hid her for so long. Instead, he preferences a couple who take selfies while holding up bits of pasta. These structural problems dilute traces of Östlund's absurdist humour, especially in the early stages. For example, Carl's exchange with Yaya about equality is humorously staged using an elevator door for physical improvisation.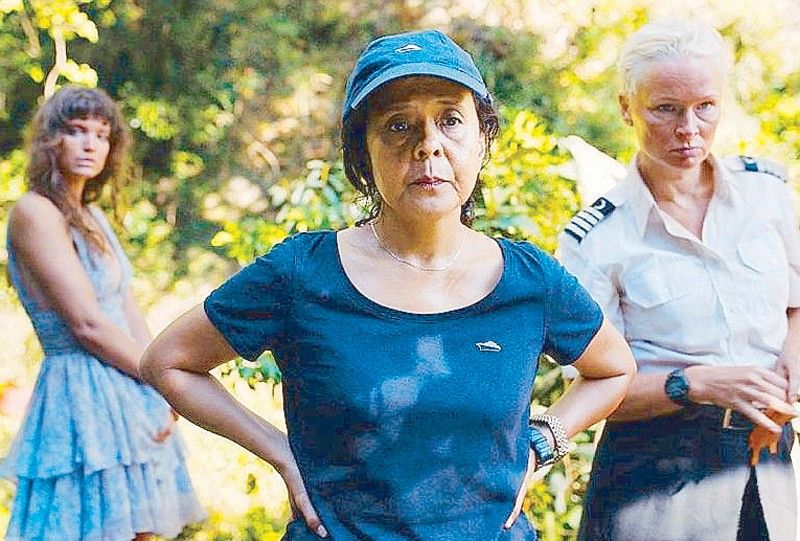 Other moments of tension are quickly doused by Östlund's impatience. Carl concedes a shirtless crewman is attractive but grows jealous when he sees the man talking to Yaya and has him fired. In another strange but memorable scene, an elderly woman is in a jacuzzi and insists a female staffer join her. When she is told the crew are barred from the water, the woman asks aggressively if she is being told no. A world first, no doubt. However, our interest in these exchanges is blunted by wild detours, including a pointless race towards the ship's waterslide and the inclusion of the superfluous Captain figure. If there is any subtext lingering below deck, Östlund is commenting on how social status and money forge an imbalance of power within relationships, industries, and nature itself. Yet Triangle's poor pacing and unfocused lens suggest Östlund was indecisive about who should dominant the film and which thematic goals he should explore.
Some major film reviewers fiercely objected to Triangle winning the prestigious Palme d'Or award at this year's Cannes Film Festival. Östlund previously won the same prize for The Square. It is undeniably a strange decision given Triangle's inconsistent form. One reviewer shamed the result and said the film was terrible, which is a touch abrasive. There are a few solid laughs, particularly around the film's eccentricities and its slapstick scenes. Occasionally, the Swedish filmmaker grasps our attention with moments of great absurdity while setting ablaze various social norms, deeming them the first casualty of class warfare. However, the story's construction is loose and undisciplined. Wavering towards dispensable side characters at the midpoint and belatedly introducing new ones is a creative blunder. This thematic inconsistency expels the notion the three chapters form a neat triangle. Rather, the film is a collection of thought bubbles aimlessly circling each other in hope they will cohere and preference character development over amusing but pointless oddities.
Summary: The film is a collection of thought bubbles aimlessly circling each other in hope they will cohere and preference character development over amusing but pointless oddities.