Blu-ray
Published on November 23rd, 2013 | by admin
Treme The Complete Third Season Blu-ray Review
Title: Treme The Complete Third Season (Blu-ray)
Distributor: Warner Bros
Rating: MA15+
Reviewer: Tom Smith
This four disc set collects the entire third season of Treme on Blu-ray which is one of the most rivetting and realistic TV series thanks to HBO. The story revolves around a group of core characters following the aftermath of the 2005 hurricane Katrina that saw New Orleans decimated by mother nature and almost left for dead by the American government. The third season takes places 25 months later which sees its denizens return more to normality but unfortunately the high rates of crime and corruption are still prelevant in this crippled city.
However what makes Treme so compelling is the high standard of scripts and this achieved by creators Eric  Overmyer and David Simon (The Wire and Homicide: Life on the Street) who create this gripping and engaging series about these normal peoploe caught in a world of desolation and grief but somehow they manage to keep their hopes alive. Another interesting element is that the creators have successfully created a snapshot on American culture, crime, economics and politics with some very powerful underlining themes.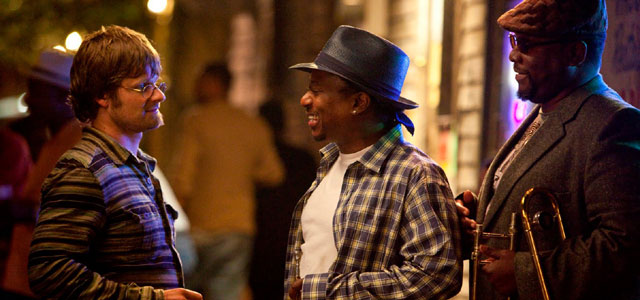 Also, unlike traditional TV Series, Treme focuses on the normal people in some not normal circumstances and environments that they find themselves in which leads to a rollercoaster ride of emotions for the characters with some of them shining bright and others falling from grace. Given that, there is not an overall storyline in Treme such as an American detective series as each episode focuses on a particular aspect of the characters. Some of these are linked and some are not.
With said, Treme would not be the engaging series it is without the amazing cast with some standouts from Melissa Leo, Khani Alexander, Steven Zahn and Rob Brown. It is also quite a diverse and large cast which adds to the realism of the stories and moments that we share with each of the characters.
It does help that the series is actually filmed in New Orleans which adds to the atmosphere, not to mention the great music featured in the series which is part of their culture, especially jazz. Season 3 of Treme is quite intense and features storylines involving murder, new friendships, love, music, crime and life.
Trying to pinpoint a particular storyline is difficult due to the amount of characters in the series but the main message of Treme is that for the most part, we humans go above and beyond to help those in need.
Episodes
Knock with Me – Rock with Me
Saints
Me Donkey Want Water
The Greatest Love
I Thought I Heard Buddy Bolden Say
Careless Love
Promised Land
Don't You Leave Me Here
Poor Man's Paradise
Tipitina
Video & Audio
The Blu-ray quality is exceptional, especially capturing the sights of New Orleans itself. Audio is 5.1 DTS-HD which adds an element of realism and really enhances the musical score of the series itself. For extras, there's a ton of interesting commentaries, an interview with David Simon, a featurette starring musicians the Neville Brothers, another featurette with chefs talking about the cuisine of New Orleans and two great music features. These really add to the overall presentation of Treme.
Final Thoughts?
It's definitely a must own TV series!