News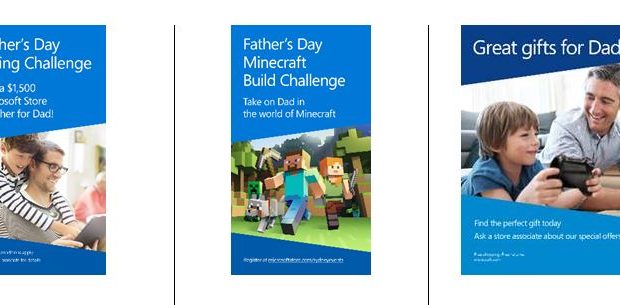 Published on August 18th, 2016 | by admin
Treat Dad like a superhero in the run up to Father's Day, at the Microsoft Store (18 Aug – 4 Sep)
With the run up to Father's Day next month, the flagship Microsoft Store at Pitt St Mall, Sydney is shining the light on our everyday superheroes – dads!
From Inking and Minecraft Build challenges, to a wonderful choice of gifts and deals to put a smile on Dad's face, check out the range of in-Store activities and workshops running from today (18 Aug) till Father's Day (4 Sep):
Father's Day Inking Challenge
From teaching us so much of what we know, to being our all-round Mr Fix-It, dads are often unsung heroes whose love can be as tough and it is unconditional.
This Father's Day, show your dad how much he means to you and why he is your very own superhero!
Visitors to the Microsoft Store, Sydney will be able to bring their heroic dads to life via the feature zone of Surface devices, by colouring-in a caped crusader and sharing what makes him a superhero in their eyes.
Open to all ages, the most creative entry stands to win a $1,500 Microsoft Store voucher.
Father's Day Minecraft Build Challenge
Minecraft is as much about creating the game as it is about playing it. This time, join hands with your dad to build, explore, discover and problem solve, creating an epic universe together, before the clock runs out!
These free Minecraft workshops at the Microsoft Store, Sydney offer a fun, hands-on experience for players of every age. Timings are:
Saturday 27th Aug 11:30am
Sunday 28th Aug 11:30am
Saturday 3rd Sep 11:30am
Sunday 4th Sep 11:30am
Register today (via the website) and put your skills to the test, with dad's help!
Great Gift's for Dad!
From PCs to consoles, at the Microsoft Store, Sydney, you'll find the perfect gift for any kind of dad!
There's a great list of deals to get your hands on, including a bonus Xbox One with three games when you buy any eligible Surface device!
For the complete list, check out the gift guide online.