Hardware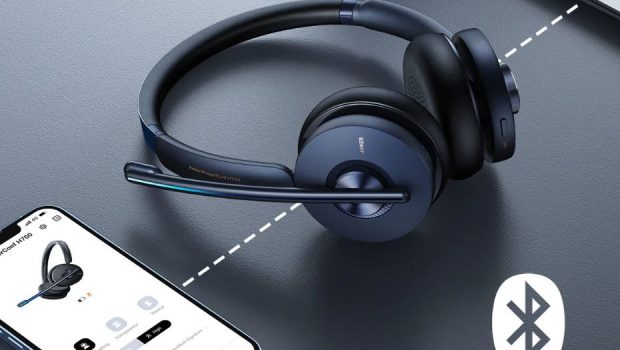 Published on October 4th, 2022 | by Adrian Gunning
Transition Effortlessly from Home to Office With AnkerWork's PowerConf H700 Wireless Headset
AnkerWork, the developer of unique conferencing solutions that enhance the hybrid work experience, today announced the launch of the PowerConf H700, its first wireless premium conferencing headset.
The H700, now available at Harvey Norman, features unique meeting recording and transcription capabilities, AI-powered noise reduction, hybrid ANC and a convenient charging stand.
Ultimate Headset For Hybrid Work
The Anker PowerConf H700 is designed to be the perfect headset for hybrid work and features AI-enhanced noise reduction powered by VoiceShield™ Technology as well as hybrid ANC, ensuring crystal clear conference calls in even the noisiest environments.
"For many, the ability to record or take notes during a call is important. But it's also awkward and often inaccurate while in a conversation," said Gaspar Xie, Head of Sales & Operations at Anker ANZ. "The H700 is the first on-ear, conference headset that can both record and create direct transcriptions of calls, giving users the freedom to stay focused on what's being said in their meetings."
Eliminate Meeting Minutes
The PowerConf H700 is the brand's first wireless conference headset to be integrated with a call recording and transcription service. During calls, audio can be recorded to a computer using AnkerWork's conferencing software, then later retrieved and quickly transcribed into text. The AnkerWork software is compatible with a range of Windows and macOS, from Windows 7 to the latest Windows 11, as well as macOS Mojave (10.14), macOS Catalina (10.15), macOS Big Sur (11.6) and macOS Monterey (12.5).
At time of launch, the H700 transcription service supports English, Chinese, and Japanese. Users will receive 1,000 minutes of transcription service when they purchase the headset, with the option of purchasing additional time as needed.
Wire-Free, Hassle-Free
The PowerConf H700 can be connected to a PC or Mac (using the included wireless dongle*) or to a mobile device using Bluetooth, and can work seamlessly with popular meeting and conference platforms such Zoom, Skype, Google Hangouts, Facetime, WebEx, GoToMeeting and others.
All of the settings can be accessed through both the AnkerWork computer software as well as through the mobile app, which includes customization of both of the ANC and transparency levels as well as customizing the EQ for the headset.
Many of the headset's key features, such as controlling volume, muting microphones and switching between ANC, transparency, and normal can be done using on-board controls.
24 Hours of Talk-Time and Fast Docked Charging 
AnkerWork's new H700 headset delivers 24 hours of talk-time on a single charge and comes with an optional charging stand, which, in addition to reducing clutter on the desk, means the headset is charged and ready to go at any time. Additionally, just five minutes of charging will give the H700 headset a three-hour boost in talk-time.
For added convenience, the headset maintains its wireless Bluetooth connection while docked as well as while charging through USB-C. The light on the end of the boom will also flash to indicate an incoming call.
Other Features Include: 
Smart Mute: Simply mute using a number of methods including touch controls, lifting mic boom up in vertical position, or removing the mic-side ear cup off the ear.
Customizable Design: Includes articulating ear cups for added comfort and reversible mic boom to support both right and left side mic usage.
Multiple Listening Modes: ANC on/off and transparency on/off
Multi-Point Compatible: Can be connected to two devices at the same time (e.g, a computer and a mobile device).
Convenient Charging: Supports both USB-C charging as well as while using the optional charging stand.
Big and Clear Sound: 40mm audio drivers
Noise Reducing Microphones: There are 5 noise-reducing microphones, including 2 located in the boom
All-Day Battery Life: 21-hours (ANC) / 24 hours of talk-time (ANC off) / 100+ hours on standby
Home, Office and On The Road: Includes a semi-hard travel case to keep headsets safe
Incoming Phone Call: Indicator light on the end of the boom signals an incoming call.
Price & Availability
In Australia, Directed Electronics is the exclusive distributor of the H700 and AnkerWork range. The AnkerWork PowerConf H700 is available for purchase today at Harvey Norman stores in Australia at AUD $299.95.
The Full AnkerWork Range
The following products are part of the AnkerWork range:
| | |
| --- | --- |
| Product Name | RRP A$ |
| A3383 Ankerwork B600 Video Bar | 499.95 |
| A3510 Anker PowerConf H700 | 299.95 |
| A3362 Anker PowerConf C302 | 259.95 |
| A3305 Anker PowerConf S500 | 399.95 |
| A3307 Anker PowerConf S360 | 249.95 |
| A3368 Anker PowerConf C202 | 169.95 |
| A3361 Anker PowerConf C300 | 239.95 |
| A3302 Anker PowerConf S3 | 179.95 |