Consoles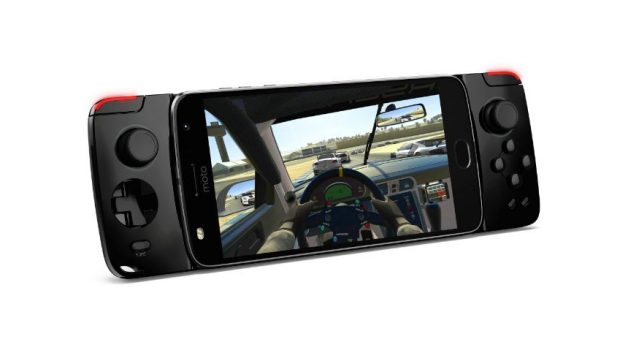 Published on September 29th, 2017 | by Admin
Transform your Mobile Experience in a Snap with New Gamepad and 360 Camera Mods
Compatible with Any Phone in the Moto Z Family
To be available starting 28th September for $139 and $369 Respectively 
September 29, Sydney: Moto Mods offer unprecedented mobile innovation and with the Moto Z family of devices you can experience even more new ways to transform your smartphone.  Motorola continues to innovate and expand the Moto Mods ecosystem with the addition of two new Moto Mods.
GamePad Mod – Change the Way You Game
Transform your phone into a handheld gaming console and finally take control of your mobile gaming with the Moto GamePad. Physical buttons give you full control of your gaming experience.  Use the dual control sticks, D-pad and four action buttons for a true gaming experience, no matter where you are. And the 1035mAh built-in battery lets you play longer without depleting your phone's battery. Plus, get responsive control in a snap without wireless input lag or the hassle of Bluetooth® pairing. 
Moto 360 Camera: Capture Everything 
Simply snap the new 360 Camera Moto Mod on your Moto Z device and turn it into a 360-degree camera that captures everything. With the click of a button, you can record interactive 360-degree 4k video featuring immersive 3D audio. This allows you to truly relive the moment when it's time to play back your videos – because just like real life, the audio will follow the direction you're viewing. You can also capture 13MP, 160° ultra wide-angle front and rear images in standard 4:3 format giving your still photos a completely new perspective.
Easily edit your 360-degree photos and videos from your Moto Z with advanced editing software that allows you to adjust content to fit your unique needs. Once they're ready to be viewed, simply share your photos and videos with friends and on social media right from the Google Photos app. And you can stream live across social channels, letting the world experience the moment with you anywhere, anytime.
Availability and Pricing  
The GamePad and 360 Camera Mods will be available at www.motorola.com.au starting 28th September priced at $139 and $369 respectively.
Technical Specifications for Gamepad Mod
| | |
| --- | --- |
| Dimensions | 226 x 75.9 x 24.4 mm |
| Weight | 140g |
| Controls | A/B/X/Y/L1/R1/L2/R2/L3D/R3D/D-PAD/HOME/SELECT/STAR |
| LED Lights | Red dual LED lights that respond to controls |
| Ports | USB-C for charging, 3.5mmHSJ, Moto Mods connector |
| Connection | USB trhough Mods interface |
| Battery Size | 1305 mAh |
| Battery Life | Up to 9 hours of game play with HSJ audio out |
| Charge rate | 1A, 5W |
Technical Specifications for Moto 360 Camera Mod
Dimensions
226 x 75.9 x 24.4 mm
Dimensions
17mm lens to lens, 5.3mm behind phone
Weight
85g
Field of View
360 Spherical Panorama & Video
Aperture, Focal Length
f2.0, 1.12mm
File Format (still/video)
JPG/MPEG4
Highest Resolution Size

(still/video)

Still Photo: 18MP (6240 x 3120)

Video: 4K Spherical @24fps

LED Indicator
Yes – red video recording indicator
ISO Sensitivity (full resolution)
Auto 100, 200, 400, 800, 1600, 3200
Other
Zero shutter lag – ZSL

Large high-res 5.5" smartphone viewfinder

Auto share, backup & storage

In box lens cover
About Motorola Mobility
Motorola Mobility LLC was acquired by Lenovo Group Holdings in 2015.  Motorola Mobility is a wholly owned subsidiary of Lenovo, and is responsible for designing and manufacturing all Moto branded mobile handsets. For more information, visit motorola.com.au