Events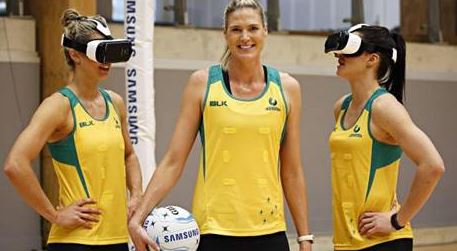 Published on October 10th, 2016 | by Admin
Train Like A Diamond VR experience gets fans closer to Netball stars
SYDNEY, Australia, 10th October, 2016 – Samsung Electronics Australia has, in partnership with netball stars, Laura Geitz, Sharni Layton and Caitlin Bassett, launched Train like a Diamond – a 360-degree video marking the first time our female athletes are available in Virtual Reality (VR). The initiative is part of Samsung's sponsorship of Netball Australia.
The Train like a Diamond VR experience was unveiled at the Future Diamonds Studio at the Constellation Cup (Sunday, October 9). The 360-degree training session brings Netball fans closer to the game through Samsung's innovative technology that enables an up close and personal experience thanks to VR.
The Train like a Diamond initiative is part of Samsung's Rethink Role Models campaign which was launched in May this year.
Philip Newton, Corporate Vice President & CMO, Samsung said, "Fans of netball will now get to experience how our best female athletes train. We are thrilled to work with the players on offering a first of its kind to the sport, connecting fans with their role models."
Samsung ambassador and Diamond's player, Sharni Layton said the VR, 360-degree experience was an exciting new way to interact with fans.
"The game of netball is so fast-paced, dynamic and exciting. We're thrilled to work with Samsung and their innovative technology to give fans behind the scenes access to what our training sessions are like," Ms. Layton said.
The content gives the viewer behind the scenes access to a training session and immerses them amongst the team and challenges them to keep up. It enables the viewer to take their time and look at every player around them moving at a fraction of their normal speed.
The content can be viewed on Samsung Galaxy smartphones that are compatible with Samsung Gear VR and can also be accessed via YouTube:
VR: https://www.youtube.com/watch?v=VNp-pZPMfT4
360-degree snapshot: https://youtu.be/WQ2fm6n5w4Q
The Train like a Diamond VR experience will feature at the Future Diamonds Studio, and be available to the public, at the:
• Samsung Primary Schools Cup, Saturday 15th and Sunday 16th October, Ipswich, QLD; and
• International Fast Five, Saturday 29th and Sunday 30th October, Hisense Arena, Melbourne