News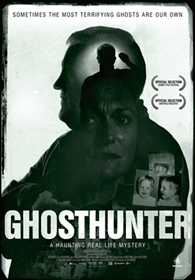 Published on May 9th, 2018 | by Admin
TRAILER AND POSTER REVEALED FOR GHOSTHUNTER DOCUMENTARY
May 9, 2018 – Madman Entertainment has today revealed the trailer and poster for director Ben Lawrence's first feature length documentary GHOSTHUNTER, hot off the heels of the announcement it will have its World Premiere at the 2018 Sydney Film Festival.
GHOSTHUNTER follows Jason King, a western Sydney security guard and part-time ghost hunter, who has spent two decades searching for his absent father. As a survivor of trauma, he seeks to reconcile his fractured memories and piece together his past. When his search converges with a police investigation, a horrific family secret is exposed — forcing him to confront a brutal past in order to reclaim his future.
"As humans, we have to forget in order to survive, but we have this burning desire to remember what happened. It's this struggle that lies at the heart of the film"
Director, Ben Lawrence
Ben Lawrence is an award-winning director of short films and commercials, as part of the collective at Exit films, alongside directors such as Garth Davis (Lion) and Glendyn Ivin (Last Ride, Palme d'Or winning short Crackerbag) he is the next director to watch to make the successful leap from shorts/commercials to feature film.  The son of acclaimed Australian director Ray Lawrence (Lantana, Bliss), GHOSTHUNTER is Ben's debut feature.
"GHOSTHUNTER deals with loss, the unreliability of memory, the search for truth and the long reaching impact of trauma. Our hope for the film is that it's an intriguing, gripping piece of cinema. That it isn't quite what you expected at the start but it takes you on a journey and you are with it all the way." Producer, Rebecca Bennett
GHOSTHUNTER is funded by Screen Australia, SBS, Exit Films, philanthropic donations and private investment. It was chosen as one of the six social impact films for 2017 by Goodpitch Australia.
GHOSTHUNTER's world premiere at the 2018 Sydney Film Festival, will have it showcased in the highly regarded documentary section.
Following its world premiere, GHOSTHUNTER will screen at the prestigious Sheffield International Documentary Festival, where it has been nominated for an Illuminate Award.
The film will receive a theatrical release across Australia in early 2019.
www.ghosthunterthemovie.com
#ghosthunter
The full trailer for the film is now available to view below:
https://www.youtube.com/watch?v=yAIXRovq1-8