Games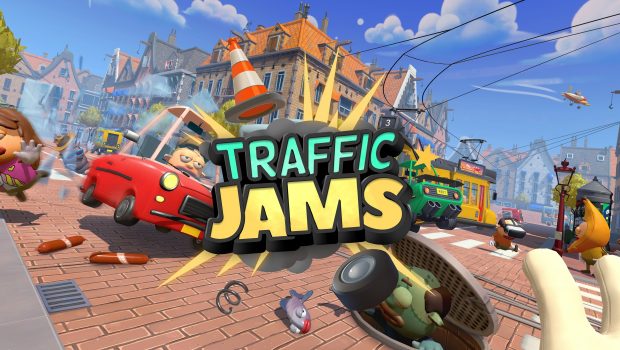 Published on March 22nd, 2021 | by Andrew Bistak
Traffic Jams Arrives On Oculus Quest and PC VR April 8 – PlayStation VR To Follow
Vertigo Games, the VR specialist publishing and development arm of the Koch Media Group, and Little Chicken Game Company (REKT!, Track Labs) reveal today that Traffic Jams, a VR simulation game with a wacky take on traffic controlling, is launching on Oculus Quest and major PC VR headsets on April 8, 2021 with a PlayStation VR release to follow later this Australian winter.
In the world of Traffic Jams all traffic lights have gone out and you are the only one who can keep traffic flowing. Set out on a jam-packed global adventure to the world's most iconic and chaotic cities as you take on a traffic control gig filled with outrageous events and flagrant road rage. Each city throws its own twists and turns at you, from unlockable events such as "cheese bowling" or chugging frisbees at unsuspecting pedestrians to (un)natural disasters such as spontaneously combusting buildings and the occasional meteorite. Time to prove yourself the ultimate traffic showman as you control traffic your way.
Made it to the top in career mode? Keep your VR headset cool as up to 4 non-VR friends turn up the heat in (couch) party mode, or climb the global ranks!
Take your career on the road: Take on the world's most iconic and chaotic cities, from New York to Paris, and become a traffic control hotshot in career mode
Intuitive controls / deep chaos: Using real-life gestures in VR, try your hand(s) at one of the most chaotic jobs in human history!
Frenzied action gameplay: Got this traffic control gig all figured out? Think again! Each city throws its own twists and turns at you, ranging from pesky to downright outrageous
Turn up the heat in (couch) party mode: Up to 4 non-VR friends can join in on the road mayhem using their mobile devices.
Climb the global ranks! Now you can finally show everyone you can do it better than your local traffic control guy by carving out a place on the global leaderboards