Hardware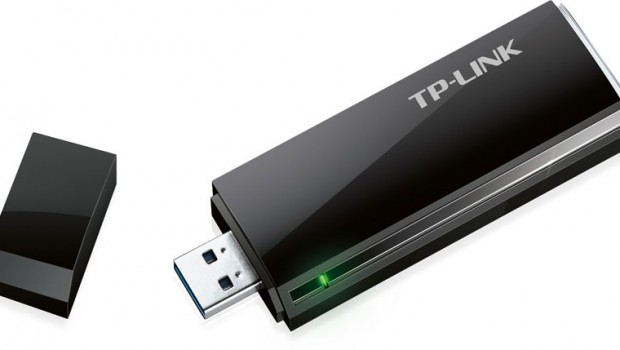 Published on June 11th, 2014 | by Admin
TP-LINK Archer T4U Wireless USB Adapter Review
Summary: For just under $50, we could happily recommend the TP-LINK Archer T4U Wireless Dual Band USB Adaptor to any computer user who wishes to maximise their wireless setup
TP-LINK Archer T4U Wireless Dual Band USB Adaptor
Product: Wireless USB Adapter
Company: TP-Link
Cost: $49.00AUD (June 2014)
Warranty: 3 Years including 24×7 technical support
Reviewer: James Wright
To compliment your high speed wireless modem router, TP-LINK have launched the Archer T4U, a wireless Dual Band USB adapter that supports both 5 and 2.4Ghz bands plus high speed USB 3.0 connectivity for additional performance. Best of all, the installation process is flawless and you'll have a wireless connection up and running in no time, even if you are the computer novice.
T4U Product highlights
Dual Band (5 & 2.4Ghz)
867 & 300Mbps Wireless Speeds
USB 3.0 Port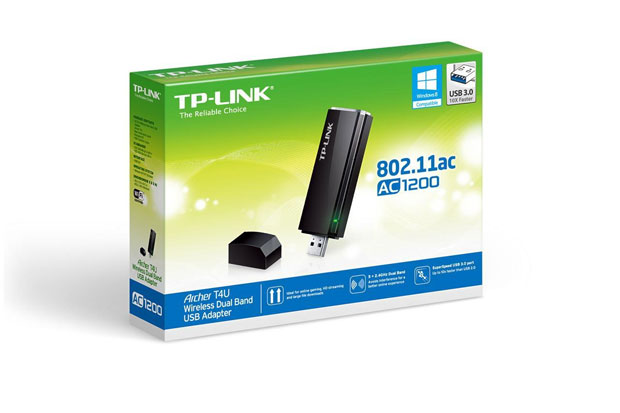 Although all laptops support wireless, these are generally limited by its specifications which is where the Archer T4U comes into play. By connecting this product to a laptop or standalone PC, it gives the user high speed wireless access of up to 867Mps. This means that your streaming of movies or online gaming will be considerably faster than the norm.
Features
Supports 802.11ac standard- The next generation of Wi-Fi
SuperSpeed USB 3.0 port—Up to 10x faster than USB 2.0
Dual Band connections for lag-free HD video streaming and gaming
Maximum speed up to 5GHz 867Mbps or 2.4GHz 300Mbps
Backward compatible with 802.11 a/b/g/n products
Supports ad-hoc and infrastructure mode
Easy wireless security encryption at a push of the WPS button
Supports Windows 8/7/XP 32/64bit
Easy Wireless Configuration Utility
Equipped with a USB 3.0 1.0m Extension Cable for flexible deployment
To install the Archer T4U, you simply connect the product to a spare USB port, preferably a USB 3.0 port and away you go. The product also comes with an installation CD to assist in configuring the USB adapter to your network. I was also pleasantly surprised that the adapter came with a USB extension cable that allows you to connect the item to the back of your PC.
When I connected the T4U to our desktop machine, Windows 7 did not automatically detect the item nor install the appropriate drivers. As a result, we had to use the mini installation CD to assist in connecting the adapter to our wireless network. One strange aspect about the installation is that it took a while for the installation program to run. We tested this on two machines and the same thing occurred… I guess patience is virtue!
The installation also gives you the choice of just installing the driver or both the driver and utility.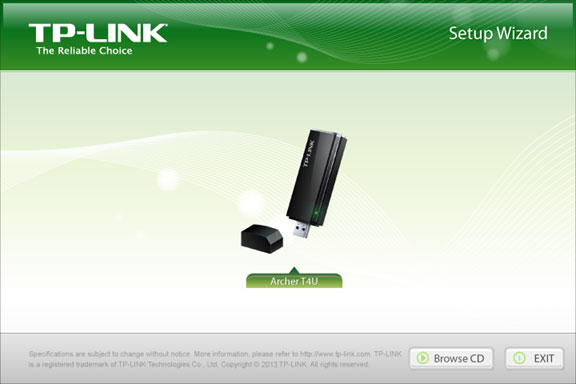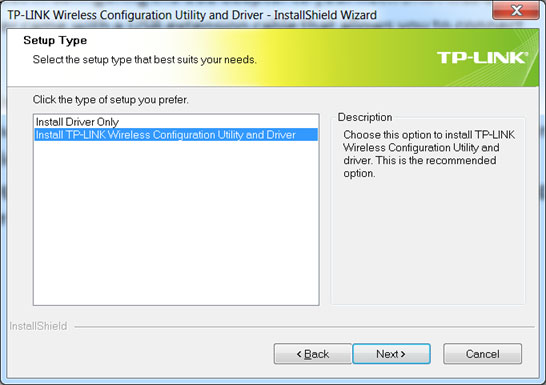 Once the installation was completed, the utility displayed the networks that were available to the adapter that included both 2.4 and 5Ghz bands. To connect, you simply click on the network and then enter your security key. Installation could not be simpler!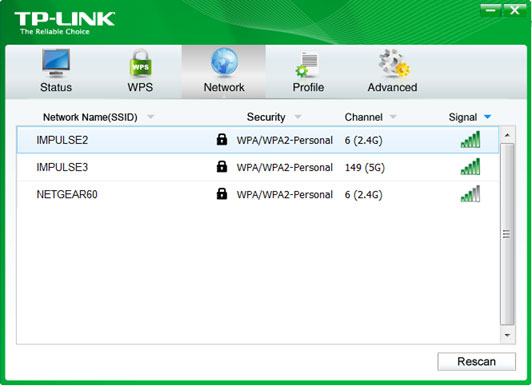 In terms of the wireless connection, we could access our wireless network quite comfortably of up to 25 metres with minimum connection loss. The wireless did start to drop in speeds when we got more than 10  metres away but even so, it worked remarkably well through walls. We got full speeds of up to 5 metres with a small loss at the 10metre mark. Even at 25 metres away from the router, the T4U performed quite well that most users would not notice the slight drop in performance.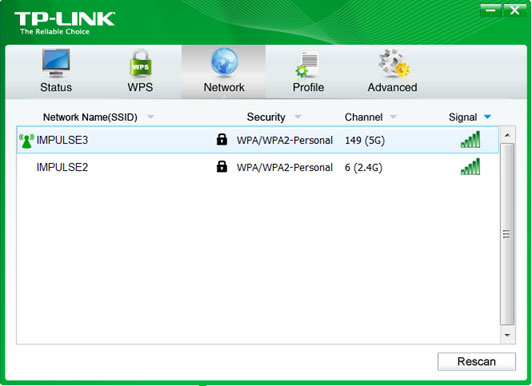 The product does support WPS (WiFi Protected Setup) via the utility tool and also profiles and an advanced feature. The advanced feature allows you to slightly tweak the T4U, whereas profiles are your wireless networks.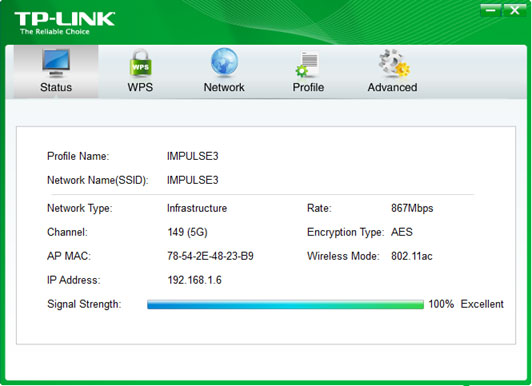 HARDWARE FEATURES
Interface
USB 3.0
Button
WPS button
Dimensions (W X D X H)
3.6×1.2×0.6 in. (92.2×29×14.6mm)
Antenna Type
Omni Directional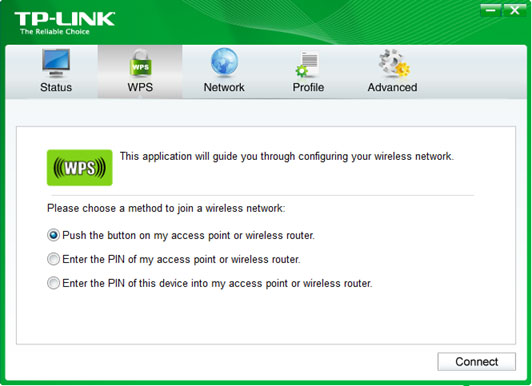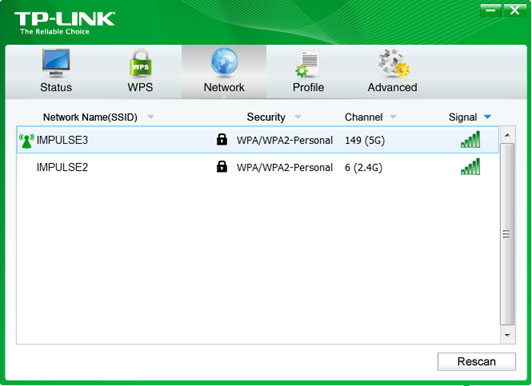 WIRELESS FEATURES
Wireless Standards
IEEE 802.11ac, IEEE 802.11a,
IEEE 802.11n, IEEE 802.11g, IEEE 802.11b
Frequency
5GHz
2.4GHz
Signal Rate
5GHz
11ac: Up to 867Mbps(dynamic)
11a: Up to 54Mbps(dynamic)
2.4GHz
11n: Up to 300Mbps(dynamic)
11g: Up to 54Mbps(dynamic)
11b: Up to 11Mbps(dynamic)
EIRP
<20dBm (EIRP)
Reception Sensitivity
5GHz:
11a 6Mbps: -88dBm
11a 54Mbps: -71dBm
11ac HT20: -65dBm
11ac HT40: -60dBm
11ac HT80: -56dBm
2.4GHz:
11b 11Mbps: -90dBm
11g 54Mbps: -73dBm
11n HT20: -71dBm
11n HT40: -68dBm
Wireless Modes
Ad-Hoc / Infrastructure mode
Wireless Security
Support 64/128 bit WEP, WPA-PSK/WPA2-PSK, 802.1x
Modulation Technology
DBPSK, DQPSK, CCK, OFDM, 16-QAM, 64-QAM,
256-QAM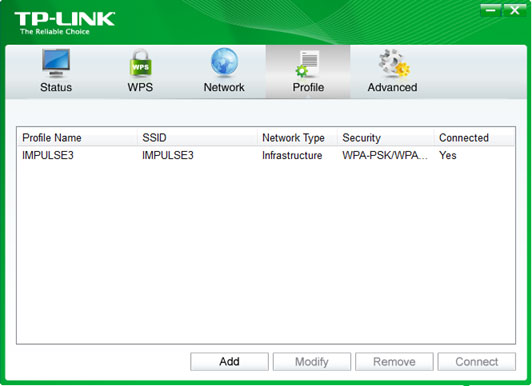 OTHERS
Certification
CE, FCC, RoHS
Package Contents
Wireless Adapter Archer T4U
Resource CD
Quick Installation Guide
USB Extension Cable
System Requirements
Windows 8 (32/64bits), Windows 7 (32/64bits), Windows XP(32/64bits)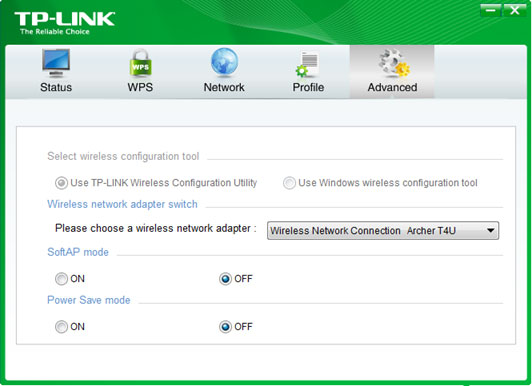 Final Thoughts?
For just under $50, we could happily recommend the TP-LINK Archer T4U Wireless Dual Band USB Adaptor to any computer user who wishes to maximise their wireless setup, especially to desktop machines or laptops that may have a poor wireless connection. We could not fault this product at all as it boasted exceptional speeds and a very easy setup!
Recommended!