Films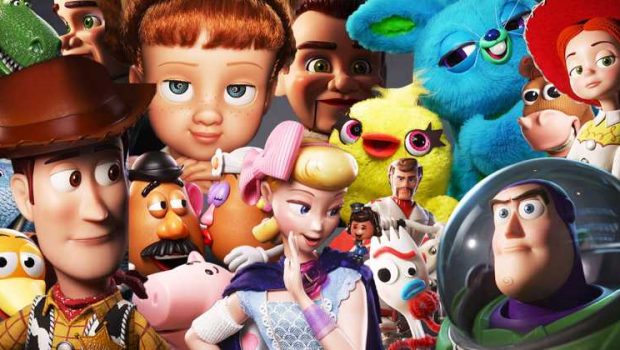 Published on June 19th, 2019 | by Curtis Mayfield
Toy Story 4 – Film Review
Reviewed by Curtis Mayfield M-H on the 16th of June 2019
Disney presents a film by Josh Cooley
Written by Josh Cooley and Stephany Folsom
Produced by Jonas Rivera and Mark Nielsen
Starring: (the voices of) Tom Hanks, Tim Allen, Annie Potts, Tony Hale, Joan Cusack, Keanu Reeves, and Christina Hendricks
Music by Randy Newman
Cinematography: Patrick Lin and Jean-Claude Kalache
Edited by Axel Geddes
Running Time: 100 minutes
Rating: G
Release Date: the 20th of June 2019
Toy Story 3 (2010) was favourably received by fans as a decade-long chronicle finally concluded. The tale of toys coming to life had been resolved so nicely that fans groaned when several years ago a fourth entry was announced. Disney Pixar had a high bar to lift to convince them that another chapter was necessary.
The last time we saw the toy gang, led by Woody and Buzz, we witnessed the end of a beautiful saga. Woody's original owner, Andy, gave his pals to an imaginative little girl named Bonnie and everything was right in the world. Die-hard Toy Story fans can rest easy. This latest instalment is a fresh new direction for these beloved characters with the narrative taking logical, organic, and unexpected pathways.
We pick up where the last movie left us with Bonnie playing with her new set of toys. Buzz, Hamm, Rex, Mr. and Mrs Potato Head, and all the others make regular appearances in Bonnie's playtime adventures. However, Woody, who was an important staple in every Andy adventure, has been left behind in the toy closet. It provides him with plenty of time to question his existence.
Since this is a Disney-Pixar movie, these cute animated characters will undertake an existential crisis or two. Woody isn't bitter or jealous like he was of Buzz in the first movie. Much like the audience, Woody has grown up, and all he wants is what's best for Bonnie. This self-sacrifice is touching and stays true to the essence of the series.
Woody thinks back to Bo Beep (Annie Potts), a sheepherder and former flame who was sold off years ago. Toy Story 4 not only fills out the blanks for some current characters but also gives light to Bo Beep's backstory and fulfils her destiny in an unexpected way. With Woody feeling protective and having mass amounts of time to spare, he secretly accompanies Bonnie on her first day of kindergarten.
Scared and feeling shy during her introduction to the social world of school, Bonnie literally makes a new friend with Forkie (Tony Hale), a plastic fork with a pipe cleaner for arms and a pair of hilariously animated googly eyes. Forkie is the first toy we witness come to life. He struggles to understand his role as a toy and constantly confuses himself with garbage. Woody acts as a both guide and babysitter to Forkie as Bonnie swoons over her newest pal. Fast-forward to some misguided antics and the group of toys are now faced with a familiar separation situation where there's a race against the clock to reunite the gang.
Toy Story 4 is probably the most straight forward comedy of the series. The older characters venture through some tough humanity driven journeys while the newer ones provide some the biggest and best laughs. Comedic duo Keegan-Michael Key and Jordan Peele voice a pair of carnival prize soft toys with hilarious results. Meanwhile, Keanu Reeves continues his 2019 winning streak by voicing Duke Caboom, a Canadian stunt motorbike rider with a moustache to match.
Get ready for 'Yes I CANada!' to be the latest trending hashtag once this movie is released. Christina Hendricks plays the part-villain, part-misunderstood 1950s baby doll Gabby Gabby who is stuck on a shelf in an antique shop. The voiceless ventriloquist dummies that act as Gabby Gabby's goon squad will be hilarious to adults but could come off as a little scary to kids.
Speaking of graphics, the animation department deserves praise for pushing the boundaries for what is possible in a kids movie. Rain looks so wet you can feel it and every fibre on a plush toy character comes to fuzzy fruition. Amazingly, Josh Cooley (who co-wrote Inside Out, 2015) makes his directorial debut and helms the captain's chair on this legendary epic. Cooley and fellow screenwriter Stephany Folsom seamlessly fit in what seems like a bulky edition to the already perfect trilogy.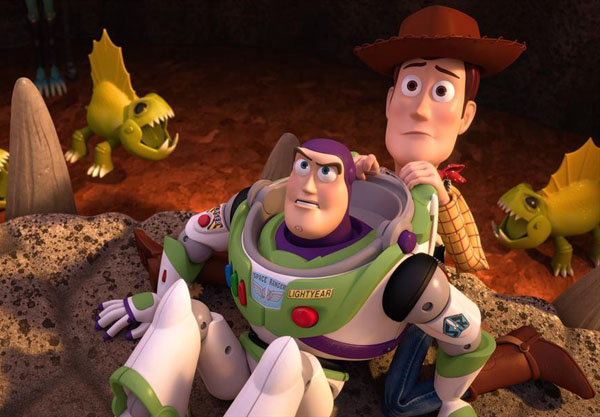 Toy Story 4 gave us a narrative we didn't know we wanted with loved childhood characters finding their purpose in life. Where else but Hollywood circa 2019 could you witness Buzz Lightyear following his inner voice in order to reach enlightenment? This actually happens. Between story points like this and Woody discovering if there's life after playtime is another perfect notch to the Disney-Pixar emotional manipulation belt. Toy Story 4 proves that playtime isn't over just yet as it acts as an appropriate end to a legendary series of movies.
Summary: Toy Story 4 proves that playtime isn't over just yet as it acts as an appropriate end to a legendary series of movies.