Games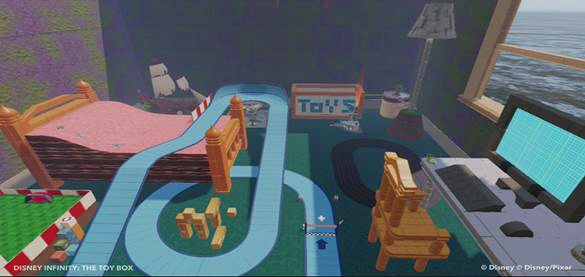 Published on November 8th, 2013 | by admin
TOY BOX DOWNLOAD UPDATE: Disney Infinity Announces Five Winning User-Generated "Toy Story Challenge" Submissions Available for Download!
Today, Disney Interactive is releasing the winners of the Disney Infinity "Toy Story Challenge" for Toy Box creations that are inspired by one of the most iconic movie franchises and the newest Play Set – Toy Story in Space, which released in Australia on October 31.
Disney Infinity players are clearly big fans of the Toy Story films as this week's winning Toy Boxes were some of the best overall creations submitted yet.  The top global Toy Box of the week is "The BIG Room," which is a recreation of Andy's room filed with enemy toys, a mini soccer game and even a racetrack.
Check out the latest episode of the new web series, "The Disney Infinity Top 5 Toy Box Countdown," for a look at the winning submissions: http://youtu.be/gtkcHGQn89I
The video also includes some fantastic ideas for Toy Box submissions, a racing track tutorial and some developer-given tips and tricks.
Winning submissions include:
The BIG Room: When the kids are away, the toys will play! A truly remarkable recreation of Andy's room from Toy Story.
Woody's Roundup: Experience the Toy Box mode from Toy Story 3: The Video Game… but this time with Disney Infinity characters!
Capture Zurg!: Alien invasion! Drop them in the ship's pen, then capture Zurg at his secret lab and bring him back to the asteroid pen.
Saving Mr. Rex: Battle the way through Zurgbots and help Mr. Rex escape from Zurg… Be on the look-out for secrets along the way!
The City Dump: You've been thrown away by mistake and must escape the dump. Beware of Lotso's trickery, or face a fiery demise.
Directions on how players can submit their Toy Box creations, as well as how to download new user-generated Toy Box worlds, are included below my email signature.